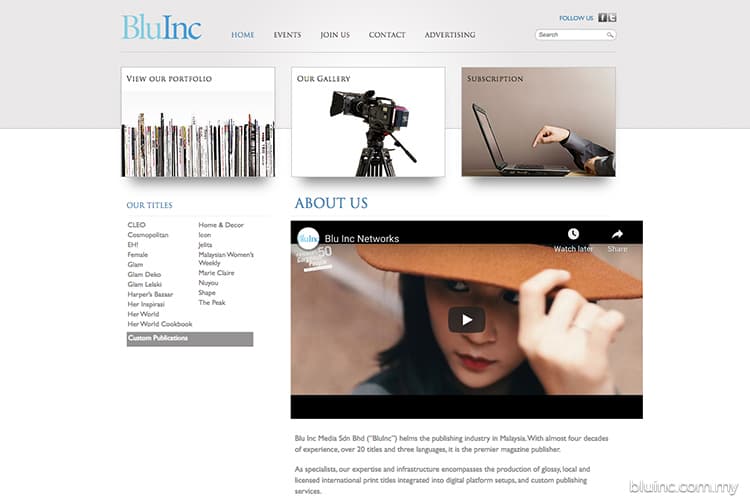 KUALA LUMPUR (April 30): Blu Inc Media Sdn Bhd, a publishing stalwart with 19 lifestyle titles in its portfolio, will be ceasing operations effective today, as losses continued to mount in the past two months and uncertainties loom.
In an internal memo seen by theedgemarkets.com, the company said this will entail stopping all its print and digital publications.
Blu Inc Media chief executive officer (CEO) Datin Azliza Tajuddin said the company had already been under "tremendous challenge" from the digital disruption over the past few years.
"While we have made increasing investment to build in our digital capabilities, it is still unclear whether we have gained sufficient traction while the losses continued to increase.
"With the current Movement Control Order (MCO) to contain Covid-19, the losses continued even more for the months of March and April, and this trend is expected to continue for the next few months.
"It is uncertain that we will be able to see any light at the end of the tunnel," she said.
The CEO added that all staff will receive a separate email regarding their employment status soon.
A source at the company confirmed the closure, adding that a notice is already going out to clients. 
Another source said that the company is currently focused on its liquidation, and while pre-existing commercial commitments that have been executed — such as publications that have been sent to the printers — will be honoured, no new print orders will be sent out.
The source said its shareholders would re-evaluate the future of the company once the economy has stabilised, as Blu Inc owns trademarks and brands that have potential, and its digital assets had shown growth over the past few years.
The lifestyle publisher employs some 180 people — all of whom will receive an email regarding the terms of their employment at the company.
However, it is unclear if all of Blu Inc's employees will be retrenched.
In total the publisher — which first started out in 1974 — has 19 publications in its stable.
They are CLEO, Cosmopolitan, EH!, Female, Glam, Glam Deko, Glam Lelaki, Harper's Bazaar, Her World, Her World Cookbook, Home & Décor, Icon, Jelita, Malaysia Women's Weekly, Marie Claire, Nuyou, Shape, Her Inspirasi and The Peak.