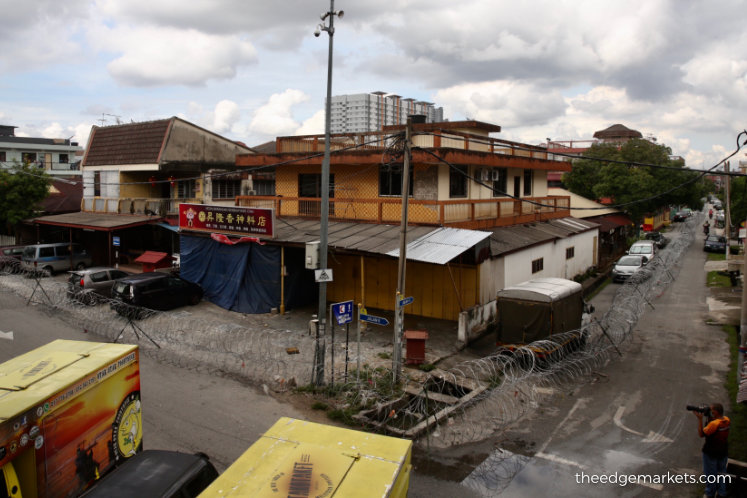 KUALA LUMPUR (April 28): It has been three days since Selayang Baru was put under the Enhanced Movement Control Order (EMCO).
The geographic scope of the directive was widened after taking into account the risk of infection from the nearby Kuala Lumpur wholesale market and the daily market here, said Senior Defence Minister Datuk Seri Ismail Sabri Yaakob.
At the northern part of the capital and the area around the wholesale market, 14 new cases were detected today, bringing the total cases to 69.
Six zones in the area were placed under EMCO, namely:
Zone A: Jalan Indah 3 and Jalan Indah 5A, Selayang Indah
Zone B: Jalan Indah 21, Lembah Indah, Selayang Baru
Zone C: Jalan Besar Selayang Baru, Jalan 1 and Jalan Indah 21, Selayang Baru
Zone D: Jalan 3, 5, 7 and 9, Selayang Baru
Zone E: Jalan 2, 4, 6 and 8, Selayang Baru
Zone F: Blok A, B and C, Selayang Makmur
The Edge's photographer Sam Fong paid a visit to the area yesterday and captured the sights. The Malaysia Civil Defence Force, in their distinctive blue camouflage, was seen distributing food supplies to residents.
The packages were passed through the sharp barb wire, no doubt eliciting concerns about possible injuries, but nothing untoward happened fortunately.
En-masse screenings for Covid-19 took place under tents at the commercial district.