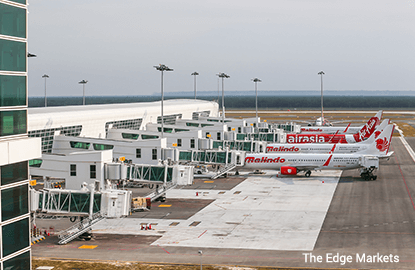 This article first appeared in
The Edge Malaysia Weekly
, on December 26, 2016 - January 1, 2017.
HAVING a licence does not assure that a new airline can take to the skies. And even if the airlines have been in operation for a few years, there is no guarantee that they can keep their licence forever.
Rayani Air Sdn Bhd, Suasa Airlines Sdn Bhd and more recently, Eaglexpress Air Charter Sdn Bhd, found out the hard way about this.
Last week, the four-year old Eaglexpress had its air service permit (ASP) — which allows a company to operate charter flights — revoked by the Malaysian Aviation Commission (Mavcom) after it failed to comply with certain conditions imposed by the aviation regulator within the stipulated deadlines.
While declining to disclose what those conditions were, a Mavcom spokesman tells The Edge that the decision to revoke Eaglexpress' ASP was based on the commission's evaluation after a thorough review.
"The commission thoroughly reviews and assesses any application for an ASP or air service licence [ASL] based on criteria, such as the experience and competency of the management team of the company, feasibility of the proposed business plan and financial viability of the business.
"We have stringent processes to ensure that ASPs or ASLs that have been approved meet the set criteria. We evaluate and benchmark our criteria based on industry standard," he says via email.
Eaglexpress is the second airline to lose its licence this year after Rayani Air, which had its ASL revoked in June following a number of safety regulation violations and economic concerns about its viability.
A check with the Companies Commission of Malaysia (SSM) reveals that Eaglexpress is 25% owned by its director Chan Kah Woh, 20% by its CEO Captain Azlan Zainal Abidin and 15% by Kasmani Abdul Kadir. Chairman Tan Sri Mohd Radzi Sheikh Ahmad, director Datuk Wan Ismail Abd Rahman, director Shafie Ismail and former home ministry secretary-general Tan Sri Dr Aseh Che Mat each hold a 10% stake in the airline.
The airline turned profitable in the second year of operation, posting a net profit of RM267,421 in the financial year ended June 30, 2013 (FY2013), compared with a net loss of RM4.93 million in FY2012.
For FY2014, its net profit surged more than 21 times to RM5.75 million from the previous year, while revenue more than doubled to RM129.67 million from RM57.47 million in FY2013. It has yet to file its financial results for FY2015 and FY2016 with the SSM.
According to Eaglexpress' website, it was serving 19 destinations with umrah and haj flights to Saudi Arabia from North Africa, the Middle East, Indonesia, Bangladesh and Malaysia before Mavcom pulled the plug on the airline, which employs more than 300 staff, mostly based in Jeddah, Saudi Arabia.
Its fleet includes four Boeing 747-400s and an Airbus A330-200 and it was due to add a further two aircraft in 2016. By the end of 2019, Eaglexpress had planned to have 30 aircraft operating — a combination of six 747-400s, 12 A330-200s and 12 737-800s.
News of problems at Eaglexpress surfaced in June this year, when it was reported that it had failed to pay its employees salary and allowance arrears for several months.
The National Union for Flight Attendants Malaysia was also reported as saying that Eaglexpress had failed to pay employee benefits such as Employees Provident Fund and Socso since November 2015.
More recently, over 200 Eaglexpress passengers were left stranded in Nilai, Negri Sembilan, after the airline delayed and cancelled its maiden umrah flight to Jeddah, scheduled for Dec 12, without proper reason.
The latest episode has also brought into question the vetting process of the Department of Civil Aviation Malaysia (DCA), which was responsible for airline licensing prior to the establishment of Mavcom on March 1, 2016. For one thing, Eaglexpress was granted an aircraft operating certificate (AOC) and ASP to operate non-scheduled air services (passenger and cargo) in August 2012 by DCA.
Asked whether DCA had been lax in its award of licences to operate commercial air services, the Mavcom spokesman says it is not in a position to explain how the processes are undertaken by another agency.
"The aviation industry is highly competitive and often challenging. Industry players or interested parties will need to be prepared as it requires a high degree of planning, financial depth, operational know-how and execution competency to stand any chance of succeeding," he says.
"A strong commercial foundation and depth is crucial in order to become a long-term and successful player in this industry," he adds.
To date, Mavcom has evaluated and approved issuance/renewal of six ASLs and 16 ASPs. However, the spokesman did not say whether there are concerns over the approval of the licences or whether more revocations will take place. 
In the case of Rayani Air, the Mavcom spokesman says the airline has returned its ASL to Mavcom.
"Should Rayani Air intend to be a player in the civil aviation space in Malaysia, it can apply for a new ASL with Mavcom," he says.
In July this year, Mavcom had also launched an investigation into allegations that Suasa Airlines — which operates Monspace Sky Airlines — was operating a commercial flight without a valid licence from the Kuala Lumpur International Airport in Sepang to Langkawi. A police report was lodged against Monspace Sky Airlines for misleading the public by marketing itself as an airline.
"For Suasa Airlines, prosecution has been instituted and therefore it is a court matter now. Investigations of Monspace Sky Airlines are still ongoing and we are not able to share any information," says the Mavcom spokesman.
In order for an entity to operate a commercial airline business, it is required to hold an ASP or ASL, as well as an AOC.
The AOC — which is granted by the DCA, an agency under the Ministry of Transport — certifies that an airline complies with relevant technical competence and safety requirements. An ASP allows a company to operate charter flights, while an ASL allows it to conduct scheduled passenger services, like those of Malaysia Airlines Bhd and AirAsia Bhd. The issuance of the ASP and ASL comes under the purview of Mavcom which started operations in March this year.