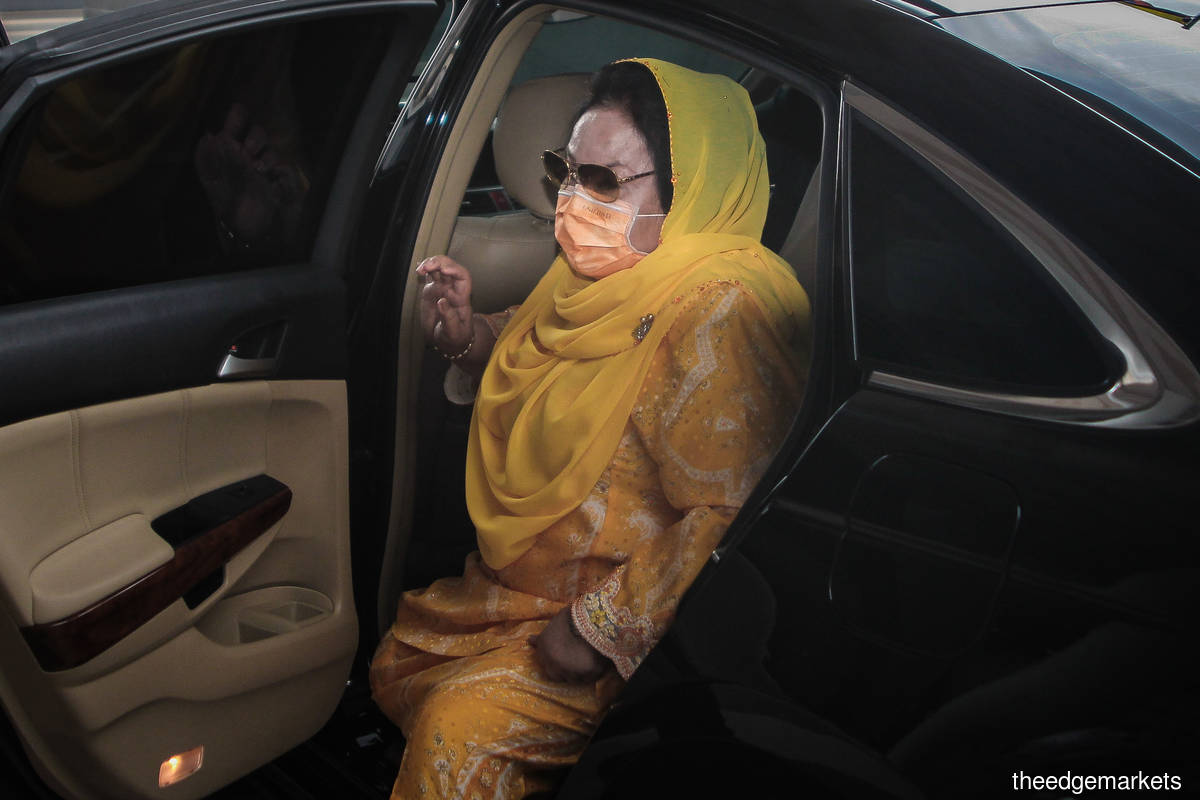 KUALA LUMPUR (Dec 3): Parti Pejuang Tanah Air legal secretary Akif Rusli on Friday (Dec 3) urged the courts in upholding the legal maxim "let justice be done though the heavens fall" in treating high-profile cases involving former premier Datuk Seri Najib Razak and his wife Datin Seri Rosmah Mansor.
Akif said in a statement as both are public interest cases and should the court treat the cases indifferently, the public perception of justice and confidence in the judiciary would decline. 
He also questioned Rosmah's disregard of the High Court order for her to return back to Malaysia on Nov 21.
"She was directed by the court to return by Nov 21, and her passport to be returned by Dec 6. However, Rosmah chose not to attend yesterday's (Thursday) Court of Appeal hearing involving her appeal.
"In any normal circumstances, any ordinary citizens when faced with criminal charges are required to follow court directives. If they fail, an arrest warrant is issued right away even if the case is only fixed for mention, and failure to attend would result in them being arrested," he said.
Akif asked if it was reasonable for Rosmah's lawyers to argue that their client had without fail attended the court proceedings before Thursday.
"Is this the nature of how high-profile cases are being treated, and the appeal hearing is allowed to be prolonged further with or without a good reason? At the same time, Najib has also filed a motion for further evidence be produced whereas the whole of Malaysia know that the verdict in the Court of Appeal has been scheduled [to be delivered] this Dec 8.
"There seems to be 1,001 reasons given to delay the court process involving both of them. People are also asking as to why the Attorney General did not oppose to their applications to get their passports. 'Justice delayed is justice denied' is the legal maxim that normal citizens face every day in the constitutional system.
"This legal principle should be adopted as with 'fiat justitia ruat caelum' (let justice be done though the heavens fall). I believe every Malaysian is hoping that the legal and judiciary institution is not being played or being despised just due to those facing the charges are well-known people."
Akif said both Najib and Rosmah are facing serious charges of public interest that need justice be upheld without any further delay.
"The court has to act without fear and favour. Since Barisan Nasional has returned as the government as a result of support of Perikatan Nasional and the memorandum of understanding agreed by Pakatan Harapan, have [those] resulted in this to happen?" he asked.
"I am worried and concerned as a legal practitioner that the rakyat's belief in the justice system, being the last bastion of truth and civility in protecting the country rights, is seen to be waning or eroded. Let Allah not allow us to descend further and protect the rights of the ordinary people from a returning king and queen of kleptocrats," he said.
On Thursday, senior Deputy Public Prosecutor and former Federal Court judge Datuk Seri Gopal Sri Ram asked a three-member Court of Appeal bench to issue a warrant of arrest to Rosmah for her non-attendance.
"The natural order which has to be made is that a warrant for her arrest must be issued and her bail must be cancelled. We are not talking about children. We are talking about equal adults who know what their duties, liabilities and responsibilities are," he stressed.
Subsequently, Rosmah's counsel Datuk Jagjit Singh said he bears sole and full responsibility for the oversight and assured the court that his client will be present in the appeal proceedings next Monday (Dec 6).
In response, Sri Ram said court orders must be obeyed and that the court should act in ensuring that they are not ignored.
"I do not want to sound difficult, but we have to be guided by the order of the court. Otherwise, it is not worth the paper on which it is written. If people are going to ignore orders of the court, then there is no point in making those orders.
"I appreciate my learned friend's (Jagjit) sentiment, but my only point is that if the order is not obeyed, and if this has been [done by] an ordinary citizen, an Ahmad bin Abdul, Muniandy or Ah Chong, would it have made a difference?"
"A warrant of arrest should be issued because she has disobeyed the order. I do not see why it should make a difference that the name on the charge is Rosmah binti Mansor," he added.
As Jagjit defended his client's action — that Rosmah had been attending her criminal case without fail before Thursday — the bench led by Justice Datuk Hanipah Farikullah, along with Justices Datuk M Gunalan and Datuk Hashim Hamzah, allowed the adjournment of the hearing until next Monday (Dec 6).
Rosmah and Najib are in Singapore as their daughter Nooryana Najwa has delivered her second child with her Kazakh husband. Najib, meanwhile, on Wednesday filed a motion to examine Malaysian Anti-Corruption Commission chief commissioner Tan Sri Azam Baki and SRC International Sdn Bhd investigating officer Rosli Hussein following recent developments.
Read also:
Rosmah fails to return to Malaysia, avoids arrest as COA adjourns appeal till Dec 6 and withholds issue of warrant
Najib files application to have MACC's Azam Baki and SRC investigating officer be cross-examined