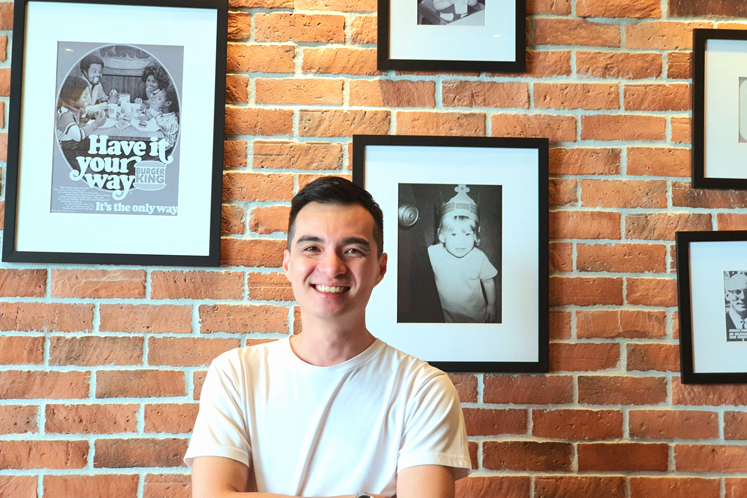 Victor Chin, CEO of Jobbie Nut Butter
Two young entrepreneurs who operate businesses in the consumer sector have experienced a steep learning curve trying to keep their businesses afloat during this COVID-19 pandemic.
Jobbie Sdn Bhd CEO Victor Chin learned the importance of delivering quality products to customers during normal times so they would rally behind the company in a time of crisis.
"You have got to focus on doing the right thing every day even before a crisis occurs. When you are delivering quality products and experience, it will pay off during challenging times like these," says Chin.
Jobbie produces handmade peanut butter. When the Movement Control Order was implemented in March, the company saw its revenues plunge drastically and it was soon grappling with issues of survival. While it continues to pay three of its full-time employees' salaries, the co-founders were considering taking a 50% pay-cut.
"We weren't sure if we could last for more than three months," says Chin.
However, the company posted an article on social media on April 9 to ask customers to pre-order the peanut butter which would be delivered once it started getting supplies again.
Its Facebook post went viral garnering about 3.7k shares and more than 2.7 comments. But more importantly, the company received 10 times the orders it usually gets in just two days. It is now confident of surviving beyond the three-month period.
Chin believes the amazing response is because the company was true to its commitment of delivering quality products to Jobbie's customers in the last six years of its existence.
"Our team tried to dissect why the post went viral. Our conclusion is that if our products had not been good, it would not have happened.
"So, yes, do the right things every day. Although it is hard, it will eventually pay off," he points out.
Another lesson Chin learned in this period is not to pay attention to less than constructive feedback on social media. This is because while Jobbie generally received great support, there were the inevitable skeptical and hateful comments, questioning the sincerity of its post.
"A lot of people are accusing us of using this as a marketing ploy to tug on the heartstrings of our customers. I choose not to focus on that as we were being honest and we are doing an honest business," he says.
Nevertheless, he appears slightly disgruntled by the comments. "We've been super transparent, telling people, 'Hey, if you can make a pre-order with us to support us, and you can wait, please wait. If you cannot, or if we cannot deliver the products, we will give you a full refund.'
"It shows that you can't please everyone. And you should just focus on doing the right thing," he says.
Competitors helping each other to stay afloat
Shirley Chia is the founder of Musees, a company that produces artisan handmade soy sauce. A key lesson she learned during this crisis is the importance of having a broad and supportive network during challenging times.
Since the implementation of the MCO last month, Musees has experienced a 70% fall in revenues and faced supply chain disruptions. Sometimes, the company cannot get plastic bottles from suppliers for its handmade soy sauce.
Facing these challenges, Chia partners up with other fresh food sellers to cross-sell each other's products to increase their revenues.
"It means we will ask our customers if they need fresh foods such as vegetables and fish when they are buying our products. Our partners also sell our soy sauce to their customers. We try to help each other. It's the spirt of #kitajagakita (we take care of each other)," she says.
Meanwhile, Chia and other industry players are also sharing resources and information to keep each other afloat. For instance, some industry players supplied Chia with bottles when she was short of them.
"People in the industry say, 'Hey, why don't you take mine first?' And others told me that someone has surplus bottles and asked if I would like to contact the person. We just help each other," she says.
At a time like this, even competitors are helping each other out. "Some of us are competitors but we are putting all that behind us now to survive.
"Things like this do not happen in normal times. During good times, we do not even know who will help you," she adds.
Chia is also humbled by the crisis and learned the importance of working with her employees to face it together. She retained 10 of her employees since the implementation of the MCO and continues to pay them the same salaries.
Because of this, they are more willing to fight for the company. "If we do not take care of them, they might not want to go out of their way to help us during this time by working odd hours and doing other things beyond their job scope," she points out.
More importantly, Chia is aware of the personal challenges her employees are facing during this crisis. She overheard them talking about how other people were stocking up on rice and other types of food but they didn't have enough money to do this. They were living hand-to-mouth outside of the crisis and things had just become that much more challenging.
"Yes, it humbled me. And I had to think of solutions to keep the company running and keep their jobs. They have families to support and kids to feed.  We can't pay them an executive salary for doing operational work, but we try to keep their jobs," says Chia.