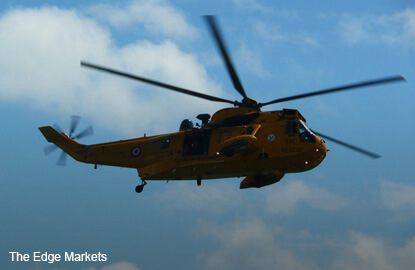 SINGAPORE (Dec 30): The Asian region is seen as the most promising market in the world for the aviation industry. In China alone, commercial aircraft manufacturer, Boeing, expects airlines in Asia's largest economy will need to hire an average of 5,500 pilots a year over the next two decades, as plane orders and commercial demand for air-travel rises.
That is in one market alone for commercial jetliners but the demand for other types of aircraft is also likely to rise, with strong demand for business and tourism travel in Asia. Aviation and defence company, Leonardo, which specialises in the manufacture of helicopters, intends to ride the regional wave to grow its market share in Asia for rotary-wing aircraft.
In fact, early this year, Leonardo was reported to have made a final shortlist to supply helicopters to the Republic of Singapore Air Force (RSAF). The RSAF is due to replace its Airbus Super Puma models in service for three decades with upgraded aircraft. However, the incumbent manufacturer was awarded a new contract and Leonardo lost a potentially ground-breaking deal with a military operator often regarded as a standard-bearer.
The Anglo-Italian company is nonetheless undaunted, and retains its ambition to expand its technical savvy to Asia with the expectation of winning new customers. Stefano Bortoli (photo), senior vice-president of sales & strategic sourcing at Leonardo, which changed its name from Finmeccanica earlier this year, to reflect a culture of innovation inspired by the 15th century Italian genius, says the company is striving to make up for lost time in a region, where its rivals have a higher profile.
"We deliver about 250 aircraft around the world on a yearly basis. Close to 70% of our customers are in the civil commercial segment while 30% is military. We have an installed fleet of almost 5,000 helicopters worldwide but only about 400 aircraft or less than 10% of the fleet is in Asia and we want to change this," he explains.
The relatively small exposure of Leonardo in Asia has become a driving force to grow its business in the region. "There is much potential here," notes Bortoli. "If I look at the worldwide helicopter fleet, about 20% of these aircraft are flying in Asia while our presence is only about half of that (figure). So, I believe, we not only have room to grow but the number of new products we can bring to the region also positions us well for the market,"
As a result, Leonardo intends to expand its headcount in the region. It already has a logistics support centre in Kuala Lumpur to support existing customers in Southeast Asia where most of its aircraft are flown by commercial and government-related operators.  
Currently in Singapore, the Leonardo group has a presence through its fixed-wing aircraft division, formerly known as Alenia Aermacchi, which manufactures training aircraft for civil and military customers. In addition, another arm known as Selex, supplies and maintains air-traffic management systems for Changi and other regional airports. Last May, the company made a start in building its presence in Singapore through investing S$4.2 million in a joint research centre at Nanyang Technological University to work on advanced helicopter technologies.