This article first appeared in The Edge Malaysia Weekly, on December 14, 2020 - December 20, 2020.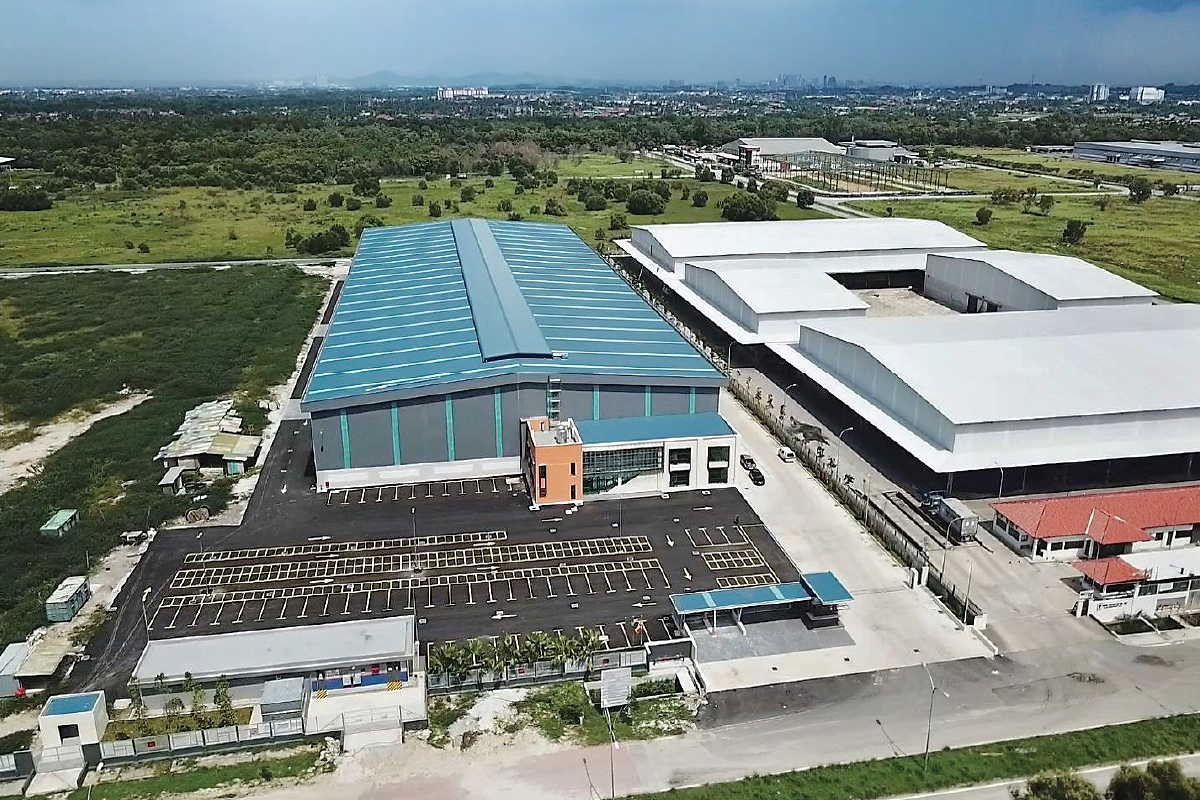 A decision made last year to venture into steel pipe manufacturing is already paying off for Main Market-listed Leon Fuat Bhd, as the demand from rubber glove and logistics companies looking to expand their facilities has been robust.
Although this new business segment has yet to make a significant financial contribution, executive director Calvin Ooi Shang How is confident it will become the group's third core business after steel trading and processing.
"With this diversification, we are providing customers with additional options in the purchase of steel pipes locally. We are of the opinion that the steel pipe manufacturing business complements our trading and processing businesses," he tells The Edge in an interview.
Steel pipes can be used in many applications, including the manufacture of machinery, steel structural works and storage systems.
"Over the past few months, we have received positive responses from the local market. Today, we are seeing strong demand from the manufacturing industry, especially rubber glove makers, which have been expanding aggressively since the outbreak of Covid-19," says Ooi.
Generally, manufacturers are Leon Fuat's indirect clients as the group deals directly with distributors and wholesalers, as well as the manufacturers' contractors and suppliers.
"Other than the established glove players in the country, many new companies are also diversifying into this [glove] sector. When these companies want to put up new manufacturing facilities, we will become an indirect beneficiary," Ooi points out.
Leon Fuat's three-phase steel pipe manufacturing is being undertaken at a new plant sited on a 16-acre parcel in Kawasan Perusahaan Bandar Sultan Suleiman in Port Klang, adjacent to North Port.
Excluding the land cost and RM31 million incidental cost, more than RM50 million has been allocated as capital expenditure for Phase 1, mainly for the purchase of machinery and construction of the factory. Phase 1 commenced operation at the end of 2Q2019. With a current installed capacity of about 5,000 tonnes per month, the factory is running at a utilisation rate of about 60%.
"In hindsight, the timing is just right for us because our steel pipe manufacturing plant is now up and running at a time when the glove manufacturers are expanding, not only this year but also next year. The orders are coming in strongly and we still have sufficient capacity to deliver," says Ooi, 41, who was appointed to the board of Leon Fuat in June 2012.
He is the son of the company's co-founder and executive deputy chairman Datuk Seri Ooi Bin Keong, and the nephew of managing director Ooi Seng Khong and executive director Ooi Kong Tiong. He is also the cousin of executive director Ng Kok Teong. The Ooi family controls more than 70% of the company through Leon Fuat Holdings Sdn Bhd.
Ooi stresses that Leon Fuat's main objective in Phase 2 is to expand its product range, rather than just for the sake of expanding production capacity. "We intend to make steel pipes with a bigger range of sizes, allowing us to serve a wider range of customers," he says.
"Our immediate plan for Phase 2 is to build a warehouse and common infrastructure surrounding the warehouse for about RM27 million. If and when we are ready to expand capacity, we will need to invest further."
While Leon Fuat's current focus is the local market, the group also plans to export its steel pipe products to overseas markets when the time is right, says Ooi. That is why the plant is located in Port Klang.
Trading and processing segments may benefit too
Ooi explains that when manufacturers expand production capacity, they will require not only steel pipes from Leon Fuat but also its processing services for customised parts. Moreover, they would need to order steel parts and materials, which benefits the group's trading business.
The rising demand for online delivery services has been favourable to Leon Fuat as many logistics and warehouse companies are investing to improve or expand their warehouse handling facilities, including the conveyor and sorting systems, which require a lot of flat and long steel materials. Industries such as palm oil processing and refineries also require Leon Fuat's products and services.
"We are still new in the steel pipe manufacturing business, but we do see a growing demand for steel material in the future. One of the reasons steel material is widely and continuously used in various industries is because steel is one of the most recyclable materials in the world," says Ooi.
Over the past five financial years, Leon Fuat generated a net profit of between RM18 million and RM27 million, except for FY2017 ended Dec 31, when it was exceptionally high, and FY2019, when it was exceedingly low. Ooi says the exceptional earnings of RM79.81 million in FY2017 was due to the company recognising gains and compensation from the compulsory acquisition of its land and buildings in Sungai Besi by the government for the Sungai Buloh-Serdang-Putrajaya MRT Line.
As for FY2019, Leon Fuat's weak earnings performance of RM5.53 million was mainly because of a lower overall gross profit margin of 10.1%, compared with 13.8% in FY2018. This was due to the unabsorbed overhead costs of RM4.57 million incurred by the processing segment in FY2019 and lower gross profit margin for the trading of steel products.
"It is still early to estimate how our group's bottom line will be when our steel pipe manufacturing business starts kicking in and becomes mature. But conservatively, based on our production output of 3,000 to 4,000 tonnes per month, I think this division alone could generate an annual revenue of at least RM100 million," says Ooi.
Leon Fuat has been attracting the attention of investors since late last month as the group had delivered strong financial results in 3QFY2020 ended Sept 30 compared with the two preceding quarters. Year on year, its net profit had more than tripled to RM6.76 million, taking its cumulative profit for 9MFY2020 to RM10.46 million.
Ooi acknowledges that while the steel pipe business has started contributing to Leon Fuat's turnover, it has yet to contribute positively to the bottom line. "Hopefully, our steel pipe manufacturing business can break even as early as this year. The market potential is huge, but it needs time to grow. We expect this division to contribute significantly to our group from FY2022 onwards. We are quite optimistic that this business will see a steady upward trend going forward," he says.
Shares of Leon Fuat, which had been trading sideways since the stock market meltdown in March, saw a major breakout at the end of last month after the announcement of its 3QFY2020 results on Nov 26. The counter jumped 44.5% to 53.5 sen on Dec 2, from 37 sen on Nov 26, before ending at 50.5 sen last Wednesday to give the company a market capitalisation of RM156.55 million.