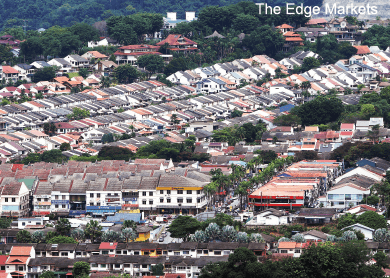 PROPERTY DEVELOPERS are pessimistic about the property sector this year, with many expecting "flattish" growth in new sales. They have started ramping up their marketing efforts by giving out rebates and other sweeteners to attract homebuyers in the hope of boosting sales.
Their fears are not unfounded. The latest statistics from the National Property Information Centre (Napic) confirm a slowdown in the sector. While the property market had held up last year, recording a marginal increase of 0.8% in property transaction volume and a 7% rise in transaction value, it took a turn for the worse in the last quarter (4Q2014).
"The transaction value in 4Q2014 actually declined 14.2% year on year to RM38.6 billion while volume declined 4.5% y-o-y to 94,523 transactions. This is potentially a trend reversal [when compared with] the first nine months of 2014," MIDF Research says in a note on April 20.
To make matters worse, 1Q2015 numbers show signs of a further decline. Deputy Finance Minister Datuk Chua Tee Yong, quoting Napic, said property transaction volume for the quarter declined 4.6% y-o-y, or 6.2% quarter on quarter, to 88,600. Property transaction value also fell to RM38.5 billion, compared with RM40 billion in 1Q2014 and RM38.6 billion in 4Q2014.
Bank Negara Malaysia statistics show that the number of loan applications for residential properties has been on a declining trend since August 2014, falling 40% from RM19.5 billion then to RM11.7 billion in February 2015.
Some put the blame for the slowdown in property sales on banks' overly stringent lending policies, in response to the central bank's guidelines for responsible financing and the government's property cooling measures.
However, the loan approval rate of 54% for residential properties last year was the highest level since 2009. The loan rejection rate had actually fallen to 46% in 2014 from 52% in 2012.
One loan officer says, "It is not that hard to have your loans approved, especially if you are a first-time homebuyer with sufficient disposable income."
According to MIDF Research, the decline in transaction value in 4Q2014 can be attributed to the weakening demand for properties, and not so much the stringent lending policies.
"In view of the potentially weaker consumer sentiment post-implementation of the Goods and Services Tax (GST) in April 2015, we believe new property sales will likely be lower this year compared with 2014," it says, adding that it expects new property sales to slow down by between 5% and 10% this year.
Siva Shanker, president of the Malaysia Institute of Estate Agents, tells The Edge that while lending curbs were necessary to weed out speculators in the property market, they could have been friendlier to homebuyers.
"The curbs were necessary to cool the market down in order to prevent a catastrophe. However, the policies could have been friendlier to both homebuyers and developers. For example, DIBS (developer interest bearing scheme) could perhaps have been applied selectively to first-time homebuyers instead of outlawing it completely," he says, acknowledging that this is now a thing of the past.
Analysts are not optimistic about the property sector this year, with most having a "neutral" call on the back of softer demand due to buyers' wait-and-see attitude post-GST. However, the current environment could benefit genuine homebuyers who may be able to find bargains in the secondary market.
"Property developers are still assessing the market and restrategising product launches, so the [primary] market will be slow this year. The price of new launches won't come down unless there is a significant contraction in the economy," a property analyst says, adding that the secondary market should be seeing more activity.
Siva says, "There are currently a number of options [available to genuine homebuyers]. It is advisable to look further from the city if you want to get a good price for a house." He advises buyers to manage their expectations when it comes to buying a property in the city centre due to high prices.
"For example, you can find properties priced below RM400,000 in Desa Pandan, which is just five minutes from the KL city centre. But most people are not keen because of perception issues surrounding medium-cost flats. There are also bargains to be had in the secondary market, provided that the homebuyer is not too choosy."
Meanwhile, property speculators who had purchased properties by taking advantage of DIBS — where buyers do not need to make interest payments during the construction period and only do so when the property is completed — are finding their properties nearing completion.
"The secondary market may start to see more properties come up for sale as some speculators, who have to start servicing their loans, may be forced to sell their properties," says an industry observer, noting that genuine homebuyers might be able to get some good bargains this year as a result.
Knight Frank Malaysia managing director Sarkunan Subramaniam says, "We are starting to see more people having difficulties servicing their loans based on the increasing number of auction proclamation notices."
A property valuer from a prominent auction house confirms this observation. "We have noticed an increase in the number of valuation cases for auctions from the banks. While there has been a decline in the number of cases for new property purchases, the total number of cases for auctions has recently increased. Some borrowers may have started to default on their loans as we are seeing more of these compared with last year," he tells The Edge.
"It's possible that we may see more individuals defaulting on their loans in the rest of the year due to the rising cost of living after GST implementation and a slowdown in the economy," he adds.
Indeed, statistics from the Malaysia Department of Insolvency (MdI) show that the number of bankruptcies in the country had risen by 16.6% to 22,351 cases last year compared with 19,167 in 2011. The MdI acknowledged that the enforcement of GST will impact financial expenditures of individuals, especially if their disposable income does not increase.
Property developers say banks are eager to obtain more property loans business and competition has been aggressive among banks to provide better rates to property buyers in order to get more business.
"We noticed that more and more banks are asking us to push loans to them for business of late," notes one property developer.
However, the overall property sector is expected to remain sluggish this year. "This year will be a really slow year. I don't think the sector will see any double-digit growth," says the property analyst.
This article first appeared in The Edge Malaysia Weekly, on April 27 - May 3, 2015.