Click / Tap image to enlarge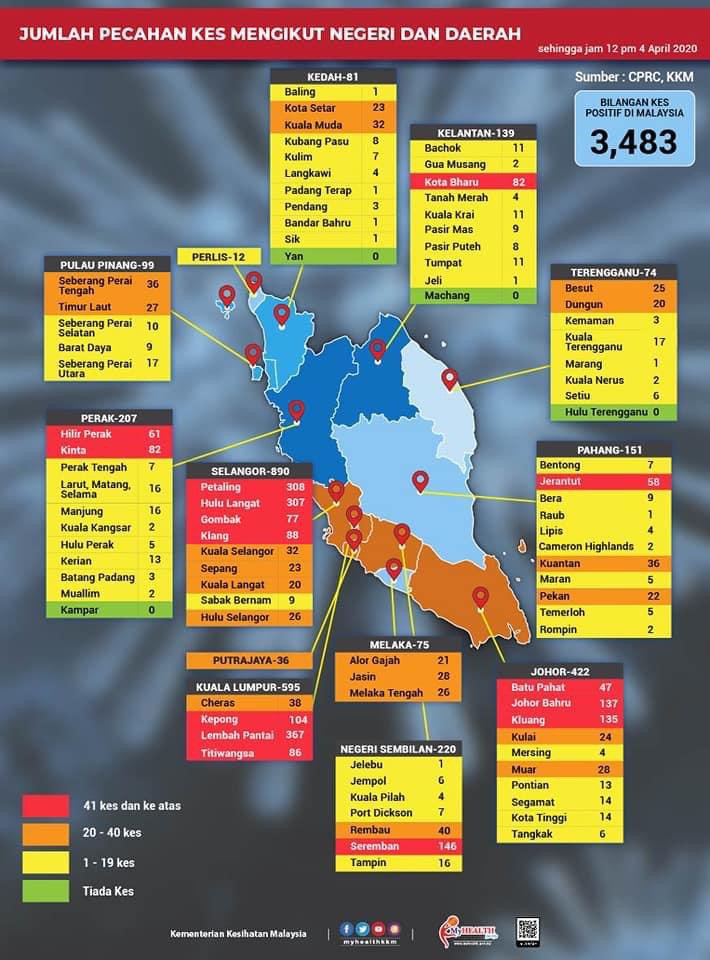 Click / Tap image to enlarge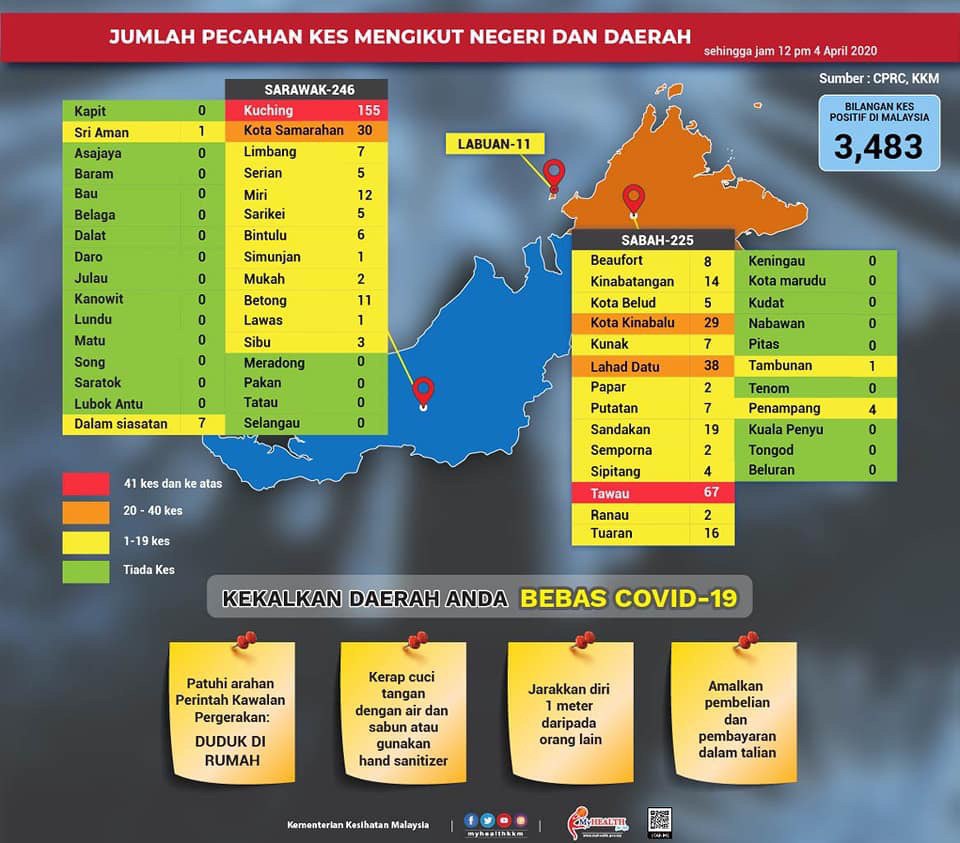 (This article has been amended for accuracy.)
KUALA LUMPUR (April 5): In Lembah Pantai, where 45 new Covid-19 cases were reported yesterday, the rise in positive cases seems to be getting rapid. There were 148 cases in a week from 219 last Sunday (March 29).
At Petaling, the tally increased by more than one third with 85 new cases, up from a total of 223 last Sunday.  
Lembah Pantai, which covers districts like Bangsar, Pantai Dalam and Kampung Kerinchi, remains as the red zone with the highest number of infections of 367 cases as of noon yesterday, followed by Petaling with 308 cases and Hulu Langat (307), based on the statistics provided by the Ministry of Health (MoH).
Nonetheless, it is worth noting that the number of confirmed cases in the two red zone areas (areas with more than 40 confirmed cases) — Lembah Pantai and Petaling — was higher than Hulu Langat at the time when the government decided to impose enhanced movement control order (EMCO) in several parts of Hulu Langat. As at March 29, there were 209 positive cases in Hulu Langat, while Lembah Pantai has 219 cases and Petaling 223.
To recap, the government enforced EMCO in areas covering Batu 21 to Batu 24, Sungai Lui in Hulu Langat, Selangor, starting last Monday (March 30) until April 13.
The EMCO involves seven villages, comprising 700 homes with 3,918 residents.
Senior Minister (Security Cluster) Datuk Seri Ismail Sabri Yaakob said the decision was made after taking into account the high number of positive Covid-19 cases involving Maahad Tahfiz AnNabawiyyah students at Batu 23, Sungai Lui.
The MoH had then confirmed that there were 71 positive cases out of 274 students at the maahad tahfiz.
Currently, there are 17 red zone areas nationwide, of which seven are in the Klang Valley. 
Those in the Klang Valley also include Kepong (104), Klang (88), Titiwangsa (86) and Gombak (77).
Klang Valley, the most populated area in the country, has 1,485 cases (Selangor and Kuala Lumpur), accounting for 42.6% of the country's total confirmed infections of 3,483.
Other red zone areas that have more than 100 confirmed positive cases are Kuching (155), Seremban (146), Johor Bharu (137) and Kluang (135). 
#dudukrumahdiamdiam. We will deliver the news to you at theedgemarkets.com.