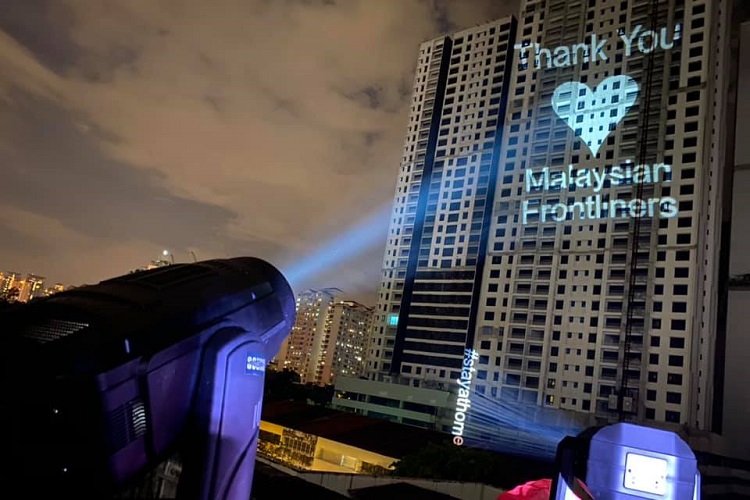 Sound Innovations' light projections for frontliners
Palvin Singh Satwant Singh, owner and director of VOP Productions and Palvin Productions
Stanley Edward Sinbad, owner and director of Sound Innovations Sdn Bhd
Workers in the entertainment industry have been left jobless. The scary reality for companies in this sector is that they have no idea when they can start operating again, especially since Health director-general Datuk Dr Noor Hisham Abdullah announced that the government will probably discourage mass gatherings for the next six months or one year.
Stanley Edward Sinbad, owner and director of Sound Innovations Sdn Bhd, says his biggest concern right now is keeping afloat. The domino effect is quite simple: event companies are relying on organising events to generate revenue. With the MCO in place, all events have been cancelled, leaving industry players without a source of income.
Palvin Singh Satwant Singh, owner and director of VOP Productions and Palvin Productions, feels the same way. He is already considering 2020 a loss-making year as he can only start planning for next year.
"I had a couple of corporate events and weddings planned [during the MCO period], as well as several shows and concerts. We arranged everything with the artist's management, including the venue, and now it's impossible for the concert to take place this year.
"In fact, there is no way we can start thinking about doing any functions or concerts this year. It's a big loss to the industry because the year just started and we didn't have time to shift from second to third gear to get things moving. And now we're back to first gear."
VOP Productions was established in 2012 and was set up to provide sound, light, videography and photography solutions for events such as weddings and corporate events, while Palvin Productions focuses on bringing in Bollywood performers to do concerts in Malaysia.
Sound Innovations, on the other hand, started out as a small sound and light company for events in 2000. The company now caters for roadshows, corporate events as well as the concert scene. To date, it has provided its services for international concerts featuring Mariah Carey, Boys2Men, Shawn Mendez, Lewis Capaldi, Charlie Puth, as well as international Korean and Chinese stars. 
Sinbad shares that as a player in the international entertainment scene, the industry was facing stagnation even prior to the MCO. All the Korean and Chinese concerts scheduled to take place from January were cancelled because of the Covid-19 pandemic.
But things got really bad for these players when local events were also cancelled as the government started implementing public health measures.
"I had to reschedule all postponed concerts from our side and what was supposed to be a busy February, March and April started looking more and more unlikely. My immediate concern was managing the next couple of months financially and to keep the company afloat throughout this period," he says.
He had already started talking to bankers and suppliers to reschedule payments and implement measures such as minimising the use of electricity to reduce operational costs, prior to the MCO.
"Luckily, the government stepped in and announced the loan moratorium, which was a good move for businesses," he attests.
Sinbad says his company has seen a 95% drop in its income since February 2020 and now it is making zero revenue. As overhead costs take up 70% of the company's monthly revenue, he has applied for the RM1,200 wage subsidy announced by the government in the second stimulus package for small and medium enterprises (SMEs).
The company is currently running on fumes, surviving on its reserves. Sinbad is considering taking a loan to keep the company alive. Right now, he and his 15 staff are working from home keeping in touch with their clients, both overseas and local, who had planned on doing events in Kuala Lumpur this year.
"I've had to remain confident and positive for everyone to give them the confidence that we will all get through this. Our mindset is the most important thing right now," he says.
The company's Facebook post of light projections with words of gratitude to frontliners went viral. The post has since garnered over 10,000 likes and close to 1,000 shares. "We had nothing to do, so to maintain the branding of the company, we ordered these custom-made stencils and attached it to our lights and projected it."
"The light can project up to 1km and since we're located near the KL High Court, we projected it there as well as on buildings nearby. It goes on every day when it's dark until about 10pm." 
Palvin has similar concerns, as he still needs to pay bills, rental, salaries and suppliers. His overheads can go up to RM10,000 a month and while he is grateful the government instituted the loan moratorium, there are some things that still require him to fork out money from his own pocket.
"There are a few things I can't put on hold, like rental for my storage space as well as the payment terms I have with suppliers for equipment I purchased before this. I did put in a request with my landlord for a reduction of rental but it wasn't approved," he says.
Palvin says the company is facing losses of up to RM15,000 a month, which is about 80% of his normal monthly revenue. He is also considering a loan to keep his company afloat but has yet to get through to any banks. While he understands the need to cancel events at the moment, he worries about the future as no one has made any new bookings.
"Usually, by the middle of the year, I get bookings for next year and sometimes, two years in advance. But I've haven't had even one new booking since the pandemic started. We have not received any deposits or secured any events," he says.
"During the MCO, every weekend was a loss for me and even after, it will be a loss because most of my clients have postponed their events to next year. If the MCO goes on until the end of May, I will lose business from more than 10 functions a month."
Palvin is the sole owner of his companies and has two workers on his payroll. The rest of his manpower are regular part-timers. While he is not obligated to pay the part-timers during a time of inactivity, he gave them some cash, just to make sure they are okay.
"I have my personal cash reserve but i think it's not enough because i assumed my company was going to generate more savings as the year went on," he says.
"It's just the beginning of the year. Most companies have already invested [their profits] for the rest of the year. October, November and December are hectic months for every event company, so they build revenue within these three months and in January, this is reinvested in the company for the rest of the year."