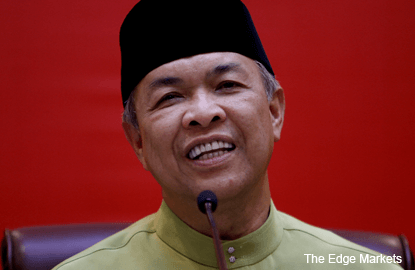 KUALA LUMPUR (Feb 3): Datuk Seri Mukhriz Mahathir should remain loyal to Umno and not be influenced by the opposition, said the party's vice-president Datuk Seri Ahmad Zahid Hamidi hours after the former stepped down as Kedah menteri besar.
Zahid was quoted in The New Straits Times as saying: "Mukhriz must not be influenced by the opposition", but must prioritise the party's unity and stability.
The deputy prime minister, who is in Beijing on a working visit, used his own experience as an example, pointing out that he was detained under the Internal Security Act in 1998 for criticising Tun Dr Mahathir Mohamad following the sacking of Datuk Seri Anwar Ibrahim.
Zahid said he was accepted back into Umno the following year.
"That is why I say he (Mukhriz) must practise istiqamah (steadfastness and consistency), and take heed from what had happened to me in 1998," he told the NST.
He added that Mukhriz must be flexible to decide on issues but prioritise the party's unity and political stability "for his own sake and the nation as a whole".
Zahid also congratulated Mukhriz's replacement, Kedah Umno deputy chairman Datuk Seri Ahmad Bashah Md Hanipah and called for the state party leaders to move forward by putting the political saga behind them.
Ahmad Bashah, who is expected to be sworn in as the new menteri besar tomorrow, led the call to oust Mukhriz at a press conference on Jan 20, citing loss of confidence in the latter.