This article first appeared in The Edge Financial Daily, on September 24, 2018.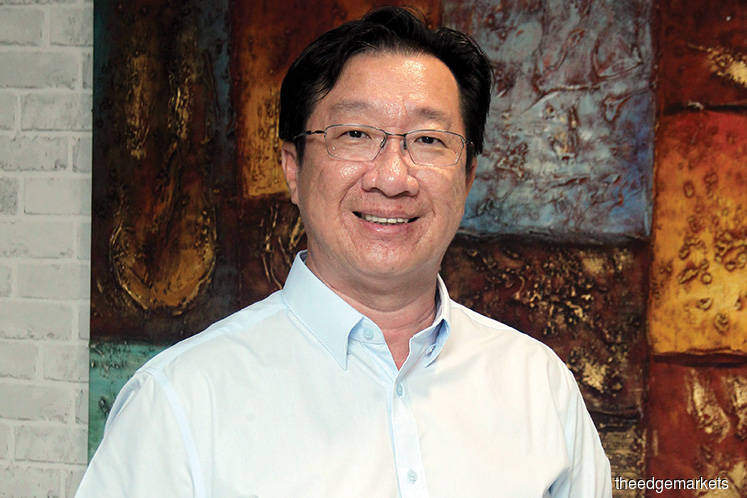 KUALA LUMPUR: Penang-based Amlex Holdings Bhd, en route to a listing on the Leading Entrepreneur Accelerator Platform (LEAP) Market on Bursa Malaysia tomorrow, has set a three-year target to transfer to the ACE Market.
In the meantime, the electronic packaging and interconnect solution provider is moving to ramp up profits by adding more machines to increase production capacity.
"We need to have a strong three-year profit track record to be listed on the ACE Market. We are not there yet. But for starters, the LEAP Market is a good platform for us [to raise funds for our expansion]," Amlex co-founder and managing director Lim Say Soon told The Edge Financial Daily in an interview.
He said for now, the important thing for the company is to stay focused on its capacity and capabilities.
"Everything will fall into place once we get our capacity up (with more machines) and start producing more, proving to customers we can do much more. It is a natural progression," he added.
The group posted a 22.8% net profit increase to RM2.15 million in the financial year ended March 31, 2018 (FY18) from RM1.75 million in FY17.
Revenue also grew by double digits, up 20.6% to RM39.25 million in FY18 compared with RM32.56 million in FY17.
"The increase in revenue was a result of higher demand for components of silicon microphones used in mobile devices and industrial electronics, which also lifted our net profit," he said.
The 54-year-old Lim expects the company's double-digit revenue growth momentum to continue in the current financial year, with revenue growing at a faster pace when new machines are installed by the second half of FY19.
"Once the machines are installed, we can quickly stabilise the operation and roll out orders. Historically, we have had a double-digit growth, so we expect the same in the coming years," said Lim.
He added that Amlex's business strategy is to move up the supply chain by offering value-added products.
"We started as a subcontractor, but now we design products with our clients. In the future, we want to be known as a one-stop solution company," he said.
Under the proposed LEAP listing exercise, Amlex is looking to raise gross proceeds of RM6.03 million via a private placement to investors.
Of the total, the company plans to use RM3.2 million (53%) raised from the placement as capital expenditure (capex).
Under its capex plans, Amlex will set up and build a new in-house designed rack plating machine and an additional reel-to-reel electroplating plating machine, testing and quality assurance equipment as well as facility upgrades to cope with rising orders.
It will further utilise RM1.03 million (17.1%) for working capital, RM800,000 (13.3%) for research and development (R&D), while the remaining RM1 million (16.6%) would be used for listing expenses.
"We badly need to expand our existing capacity as we are currently operating at 90% capacity. There is not much room for growth. We have orders coming in, but we need to stall them. Our order book is 20% to 30% above capacity from the current operation," said Lim.
He said the new machines will raise its electroplating capacity by 25%, enabling Amlex to meet orders and solving a two-year problem, with mass production expected from October onwards.
"Since we are currently running under-capacity, we have to turn down [new] businesses. The capex would help us meet the current customers' orders.
"A big part of my job right now is to tell our customers nicely and politely that we cannot deliver immediately," he noted.
Amlex is the ninth company to list on the LEAP Market. It plans to issue 40.2 million shares, representing 15% of the enlarged share capital, at an indicative price of 15 sen per share. At that price, the company will have a market capitalisation of RM40.2 million upon listing.
Lim, an engineer, and his brother Lim Say Peng, 51, an accountant, founded Amlex, which is a combination of two words — America and Molex Inc — in 2004. Molex was the company's first customer.
The company started off doing reel-to-reel plating that is designed and commissioned by its R&D and engineering teams.
Two years later, Amlex started its own lead frame production line that incorporates the end processes before undertaking precision metal stamping activities and expanding into pre-moulding of lead frames.
Lim said today, Amlex provides complete solutions to its customers that are mostly US companies in the automotive, consumer electronics and aerospace sectors.
Geographically, Malaysia is the company's biggest revenue contributor at 67% followed by the Philippines,Thailand, Singapore and the US.
Amlex's lead frame products are in light-emitting diodes (LEDs), lighting displays and motion control sensors, navigational sensors for optical mice, as well as optoelectronics devices such as optocouplers and semiconductor integrated circuits. It also does plating for parts used in smartphones.
Lim said the requirement to instal daytime running lights for new passenger and commercial vehicles in the European Union, the UK and Canada is going to raise demand for auto lighting products soon.
"We want to grow our auto lighting or LED sensor segment. It will be the driver of the semiconductor industry, especially when autonomous cars are the future," he added.