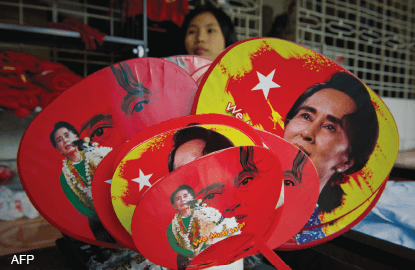 This article first appeared in The Edge Financial Daily, on November 12, 2015.
VOTERS from Myanmar have made one thing clear: They want their next leader to be Aung San Suu Kyi. That means she has to prepare to manage the government and the military needs to get out of the way.
Although official results have been suspiciously slow in coming, Suu Kyi's National League for Democracy (NLD) says its internal numbers show the party winning more than 70% of the vote nationwide — enough to hold an outright majority in parliament.
For Suu Kyi to become president, however, requires amending the constitution, something that the military has long resisted. The document currently bars anyone with a foreign spouse or children from serving in the post. (Suu Kyi's late husband was British, as are her children.) And it reserves a quarter of seats in parliament for uniformed officers — enough to veto any constitutional changes.
Leaving this rule in place will only fuel uncertainty and doubts about Myanmar's worthiness as an investment destination. Suu Kyi would dominate whomever her party nominates as president, thus creating multiple power centres at the top. And a constant threat of military intervention would reduce confidence in any of the new government's plans and promises.
To help ensure that the country is at peace and prepared to make economic progress, the Burmese military should also change its approach toward ethnic rebels. More than half of these groups have refused to sign a nationwide ceasefire agreement. They want a greater share of local power and more of the revenues from jade, timber, oil and other natural resources concentrated in ethnic areas.
Last year, some US$20 billion of the money from jade, mined mostly in Kachin state, was plundered by groups said to be controlled by former generals and others connected with the military, according to Global Witness. Less than half of the revenues ended up in state coffers.
Stability should be the priority for Suu Kyi and the NLD, too, as they prepare to take charge of the government. During the election campaign, elements in the military-backed Union Solidarity and Development Party dangerously fanned anti-Muslim fervour.
While the NLD dodged this explosive subject before the vote, party leaders now need to speak out against such demagoguery, especially the hate-infused rhetoric coming from some radical Buddhist monks.
Finding a pathway to citizenship for the country's oppressed Rohingya Muslims won't be the new parliament's first priority. But neither can lawmakers ignore the issue forever: Smugglers are reportedly preparing to launch more boatloads of Rohingya refugees for Malaysia and Thailand; another exodus would reignite tensions with both neighbours. Only Suu Kyi has the moral authority to confront such deeply ingrained prejudices.
Sunday's vote also gives her the responsibility — whether or not she is allowed to become president — to finally groom a strong deputy and a team of capable technocratic leaders, perhaps drawn from the talented Burmese diaspora.
Myanmar's toughest economic reforms still lie ahead: A vital investment law awaits passage. Trade costs must be brought down if manufacturers are to benefit from Myanmar's low wages. A proper banking sector needs to be developed. Money has to be poured into infrastructure and education.
Suu Kyi has earned the right to lead Myanmar. But she cannot do so on her own. — Bloomberg View