This article first appeared in Capital, The Edge Malaysia Weekly, on May 20, 2019 - May 26, 2019.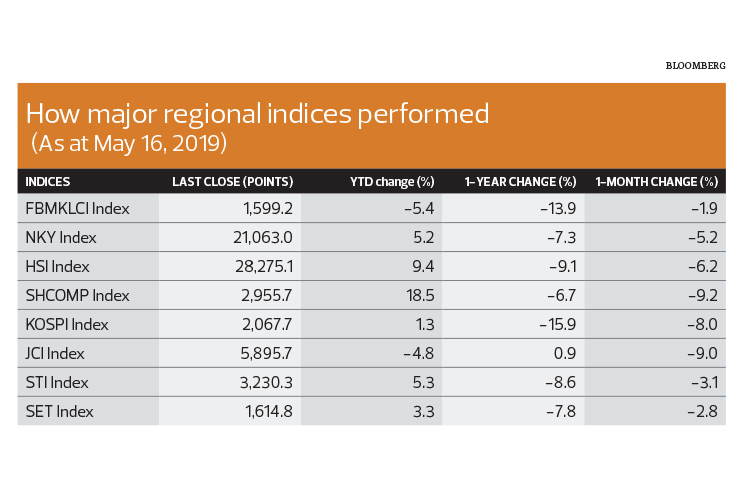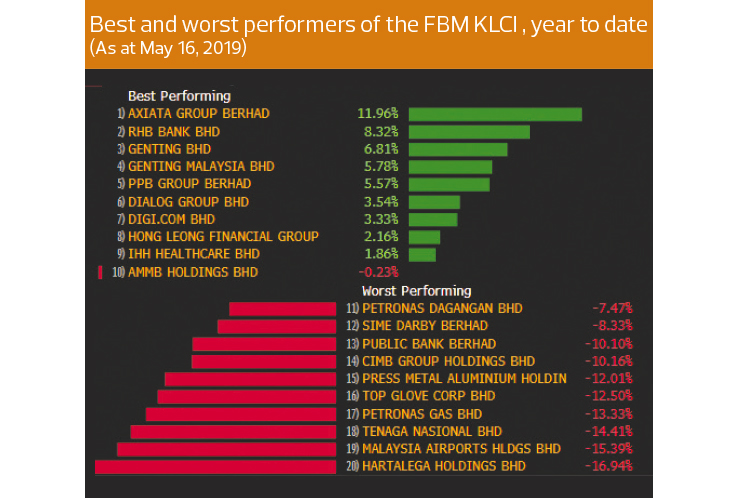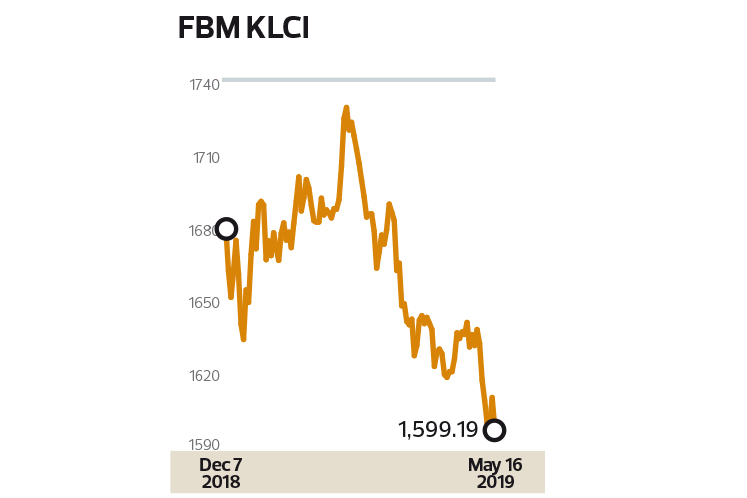 WHEN the US and China slap each other, Asian investors — including Malaysians — feel the sting. Re-escalating trade tensions early last week threw Asian equity markets into the red, with the benchmark FBM KLCI extending its losses from the previous week to close at 1,599.19 points on May 14 — the first time the local index has fallen below the 1,600 psychological barrier since September 2015.
It is all sentiment, says Ang Kok Heng, chief investment officer at Philip Capital Management. He believes the rocky news flow is good for long-term investors looking for value, particularly those who had shied away from the market due to valuation concerns. "For those with holding power, with a longer-term perspective, the bad news is good news. This is the time you have been waiting for."
That said, investors should be prudent, selective and have buffers in place for missteps, he adds. "Nobody knows where the bottom is so you should spread out to buy around the bottom. You have to take precautions given the uncertainty in the market."
Last Monday, the Chinese finance ministry announced tariff increases — from 10% to as high as 20% to 25% — on a wide range of American imports. The move was a direct response to Washington's announcement the previous Friday that US$200 billion worth of Chinese goods would see higher tariffs. The increase was announced after the parties failed to come to an agreement in May 9 trade talks.
President Donald Trump reportedly said the increase was punishment for Beijing's attempt to "renegotiate" a trade deal.
The renewed tit-for-tat has revived uncertainty in the market. The FBM KLCI recovered last Wednesday to end at 1,611.43 points but slid back to 1,599.19 points the following day as regional markets also came under pressure.
Between May 6 and May 10, foreign investors sold RM450.9 million net in terms of local stocks, mainly from Wednesday onwards, as news of renewed trade tensions emerged.
Up to May 10, Malaysia had seen RM3.28 billion in total fund outflows year to date, according to data tracked by MIDF Research.
Elsewhere in the region, the Jakarta Composite Index (JCI) saw its YTD gains wiped out last week after tumbling 4.82% last Thursday. Other indices such as Korea's Kospi, the Hong Kong Hang Seng, Thailand's SET, the Philippines' PSEi and Japan's Nikkei also pared YTD gains, though most remained in positive territory as at last Thursday.
The skittishness is not surprising as most countries in Southeast Asia count China as their top trading partner, according to data tracked by Bloomberg.
Danny Wong Teck Meng, CEO of Areca Capital Sdn Bhd, believes the turbulence allows alert investors to grab good buys that emerge. "Any further drastic downward movement is then an opportunity for us to go in."
Selective plays
With US-China trade negotiations developing into a game of chicken, investors should not try to dance to the play-by-play news reports that emerge, counsels Lee Chung Cheng, head of research at JF Apex Securities.
"I don't think either side want it to develop into a full-blown trade war, but this thing may drag on for a while before it is actually settled," says Lee over the telephone. "So, I would say just ignore the short-term noises and go long-term (investments)."
So, has value emerged in the local market over the past week? YTD, the FBM KLCI is down 5.41% as at last Thursday. From a 12-month perspective, the benchmark has retreated 10.86% up to May 15.
It is worth noting that in a May 14 report, Credit Suisse upgraded its outlook on Malaysia from "market weight" to "overweight" .
"We believe it is worthwhile for investors to revisit the Malaysian market as it is a relative safe haven and there are some noteworthy positive developments that could continue to gather momentum.
"As the worst-performing market in Asia, Malaysia's valuations relative to regional peers look more attractive and the market has many defensive attributes, such as: (i) it is under-owned by foreigners, having endured foreign selling pressure in the equity and bond markets; (ii) it offers one of the highest dividend yields; (iii) low earnings expectations; (iv) sentiment index at an all-time low; (v) currency looks oversold," writes Credit Suisse.
Choo Swee Kee, executive director of TA Investment Management Bhd, says it is still difficult to make a call.
"It is a wait-and-see kind of market," says Choo. "The best-case scenario is that there is no trade war but no one really knows what would be the worst that could happen.
"I don't think much has changed. If you ask me who has created more value in terms of dropping prices, our regional peers may have actually created more value than we have. The price-earnings ratio would show that, yes, we are still not cheap compared with the regional markets," says Choo. "So we remain cautious and we are not buying aggressively."
That said, Malaysian equities are now cheaper compared with historical valuations, says Wong, who says the local stock market is already "very, very low in terms of valuation".
Selective plays could be the way forward for investors keen to take advantage of the volatility. The key is to look at fundamentals and not be carried away by the market sentiment, fund managers advise.
One example is good but illiquid counters, says Areca Capital's Wong. "Typically, there are some fundamentally strong stocks in the market where the liquidity is not there. If there is a big seller, that could be the time to accumulate some of those shares."
And then there are the usual export-focused stocks that could actually benefit from prolonged trade tensions, says Philip Capital's Ang, pointing to rubber glove manufacturers as an example.
In a May 16 report, CGS-CIMB Research says Malaysian rubber glove manufacturers are poised to gain market share in the US as continued tariffs would deter demand for Chinese-made vinyl equivalents.
China is one of the world's largest exporters of vinyl gloves, a segment that constitutes 44% of US glove imports as at the first half of 2018.
Investors should also look at domestic-oriented businesses, such as construction companies. "Trade war or no trade war, these businesses are still going on. So if there is dumping of certain materials then they may even benefit because they can get (raw materials) cheaper," says Ang.
Will outflows reverse soon?
The renewed market volatility from the US-China trade stare-down comes just weeks before the earnings reporting season for the first quarter of the year (1Q2019).
However, the numbers that are coming out soon may not excite the market very much, says Wong, as the first few months of the year were still marked by policy uncertainty, among others. "All in, I think second-half earnings could give us more positive news than the first half. One is due to a low base — 3Q2018 and 4Q2018 corporate earnings were low. "Also, businesses are also more willing to invest now one year after the change of government. So we think that corporate earnings could show positive signs of recovery in the second half."
To be fair, since the first quarter, Putrajaya has signalled a fresh pivot to growth by reviving several big-ticket construction projects, including the East Coast Rail Link and the Bandar Malaysia development.
On May 7, Bank Negara Malaysia reduced the overnight policy rate by 25 basis points to 3%, the first cut in over a year. This cut, while small, should provide a small boost to some corporate players, says Wong.
He expects the turbulence in the market to stabilise between mid-May and June, after which he thinks foreign outflows from the stock market could reverse.
"When things stabilise and the dust settles, I would not discount a sudden U-turn, whereby foreign funds would come back," he says, but acknowledged that the recovery may be more U-shaped than V-shaped.
"So May and June may be the time to pick some of the stocks affected by the recent environment," says Wong, who is projecting a possible recovery between August and September. Should 3Q2019 results prove better than 2Q, he adds, "Then we might see the whole situation U-turn."