This article first appeared in Capital, The Edge Malaysia Weekly, on October 7, 2019 - October 13, 2019.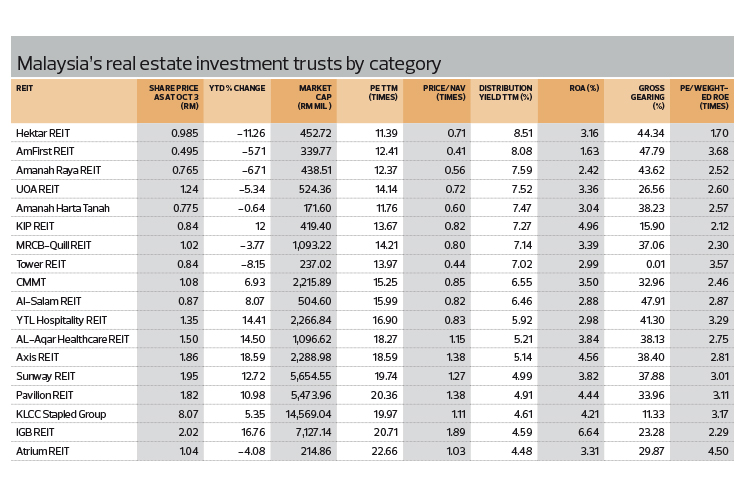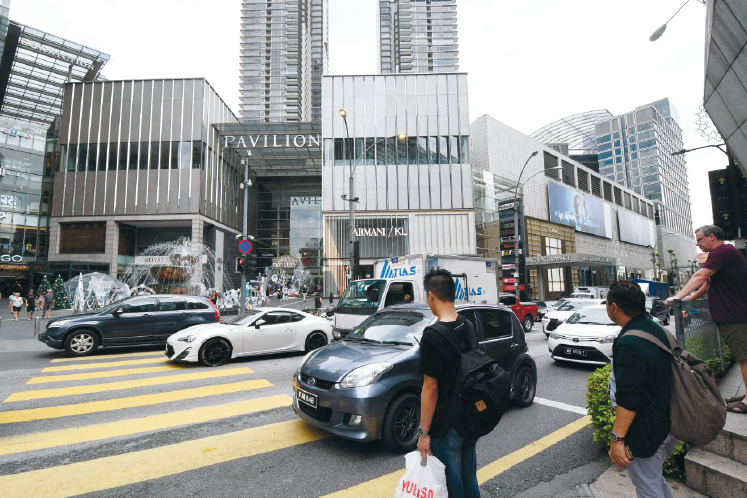 Pavilion Mall in downtown KL is one of Pavilion REIT's assets. Photo by Low Yen Yeing/EdgeProp.my
IN times of uncertainty, investors usually turn to real estate investment trusts (REITs). It is no different at this time, as global economic uncertainties have seen investors taking refuge in the defensive nature of REITs.
Some quarters expect another overnight policy rate (OPR) cut soon, which bodes well for the REIT sector.
Bank Negara Malaysia last cut the OPR in May — by 25 basis points to 3%. The Monetary Policy Committee kept the OPR unchanged in July and September and will meet for the last time this year on Nov 5.
"An easing interest rate environment will result in lower borrowing costs for REITs to acquire future assets. The KL REIT Index has shown somewhat of an inverse correlation with the OPR, with part of the former's movement leading the latter to increase before a cut and vice versa.
"This is not surprising as investors view REITs as perhaps an indirect substitute to fixed-income instruments," Hong Leong Investment Bank Research (HLIB) says in an Oct 3 report.
It is worth noting that REITs have been the second-best performing sector, behind the consumer products sector, since last year. Between March 21, 2018, and Oct 2, 2019, the KL REIT Index gained 17.56%. It closed at  1,004.07 points last Thursday, for a 6.59% gain over one year.
The question is,  are there more opportunities to be found in the REIT sector?
"There is a limit as to how far you can take the play on REITs and I think we are reaching that. Prices have risen and yields have dropped. The case is not as compelling now as it was before," says Inter-Pacific Securities head of research Pong Teng Siew.
However, he believes that further interest rate cuts could restore the attractiveness of REITs as other fixed-income rates decline.
The 10-year Malaysian Government Securities (MGS) yield is often seen as a proxy for REITs. With the rising market volatility, there has been increased activity in the bond markets globally, Kenanga Research says in an Oct 3 report. "Investors have been flocking to the bond market for safety and, eventually, MGS, driving down MGS yields to 3.3% to 3.4% (from 3.6% in June this year), which is a positive for REITS."
MIDF Research analyst Ng Bei Shan believes there could be more upside if the 10-year MGS yield continues to slide, thus widening the spread between the dividend yields of REITs and MGS. However, she is "neutral" on the sector currently. "Our 'neutral' view on the overall sector is mainly because the unit prices of REITs under our coverage have run up. Some of the REITs under our coverage have seen rallies that range from 11% to 24% year to date. REITs' dividend yields are compressed while the yield spread has become narrower."
The research house does not think there will be another OPR cut this year and expects MGS yields to hover around 4%.
While the prices of REITs in general have risen over the last few years on demand, investors will continue to look at the sector because of the stability it offers. Pong expects the defensive play trend to continue as unfavourable macro data continue to spook investors, raising the attractiveness of REITs.
"The average yield for REITs is now 5.5%, which is not bad but not as great as before. However, REITs will still give you better yields than many fixed-income investments," says an analyst.
Of the REITs listed on Bursa Malaysia, retail-centric Hektar REIT and office-centric AmFirst REIT have the highest distribution yield of 8.51% and 8.08% respectively. It is worth noting that these REITS have market capitalisation of below RM500 million.
Popular retail REITs like IGB, Pavilion, Sunway and KLCC Stapled Group offer lower yields among the Malaysian REITs, hovering in the 4% to 5% range.
But it must be noted that retail and office REITs face a looming oversupply in the market.
"Retail REITs weigh against the looming oversupply of shopping centre space in the Klang Valley. The yields may not be sustainable. This is the same situation for office REITs, where there is a large oversupply. You have to be really optimistic to believe that this won't affect the REITs," says Pong.
According to HLIB Research, there will be about 18 million sq ft of incoming office supply by 2022, while vacancy rates continue to increase.
KL City will feel the greatest impact, with about 11 million sq ft completing in the next four years, according to Savills Malaysia. The opening of Exchange 106 [expected next month] and PNB 118 will further amplify supply. Market absorption in Greater KL has lagged over the past three years, with the absorption in 2017/18 being half of the space in 2013/14, the report says.
As for retail space, popular malls like Suria KLCC (KLCC Stapled Group), Sunway Pyramid (Sunway REIT), Pavilion KL (Pavilion REIT), Mid Valley Megamall and The Gardens Mall (IGB REIT) will continue to draw footfall despite the oversupply.
"These malls are able to maintain their tenants and have very high occupancy rates," comments an analyst.
Industrial REITs, meanwhile, seem to be in a sweet spot at this juncture because there is an increase in demand for logistics facilities on the back of the surge in e-commerce activity, says HLIB Research. "Meanwhile, the new guideline that allows REITs to undertake property development acts as a catalyst for built-to-suit properties as they have higher potential for better net property income yields and allow REITs to own high-quality products built to specifications."
HLIB sees this as a good opportunity for Axis REIT to increase its portfolio as the leading player in the industrial segment.
Kenanga Research also prefers Axis REIT because of its long-term earnings stability, as leases tend to be on 6 to 10-year terms, while reversions are on a par with other asset classes. The research house adds that it is one of the few REITs with continuous inorganic growth through acquisitions, and one of the few shariah-compliant REITs, thus making it a favourite among institutional investors.
Currently, Axis REIT has a yield of 5.2%. Kenanga has a target price of RM2 on the REIT while HLIB Research expects it to reach RM2.01.
While Kenanga and HLIB Research favour Axis, the top pick MIDF's Ng is Sunway REIT, which she believes can deliver earnings growth anchored in its crown jewel, Sunway Pyramid, which has been able to deliver positive rental reversions. "In addition, its assets are more diversified than other retail-based REITs as it also owns other assets such as offices, hotels, an education campus and hospitals." Her target price for Sunway REIT is RM2.02.
In the retail space, HLIB Research's top pick is KLCC Stapled Group (target price: RM8.53) for its concentrated prime assets, sustainable tenant sales growth and stimulating outlook for the upcoming Visit Malaysia 2020.
For investors looking to invest in a REIT, it is important to consider the quality of the underlying assets, says MIDF's Ng. "A good asset will be able to give you positive rental reversion and a high occupancy rate, which in turn translates into earnings growth and a good yield."
Pong says another important consideration is whether the REIT has the ability to make fresh acquisitions. By adding new acquisitions to its portfolio, it would be able to boost yields.