This article first appeared in Capital, The Edge Malaysia Weekly, on October 21, 2019 - October 27, 2019.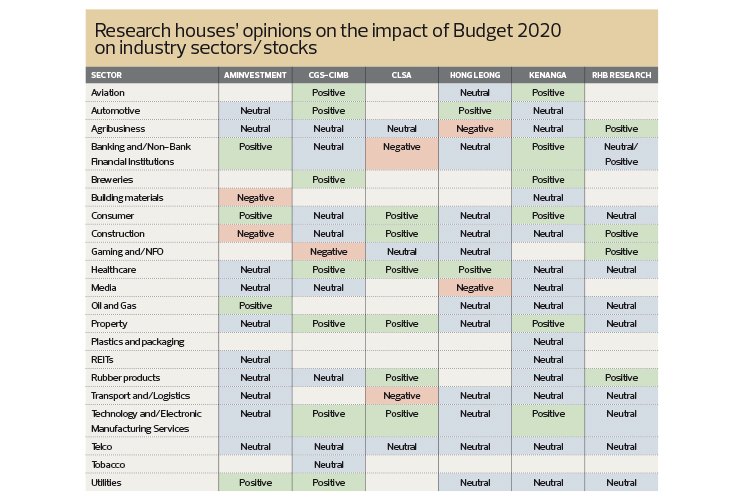 MALAYSIAN equities have largely missed out on the flow of funds into emerging markets so far this year. Instead, the local bourse has suffered outflows to the tune of about RM8 billion.
The outflow of funds is reflected in the performance of the benchmark FBM KLCI, which had declined 6.84% to 1,574.9 points as at last Wednesday. It is the worst performer among major Asian equity indexes to date.
However, between Oct 14 and 16, the FBM KLCI rose 1.16% — outperforming its peers, including the FTSE Straits Times Index, which added 0.67% during the period, and the Stock Exchange of Thailand Index, which inched up 0.46%.
With the year in its final quarter and Budget 2020 unveiled, will there be a sustained recovery in the FBM KLCI towards the end of the year when stocks usually trend higher?
According to Maybank Asset Management Sdn Bhd CEO Ahmad Najib Nazlan, there could be pent-up demand for equities by government-linked investment companies (GLIC) as they have been taking a prudent stance due to the recent weakness in the market.
"We believe most GLICs are underweight in equity allocation and overweight in cash as they had been conservatively preserving capital during the recent market weakness," Najib says, adding that there could be a sudden increase in buying activities in the stock market towards the end of the year.
Meanwhile, Principal Asset Management Bhd chief investment officer Patrick Chang says money generated from the sale of assets by certain GLICs, including Khazanah Nasional Bhd, could be reinvested in other assets to provide sustainable returns to the funds.
"The money generated from the sale of assets will then be reinvested into other assets, and the government wants to make sure that it gives a better return and profit to Khazanah, which will subsequently be able to pay the government dividends," he says.
Budget 2020 provides more clarity for stock market
The recently unveiled budget provides clarity of what is in store for the country next year, thus influencing investors' holding decision in the stock market.
Budget 2020, unveiled by Finance Minister Lim Guan Eng on Oct 11, is largely seen as mildly expansionary while keeping government debt in check. It also sheds light on the status of some infrastructure projects.
Thus, research houses are largely neutral on the impact of the budget on economic sectors in the country. Nevertheless, there are always sectors or stocks that are expected to benefit from the government's economic and fiscal policy directions.
Kenanga Research head of research Koh Huat Soon opines that most measures announced in the budget are business and people-friendly, with clear sector winners being technology, consumer, property and banking.
"On balance, Budget 2020 was mildly bullish for the market, in our view. There were no major drawbacks. If any, it would be that the HSR (High-Speed Rail) and MRT3 (Mass Rapid Transit Line 3) were omitted, there are fewer special draws for punters and the RM50 million grant to seed the development of a 5G ecosystem looks to be insufficient.
"We expect a revisit of HSR and MRT3 next year, with a fair chance of revival. It is also pleasing to note that nearly 80% of the RM37 billion in one-off GST (Goods and Services Tax) and tax refunds have been returned, and that leaves RM7.5 billion left to be returned and put to work," Koh says in an Oct 14 report.
Kenanga's top pick in the technology sector is Malaysian Pacific Industries Bhd, with a target price of RM12.10. Meanwhile, its top picks in the rubber glove sector are Hartalega Holdings Bhd (target price: RM5.85) and Kossan Rubber Industries Bhd (RM5.25).
In the banking and non-bank financial institution sectors, the research house has an "outperform" call on Alliance Bank Malaysia Bhd with a target price of RM3.45, CIMB Group Holdings Bhd (RM6.45) and Syarikat Takaful Malaysia Keluarga Bhd (RM6.85).
In the consumer sector, Carlsberg Brewery Malaysia Bhd and Power Root Bhd are Kenanga's top picks with target prices of RM28.70 and RM2.30 respectively. Meanwhile, the automotive sector is also expected to benefit from the budget, with Bermaz Auto Bhd as the sectoral top pick (target price: RM2.75).
Although the FBM KLCI showed some strength last week after the announcement of Budget 2020, Principal Asset Management CEO Munirah Khairuddin says the budget's immediate impact on the equity market will be neutral given the growth challenges in the global economy as well as the time needed to implement these medium-term growth initiatives.
"We view Budget 2020 positively as the government is focusing on reinventing Malaysia in the digital space over the medium term by attracting foreign and domestic investments. Various tax incentives have been proposed to attract these investments, which are expected to create high-paying jobs.
"The government is also focusing on the need for shared prosperity to narrow the income disparity. Measures proposed to alleviate high cost of living, especially among the B40 group, will be a boost to consumer sentiment," she says.
Uncertainty over succession of prime minister
While there are factors that could drive up demand for Malaysian equities going forward, some observers say the uncertainty over when Prime Minister Tun Dr Mahathir Mohamad will hand over the reins has also had an impact on the stock market.
An analyst, who declined to be named, says the stock market does not like uncertainties. However, she believes that there would not be any difference in the level of foreign direct investment (FDI) in the country even if the handover date were fixed.
"I don't see what the difference would be if the handover date were fixed for, say, May 2021, hypothetically? Would investors not trade until then? Would the FDIs wait until the handover?
"I am saying that there will be [an impact on the stock market due to the uncertain handover date] because the market does not like uncertainties regardless of what it is, but it may not be completely justified.
"For instance, if we know that the handover is on a specific date, does it mean that the market will recover?" she asks rhetorically.
Prior to the 14th general election in May last year, Pakatan Harapan politicians had said that Mahathir would only stay on as prime minister for two years. However, Mahathir has been non-committal about when he would step down.
What should investors do?
Principal Asset Management recommends that investors maintain a globally-diversified portfolio with a focus on income and dividend, Munirah tells The Edge in an email. The recommended asset allocation is 50:50 for equity and fixed income, she adds.
High dividend yield stocks with resilient earnings are among the type of equities that investors should look at, says Chang. There are also pockets of opportunities to trade in equipment makers in the technology sector due to the weakening ringgit, he continues.
"We advise investors to accumulate selective growth stocks within the REITs (real estate investment trusts), utilities, basic material, automotive, oil and gas and construction sectors. The fixed income portion should also help investors preserve capital and ride out market volatilities," remarks Chang.
Meanwhile, the prolonged trade war between the US and China is still a major dampener for global growth.
Najib of Maybank AM says investors are still in risk-off mode in the short term while waiting for the resolution of trade talks between the US and China. He believes that there should be more clarity in the equity market towards the second half of next year.
In the short term, the asset management firm says counters that give sustainable dividends and good cash flows — such as those in REITs, consumer staple, telecommunications and utilities sectors — will be in greater demand.
"For the medium term, as we move towards the second half of 2020, we should have more clarity for the equity markets, considering that all trade disputes would have been settled by then, namely after the US presidential election.
"Hence, investors may be willing to take more risk in equities and bet on growth stocks, for example in the construction, banking, technology and oil and gas sectors," Najib told The Edge in an email on Oct 9, prior to the unveiling of the budget.
In the latest round of negotiations between the US and China, held on Oct 10 and 11 in Washington DC, US President Donald Trump announced that both countries had reached a Phase 1 agreement.
As part of the agreement, China would reportedly purchase between US$40 billion and US$50 billion of US agricultural products annually, strengthen intellectual property provisions and issue new guidelines on how it manages its currency.
The planned increase in tariff on US$250 billion of Chinese goods exported to the US has also been delayed. So far, US$550 billion worth of China-made goods have been slapped with higher tariffs while China has returned the "favour" with tariffs on US$185 billion of American goods.
While there seems to be some progress in trade negotiations between two of the world's largest economies, there might still be a synchronised global economic slowdown due to the prolonged trade war as well as the possibility of another trade war involving the US — this time against the European Union, says Najib.
"Hence, we advise investors to be overweight in bond proxy stocks for defensive positioning while having slightly more cash to participate in opportunistic trade as the market tends to be more volatile during this period," he adds.