This article first appeared in Capital, The Edge Malaysia Weekly, on November 25, 2019 - December 01, 2019.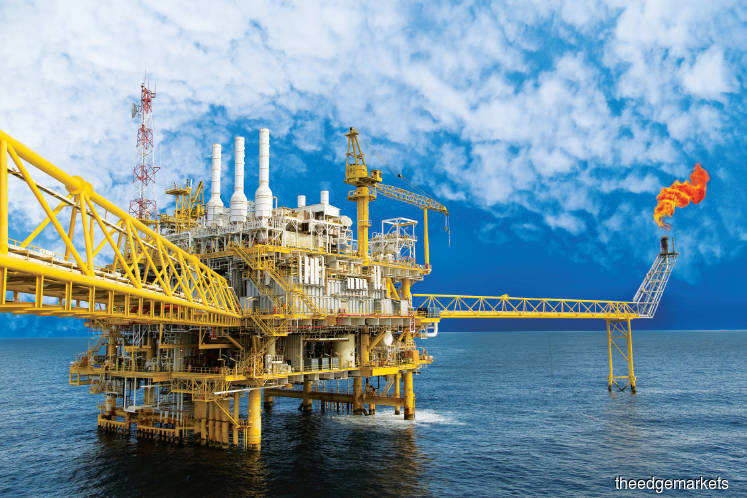 Higher job flows are seen on the horizon for the local oil and gas industry as Petronas has increased its contracts to make up for its lacklustre spending in the first half of the year
Click / Tap image to enlarge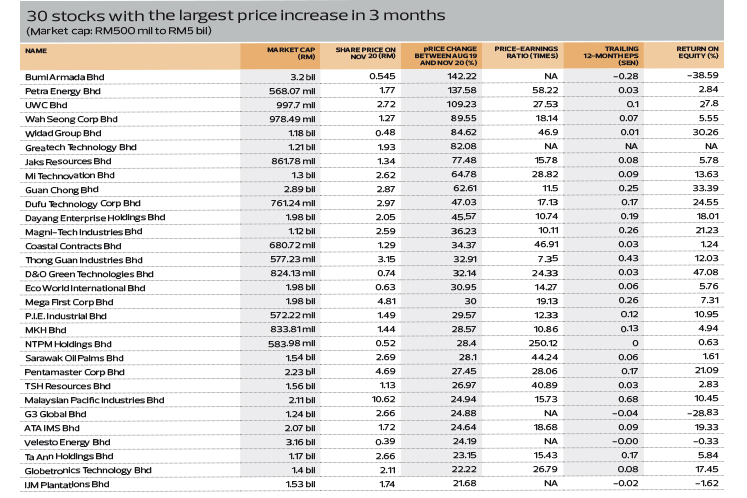 OVER the last three months, investors have turned positive on small to mid-cap stocks, largely spurred by significant developments in the market, particularly in the energy, technology and plantation sectors, say market observers.
With the third-quarter earnings season underway, companies that have shown improvements in earnings are giving investors even more reason to be excited.
Rakuten Trade Research vice-president Vincent Lau says retail investors are actively participating in the stock market, which shows that there are pockets of opportunities in the small to mid-cap space. Funds are also jumping on the bandwagon and buying into second liners.
"For the oil and gas sector, many take the view that the worst could be over, and you also have crude palm oil prices that have improved, driving up interest in these sectors. In the technology sector, earnings have been supported so far," he observes.
Oil and gas counters are clear leaders in the share price run. Among Bursa Malaysia stocks with a market capitalisation of RM500 million to RM5 billion, Bumi Armada Bhd is leading the pack — its share price surged 142% over a three-month period to 54.5 sen last Wednesday — followed by Petra Energy Bhd, which jumped 137% to RM1.77.
The rally in oil and gas counters has been fuelled by several factors. First, Brent crude prices seem to have stabilised of late and are currently at US$62 per barrel.
However, market observers say the rally could also be linked to the recent announcement of Saudi Aramco's initial public offering (IPO).
"The stabilising oil price is great for oil and gas players, coupled with the euphoria over the listing of Saudi Aramco, providing a clearer future for the industry in terms of contract awards from Petroliam Nasional Bhd (Petronas) and other major oil producers overseas. This means that there could be an increase in demand for services provided by the oil and gas players," says MIDF Research head of research Mohd Redza Abdul Rahman.
Saudi Aramco's IPO is slated to be the largest in history as it is valued at US$1.7 trillion.
Sentiments on the mammoth IPO aside, higher job flows are seen on the horizon for the local oil and gas industry as Petronas has increased its contracts to make up for its lacklustre spending in the first half of the year.
In a Nov 4 report on the sector, AffinHwang Capital Research highlights that maintenance and rig players could post stronger 3Q results as a result of higher job flows.
"Petronas has significantly underspent on its capital expenditure, totalling RM16 billion in 1H2019 or 32% of its full-year RM50 billion target. The guidance is still unchanged, showing its commitment to roll out more contracts in the coming months. We believe activities will remain robust, with its domestic upstream capex also guided to be higher at RM15 billion, versus RM8 billion in 2018," says the research house.
Apart from oil and gas counters, technology stocks have also been on investment radars.
Lau believes that this could be because of Apple Inc's fourth-quarter earnings, which beat Wall Street's expectations. Moreover, many local tech companies are part of the Apple supply chain.
However, Mohd Redza credits the temporary halt on tariffs on remaining China imports by the US for providing some breathing space for the tech sector.
"The KL tech sector index is sitting at a 25% gain on a 2019 year-to-date basis. The top movers of the FBM Small Cap Index from this sector include Globetronics [Technology Bhd], D&O [Green Technologies Bhd], Mi Technovation [Bhd] and Dufu [Technology Corp Bhd]."
However, the decline in electrical and electronics exports in August and September, and the decrease in imports of consumables for the E&E sector could be of concern, says Mohd Redza.
Uncertainty over whether the US and China will sign a trade agreement and roll back tariffs is also weighing down demand for manufactured goods as companies adopt a wait-and-see approach, he adds.
In contrast, plantation counters have finally started to benefit from stronger crude palm oil prices, which have moved up to the range of RM2,500 per tonne in recent times.
Hong Leong Investment Bank Research says in a Nov 20 report that it is turning more positive on the plantation sector as it believes that the brighter sentiment on crude palm oil prices will sustain into next year due to supply constraints arising from potential palm production deficits in Malaysia and Indonesia, lower soybean output in the US and more positive demand prospects arising from higher biodiesel mandates in Malaysia and Indonesia for next year.
Does the rally still have legs?
"Third-quarter earnings are expected to see a recovery and we expect fourth-quarter earnings to be better. I believe that there could be more legs for this rally. Bear in mind that the expectations were earlier revised downwards, and now they have exceeded the market expectations," says Lau. "There is liquidity in the market and investors are looking for ideas to invest."
Nevertheless, Mohd Redza believes that what will likely drive share price movement is future developments in global geopolitics, which could have a bearing on corporate earnings.
"Any negative developments will strike fear in the hearts of investors. This will attract higher volatility of price movement, which is perfect for investors with an eye on a trading portfolio," he says.