This article first appeared in Capital, The Edge Malaysia Weekly, on October 28, 2019 - November 03, 2019.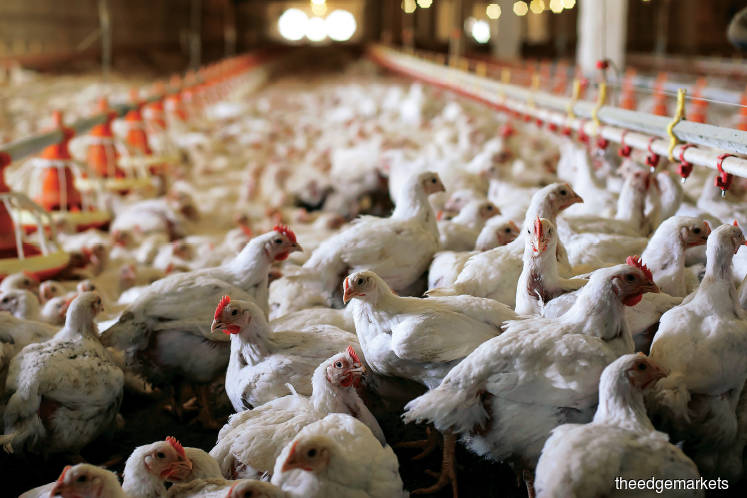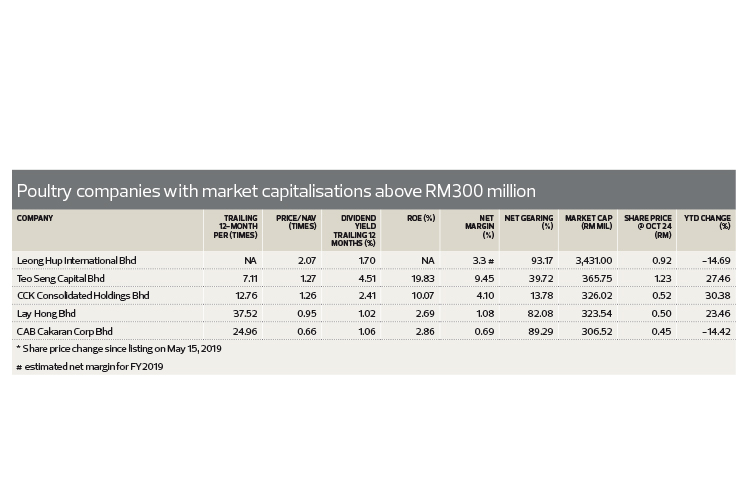 AS the lingering geopolitical uncertainty and worries over slowing global growth continue to weigh on the markets, some investors are placing their bets on consumer staples as a safe haven. Consumer goods are often seen as sticky and, thus, maintaining fairly stable earnings growth.
Many consumer staples, such as food and beverage counters, are currently trading at levels that are close to 20 times their price-earnings ratio (PER) or more. However, poultry counters continue to trade at cheap valuations with forward PER averages at nine times, despite being a consumer staple.
There are five poultry farmers listed on Bursa Malaysia with a market capitalisation of more than RM300 million. Of the five, three have seen year-to-date increases in their share prices with CCK Consolidated Holdings Bhd taking the lead. Since the beginning of the year, CCK's share price has gained 30.38% to close at 51.5 sen last Thursday.
This is followed by the Teo Seng Capital Bhd. Its share price has gained 27.46% to settle at RM1.23 last Thursday,while Lay Hong Bhd's shares have risen 23.46% since Jan 2 to end at 50 sen. Meanwhile, shares in Leong Hup International Bhd, which listed in May, have shed 15% to close at 91.5 sen last Thursday while CAB Cakaran Corp Bhd's share price has declined 14.42% to 44.5 sen YTD.
PublicInvest Research analyst Chong Hoe Leong says the business is subject to volatility in terms of egg prices as well as commodity prices to a certain extent as the bulk of the companies' cost comprises the price of feed for the chickens.
"Just because poultry companies have been doing well this quarter, it does not mean they will do well in the next. It all depends on the demand for eggs, which then affects prices. It is cyclical," he says on the subsector's cheap valuations.
Still, Chong points out that downward trends in egg prices do not tend to be long-lasting.
"Unlike commodities, it usually takes about three to four months for egg prices to rebound. When there is excess supply, obviously, prices will come under pressure. This is when the bigger players will look to export more of their products overseas, typically to Hong Kong and Singapore, to clear the excess inventory. When that is done, the price pressure is reduced," he says.
While broiler chickens and eggs may appear to be homogeneous products, analysts say these poultry companies are quite different in nature.
"They can be quite different in nature. Some companies have decent revenue but the bottom line numbers cannot be sustained. This would reflect how prudent management has been," an analyst with a local research house tells The Edge.
"There are also companies that are forward-looking and well diversified, raising not only broiler chickens but layers as well. They are also involved in the feed and fertiliser businesses as well as making paper egg trays, among others. Being well diversified in this business is what helps the companies manoeuvre through the cycles."
Since they are all not cut from the same cloth, a market observer believes that poultry companies that have diversified beyond just selling broilers and eggs would be a good bet.
"I think going regional is also an important element for poultry farmers, since it is a lot about scale in this business. Another thing that should be looked at is whether management is making a concerted effort to improve business operations. The question of net margins is also relevant," says the market observer.
Among the five companies with a market value above RM300 million, Teo Seng has the highest net margin at 9.45% while CAB Cakaran has the lowest at 0.69%.
An Oct 23 report from Kenanga Research attributes Teo Seng's better margins to its operational efficiencies, seen through its complementary businesses such as a feed mill plant, animal and healthcare products, paper egg tray plant, automated fertiliser plant and a central packaging system. These businesses also reduce Teo Seng's reliance on third-party sources.
"We believe such a business structure would be difficult to replicate as it requires scale and expertise," the research house says.
In its second quarter ended June 30, 2019 (2QFY2019), the group swung back to the black, posting a net profit of RM5.08 million, compared with a net loss of RM528,000 a year ago. Revenue for the quarter grew 18% year on year to RM121.25 million. The group attributes the improved performance to a higher average selling price (ASP) of eggs, coupled with an increase in sales volume as a result of better production efficiency.
Teo Seng's market capitalisation stands at RM365 million. It is a subsidiary of Leong Hup International Bhd, which holds 53.7% equity interest in the company.
Leong Hup has the biggest market capitalisation of the poultry companies at RM3.41 billion. Its businesses span Malaysia, Singapore, Indonesia, Vietnam and the Philippines, where they are classified into two major segments — livestock and feed mill.
However, Leong Hup's net profit came under pressure in 2Q2019, contracting 75.5% y-o-y to RM16.09 million while revenue gained close to 4% y-o-y to RM1.48 billion. The group was affected by a decline in the poultry ASPs, especially in Malaysia, which caused margin contraction.
Another company worth looking at is CCK. The group is Sarawak and Sabah-centric, thus insulating it from the concentrated market of Peninsular Malaysia where the bulk of the business is run by the bigger boys.
"CCK is also in the downstream business. It has retail outlets, making it less exposed to the movement of egg prices. It also has more room to manoeuvre in terms of pricing when it goes from wholesale to retail," says PublicInvest Research's Chong.
The group's net margin comes in second behind Teo Seng's at 4.1%. In 2Q2019, CCK's net profit rose 43% to RM8.88 million, even as
revenue dipped to RM165.36 million from RM166.57 million a year ago.
Egg prices have stabilised
Analysts say egg prices have stabilised after they reached a peak at the beginning of this year. Wholesale prices of Grade A eggs surged to 43 sen each between last November and February this year, causing outrage among consumers and spurring intervention by the authorities. Now, egg prices hover around 34 sen to 38.5 sen each, which analysts say is a "normalised" level.
Meanwhile, prices of broilers and day-old chicks (DOC) in Malaysia, which also suffered lower ASPs in the first half of this year, have rebounded.
In an Aug 30 report on Leong Hup, Maybank IB Research says the DOC and broiler ASPs for July and August have rebounded 50% and 34% respectively, compared with 2Q2019.
"As at end-August, the ASPs of Malaysian DOC and broilers are RM1.90 per kg and RM5 per kg respectively," the research house says.
Apart from the recovery in prices of eggs and broilers, there seems to be more good news for poultry companies as they are expected to leverage the cheaper commodity prices, at least in the near term. The prices of corn and soy, which make up the bulk of the ingredients for the feed for chickens, have declined on a year-on-year basis.
"Corn makes up 55% of the feed ingredients while soybeans make up 25%. If the prices of these raw materials decline, it will definitely help reduce the cost pressure on these farmers," says PublicInvest Research's Chong.
As to whether or not commo­dity prices will continue to stay low will depend on whether the African swine flu, which has affected about one third of Chinese farms, is resolved.
"As we know it, China is a big importer of soy. The swine flu has reduced China's demand for soybeans and this has caused prices to fall about 10% year on year," he says.
In an initiation report on Leong Hup by HLIB Research late last month, the research house highlights that feed prices represent the second largest variable component in the group's livestock business.
"We note that the prices of both corn and soybean meal have eased since July, as weather concerns in the US (the world's largest corn producer) eased, which has, in turn, resulted in corn prices trending downwards, and demand concerns arising from the African swine flu outbreak and trade escalations," notes HLIB Research.
For the near to medium term, the Food and Agricultural Policy Research Institute forecasts that grain prices will remain low due to the swine flu outbreak in China as well as the US-China trade tensions.
"We note that lower feed prices augur well for the livestock production cost as feed is the main cost component in producing livestock," says HLIB Research.
In the meantime, all eyes will be on poultry farmers to see whether better earnings will come their way in the coming quarters on the back of stable selling prices and lower feed cost.