This article first appeared in Capital, The Edge Malaysia Weekly, on June 24, 2019 - June 30, 2019.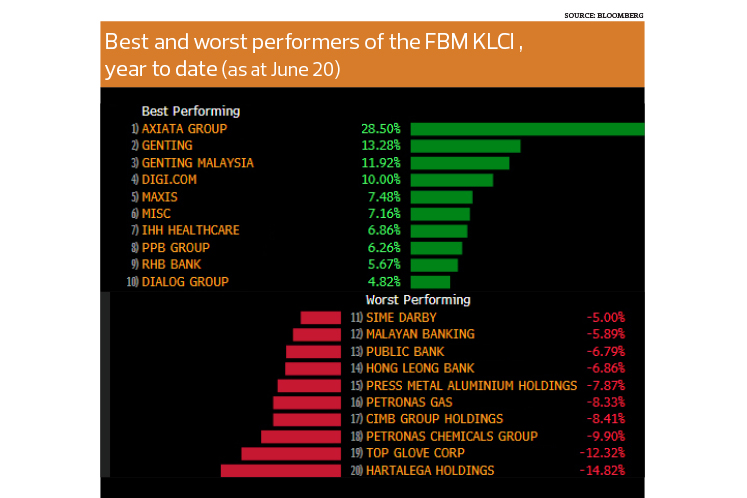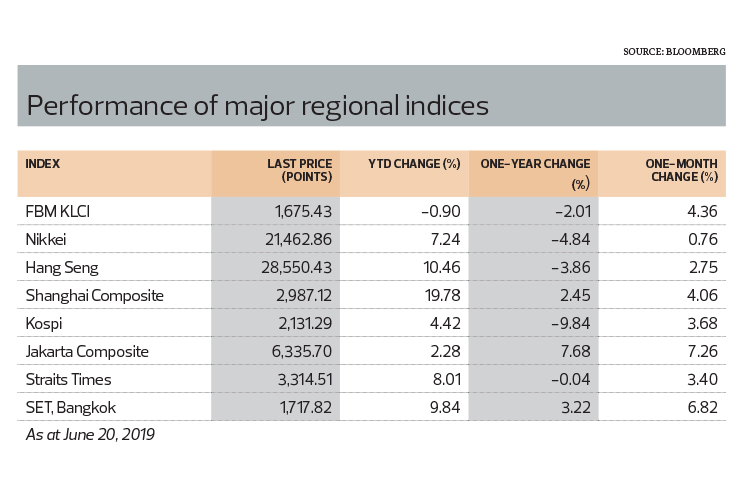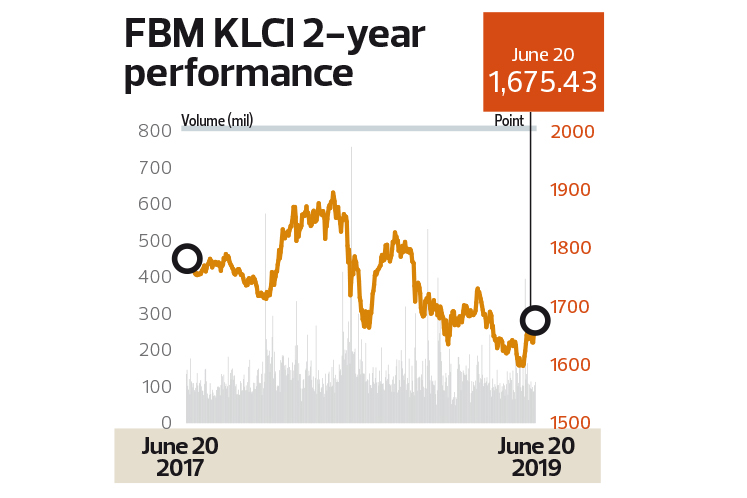 LAST Thursday, the benchmark FBM KLCI closed at 1,675.43 points. That was still 0.9% below where it began the year, but represents a 4.8% rally since hitting a multi-year low of 1,598.32 on May 24.
So is the worst over for Malaysian equities? Patrick Chang Chian Ping, chief investment officer for Malaysia at Principal Asset Management Bhd, thinks the local market is becoming a promising safe haven for investors amid a volatile environment.
"At the moment, I think the risk-­reward is that Malaysia should outperform the region. Outperform meaning that on a relative basis, even if [the stock market] comes down, it may come down less than the rest of the region," Chang tells The Edge in an interview.
Internally, Principal Asset Management — which has RM55.6 billion in assets under management (AUM) in Malaysia — recently upgraded Malaysia from "underweight" to "neutral" when the FBM KLCI touched 1,600 points, he adds.
The reason, he explains, is that "valuations were getting very interesting at about 1,600 levels (for the FBM KLCI)".
"So, we took advantage of that to accumulate. We remain quite fully invested in Malaysia and we think that at this juncture, it is a good place to be in when there is kind of a risk-off in global markets," says Chang.
He is also CIO for equities in Thailand and Indonesia. The Principal Group has RM83.6 billion in overall AUM across Malaysia, Singapore, Indonesia and Thailand. 
Principal Asset Management is not the only house that has been feeling more optimistic about the Malaysian markets recently. 
In a May 28 note, HSBC Global research upgraded Malaysia from "underweight" to "neutral", as it backs Asean equities in general to hold their own despite volatility from US-China trade tensions and country-specific headwinds.
"The (Malaysian) market has strong defensive qualities, which should reduce downside risks if trade tensions escalate," writes HSBC.
The local bourse has been recovering some lost ground over the past one month after a turbulent start to May. On May 14, the FBM KLCI fell below the 1,600 psychological threshold for the first time since September 2015, and fell into a 5.4% deficit year-to-May 16.
Around the region, major regional markets have seen gains over the past one month up to last Thursday. The Japanese Composite Index reversed a year-to-date retreat of 4.8% as at May 16 to a 2.28% YTD gain as at last Thursday.
However, foreign investors have of late remained in flip-flop mode with respect to Malaysian stocks. Foreign funds were in buying mode in the first week of this month, picking up a net RM350 million in stocks, but reverted to selling mode the following week with a net RM415.3 million in equities sold.
Up to June 14, the YTD foreign net outflows stood at RM4.86 billion, according to data compiled by MIDF Research.
 
Trade dispute could be prolonged
The ongoing trade tensions and tit-for-tat between the US and China that are rocking equity markets have been fuelling uncertainty across global markets, including Asean.
Principal Asset Management's Chang says the environment calls for a globally diversified portfolio that takes a more defensive position and firmly focuses on yield. "Our base case is that there is going to be a lot of volatility in the markets with this trade dispute between China and the US. Malaysia is well-poised for a few reasons, one of which is that it is a defensive market and it has very decent dividend yields," he says.
Concerns over a possible global economic slowdown due to protracted trade tensions between two of the world's largest economies have buffeted Asean's regional markets as most Southeast Asian countries count China as their top trading partner.
The next key event will be the Group of 20 (G20) meeting in Japan, scheduled for June 28 and 29 in Osaka, where US President Donald Trump will come face to face with China's President Xi Jinping. Reports quoting analysts say such a meeting may see efforts to repair bilateral relations after trade war brinksmanship dragged relations to a new low.
That said, Principal Asset Management is cautious about any prospect of a resolution in Osaka. "Our view is that this trade dispute could be prolonged. If we are fortunate, we will get a resolution by the G20 meeting at the end of this month, but that is not our base case," says Chang.
Meanwhile, dovish signals from the US Federal Reserve last Wednesday indicated that interest rate cuts could come as early as next month, in what is seen as a drastic shift of tone since its last update.
The comments, more dovish than anticipated, sent global equities higher the next day. Here at home, Bank Negara Malaysia had already cut its overnight policy rate by 25 basis points to 3% on May 7, the first reduction in over a year. The central bank's preemptive move, alongside fiscal loosening vis-à-vis major construction projects, among other things, will cushion any slowdown in Malaysia's economic growth, Chang believes.
Another bright spark, in his eyes, is the approved foreign direct investments of RM29.3 billion in the first quarter (1Q2019) by the Malaysian Investment Development Authority, up from RM16.9 billion in 1Q2018.
"That is going to be a short to medium-term positive. In terms of multiplier impact, it is expected that FDI will have a 1.9 times multiplier impact on the economy," he says, adding that in terms of infrastructure spending, the multiplier is close to two times.
 
Seeing 'green shoots'
On the local bourse, Chang has his sights set on selective plays in search of emerging value. A key factor to remember, he adds, is that expectations have fallen sharply.
"Expectations in Malaysia today — from a local perspective, from a regional perspective and from a global perspective — are extremely low. We started the year at 6% to 7% (expected) earnings growth for the KLCI and, today, we are talking about 0% to 2%," he says. "To us, that is an opportunity because we tend to look at it from a value perspective. There is value out there."
According to Chang, Principal Asset Management sees "a lot of value" in particular sectors such as utilities, telcos, some banks and the glove sector.
It is worth noting that the biggest losers currently among the 30 FBM KLCI components are glovemakers, namely Top Glove Corp Bhd (down 12.32% YTD) and Hartalega Holdings Bhd (down 14.82% YTD).
"More importantly, if you look at the last quarterly numbers in terms of valuations, if you were to strip out the cyclical sectors such as oil and gas or the plantation sector, they were already starting to see early signs of what I call 'green shoots', so to speak."
Chang is referring to stocks whose prices were dragged down due to lowered expectations only to see an upward correction when the companies performed better than expected.
One example would be Tenaga Nasional Bhd, which was hammered earlier this year, falling 16.89% YTD to RM11.36 per share late last month — its lowest point since September 2015.
However, TNB has rebounded after the release of its first-quarter earnings, which saw higher revenue riding on growing electricity demand, to RM13.88 apiece as at last Thursday's close.
Similarly, Telekom Malaysia Bhd has see-sawed from the beginning of the year to RM2.73 as at May 27, but the counter has surged sharply since its first-quarter profit nearly doubled to RM308.28 million, beating estimates by far. Last Thursday, TM ended at RM4.06 apiece. "We have started to see these kinds of things (counters exceeding expected estimates) from very low expectations," says Chang.
As for banks, he sees some blue-chip counters as a promising place to take defensive positions due to the yield. "This is not a sector where you can make a lot of money but you can hide there for a while because there is dividend yield. Certain banks will offer you 4% to 6% yield and we will put our money there."
Looking ahead, Principal Asset Management is hopeful that the government's fiscal loosening — particularly in the construction sector — will have some spillover effect in terms of economic expansion and, by extension, corporate earnings.
"We are not saying that we are ultra bullish on Malaysia. We are just saying that expectations are low,  [and] we need to take advantage of it," Chang says.