This article first appeared in Capital, The Edge Malaysia Weekly, on May 21, 2018 - May 27, 2018.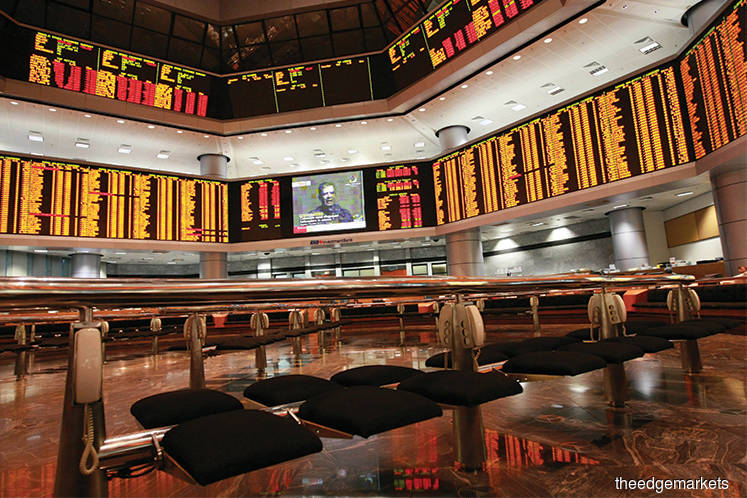 WHEN the stock market opened last Monday following the historic general election win by the Pakatan Harapan coalition, it wavered for a brief 30 minutes, after which it seemed to find a foothold.
However, there has been a massive selldown in stocks that are perceived to be linked to the previous ruling coalition. Construction stocks have also not been spared, amid concerns that there may be fewer jobs going forward as the new government intends to review infrastructure projects. A 30% fall in price was common among them.
Meanwhile, counters that were seen as being associated with the winning camp, and those expected to benefit from the promises of the new government, soared to multiyear — if not record — highs.
Irrational panic selling?
George Kent (M) Bhd
The share price of the water meter manufacturer turned rail infrastructure firm fell off a cliff when market resumed trading on May 14.
In just two trading days, George Kent's share price halved, falling from RM3.94 to RM1.94 and hitting limit down for two consecutive days.
The company's controlling shareholder, Tan Sri Tan Kay Hock — with 42.21% equity interest — is known to be a golf buddy of former prime minister Datuk Seri Najib Razak.
The sell-off continued relentlessly on Thursday as the counter fell further to RM1.67, prompting Bursa Malaysia to suspend the proprietary day trading and intraday short selling of the stock.
It closed at RM1.57 last Friday, having fallen 60% over the week, valuing it at a price-earnings ratio of 7.63 times.
The massive selldown could have stemmed from the new government's pledge to review all mega projects to ensure that the terms are fair. The company's prospects of securing new jobs have turned uncertain now.
Hong Leong Investment Bank Research points out that there are risks of delays or, in a worst-case scenario, cancellation of the mega rail jobs that George Kent had been eyeing, such as the role of AssetsCo for the Kuala Lumpur-Singapore high-speed rail (HSR) project and turnkey contractor for Mass Rapid Transit Line 3.
That said, HLIB Research is maintaining its "buy" rating on the counter as it views the selldown as overdone. George Kent has a net cash of RM465 million (82 sen per share) — 54% of its market capitalisation of RM861.8 million.
MyEG Services Bhd
This is another stock that fell like a stone last week.
MyEG was once an investor darling because it had had a monopoly on government e-services since the previous election.
Over the course of the first four trading days last week, the company saw more than RM5 billion of its market capitalisation wiped out.
By the end of Thursday, its share price had sunk to 90.5 sen apiece from RM2.58 on May 8, the day before the general election. With the heavy selldown, MyEG's PER stood at 14.44 times against its average historical PER of 26.75 times.
The company's single largest shareholder is its managing director, Wong Thean Soon, who has a 37.92% stake. Other shareholders include Kumpulan Wang Persaraan (Diperbadankan) (KWAP) with an 8.35% stake and the Employees Provident Fund with 5.72%.
Late Wednesday, the new government announced that the Goods and Services Tax would be "zeroised" beginning June 1. Many believe that this would put MyEG's GST monitoring project — which is still in its first phase — in jeopardy.
During an investor meeting last week, Wong was quoted as saying that the company has spent close to RM150 million on its GST programme and that there are grounds to seek compensation should the programme be cancelled.
He added that the company has not recognised any revenue from the GST contract yet and it is business as usual at MyEG.
CGS-CIMB Research says in a recent report that the other existing services of MyEG, such as online road tax renewal for cars and online foreign workers' permit renewal (FWPR) should continue, even under the new government.
"This is because there are not many alternative services for renewing road tax for cars as well as FWPR. In addition, we believe MyEG's online service charges are inexpensive and [it is] efficient," it adds.
The research house estimates that MyEG's annual net profit could be around RM250 million without the GST project. However, it has downgraded its call to "reduce" from "hold", with a target price of RM1.86, to reflect the loss of future potential earnings.
Malaysian Resources Corp Bhd
MRCB is perceived by the market as a politically linked company, although its controlling shareholder is the EPF, with a 35.05% stake.
Meanwhile, group managing director Tan Sri Mohamad Salim Fateh Din holds 16.6% equity interest and is seen as having close ties with Najib.
The counter fell to 68.5 sen last Thursday — the lowest level since August 2015.
The concern now is whether its potential earnings upside from rail jobs could be at stake. The 50:50 consortium of MRCB and Gamuda Bhd had earlier been selected as the project delivery partner for part of the HSR project.
But, with the new government pledging to review mega infrastructure projects in the implementation stage, some say this has led to uncertainty over whether such projects may be cancelled, varied in scope or postponed.
Nevertheless, MRCB will see future earnings growth from its property development projects, such as the Bukit Jalil project and Kwasa Land project, each of which is expected to generate RM11 billion worth of construction works for the group.
Besides that, the group has stepped up efforts to pare down debt. According to Macquarie Research, the divestment of the Semarak City stake, German Embassy land, Bukit Jalil Sentral stake and toll-road concession, Eastern Dispersal Link, will further strengthen MRCB's balance sheet.
Should all the divestments be completed this year, the research house anticipates that MRCB's net gearing will halve from 54% in FY2017 to 27% in FY2018, giving it headroom to gear up for landbanking or project financing.
Prestariang Bhd
Prestariang, which is dependent on e-government projects, was not spared from heavy selling. Its share price slid 30% after the election to RM1.10 — the lowest level since November 2013.
The company is an ICT software and training service provider that is evolving into a technology and talent platform innovator.
At RM1.34 apiece, its PER stands at 30.18 times.
Prestariang's largest shareholder is Dr Abu Hasan Ismail, who holds a 27.3% stake and is its president and group chief executive director. KWAP is the second largest shareholder, holding a 13.63% stake.
The change in government had sparked some concerns that the company's current project — revamping the Immigration Department's IT infrastructure, or better known as the SKIN (Sistem Kawalan Imigresen Nasional) programme — could be affected.
SKIN is a 15-year concession project with the government whereby 274 immigration offices locally and worldwide would be linked to the SKIN network.
It contributed 36.7% to the group's revenue for the first quarter ended March 31 this year. Net profit doubled to RM6.51 million in the quarter, from RM3.22 million a year ago.
However, analysts believe that the programme will proceed as planned given that the IT infrastructure of the Immigration Department is in dire need of an update.
"We understand that there are a lot of weaknesses in the current MyIMMs network and a revamp is long overdue. The construction of SKIN started in April and it is targeted to be completed in the next 2½ to 3 years," says CGS-CIMB Research in a report.
Even in the face of uncertainties, the company is expecting results to improve for the current financial year ending Dec 31, 2018, on the back of its existing projects and the execution of its transformation plan.
Gabungan AQRS Bhd
The construction company was also at the centre of the frenzied selldown. Having risen in prominence over the past year from securing mega infrastructure jobs, it saw its share price plunge 41.9% from RM1.60 on Monday to 93 sen on Thursday last week. It closed at 94 sen on Friday.
In view of the panic selling, Gabungan group CEO Datuk Azizan Jaafar clarified last week that any changes to projects such as the East Coast Rail Line and Pan Borneo Highway in Sabah will not affect the company as they are not in its order book.
Azizan is the largest shareholder of the company with an 11.15% stake, held through private vehicle Ganjaran Gembira Sdn Bhd.
The outstanding order book of the company stands at RM2.7 billion, about half is derived from infrastructure works for the Sungai Besi-Ulu Kelang Elevated Expressway (SUKE) and Light Rail Transit Line 3.
The other half comes from its construction projects, namely Pusat Pentadbiran Sultan Ahmad Shah in Kuantan, Pahang, and a mixed-use development called One Jesselton Waterfront in Sabah.
MIDF Research says the earnings trajectory of the company for this year remains intact, supported by its strong order book and management's commitment to reduce gearing and improve operating margins.
Gabungan's tender book amounts to RM1.5 billion, comprising potential projects such as the KotaSAS development and Pan Borneo Highway Sabah packages.
MIDF Research has reiterated a "buy" recommendation, with a target price of RM2.30.
Euphoric buying?
Opcom Holdings Bhd
Investors pushed Opcom's shares to a 52-week high of 95 sen on May 15. The counter saw its share price move up 57% in a span of two days after the market reopened on Monday, but pared some of the gains to close at 90 sen apiece on Thursday, giving it a market capitalisation of RM145.13 million.
The surge in share price has driven Opcom's price-earnings ratio (PER) up to a whopping 71.6 times.
The fibre-optics cable manufacturer is run by Tan Sri Mokhzani Mahathir and controlled by newly-appointed Kedah Menteri Besar Datuk Seri Mukhriz Mahathir, who holds a 23.28% direct stake in Opcom. Both are sons of newly-minted Prime Minister Tun Dr Mahathir Mohamad.
While many investors are positioning themselves in companies such as Opcom that are seen to benefit from the new Cabinet line-up under Mahathir, it is worth noting that earnings-wise, things are not that good.
The group slipped into a net loss of RM1.07 million for the cumulative nine-month period ended Dec 31, 2017 (9MFY2018) compared with a net profit of RM4.72 million a year ago.
While the group recorded a higher revenue of RM72.62 million in 9MFY2018, its cost of sales was significantly higher at RM62.47 million, making up 86% of revenue.
In its 3QFY2018 and 9MFY2018 results announced on Feb 14, Opcom says its profit margin also continued to be under pressure from the high cost of raw materials, challenging business environment and limitations in passing the additional cost to customers in the short term.
"The board of directors is of the opinion that the remaining quarter (4QFY2018) will be challenging and management is doing its utmost to improve the overall cost structure of the group," it adds.
Eden Inc Bhd and Thriven Global Bhd
Both companies, which are linked to Datuk Fakhri Yassin Mahiaddin, who is the son of newly-appointed Home Affairs Minister Tan Sri Muhyiddin Yassin, saw a sudden surge in investor interest last week.
On Monday, Eden's share price soared to a 42-week high of 46 sen while Thriven's surged to a 52-week high of 55 sen. By the close of Thursday, both companies' share prices had gained 82% since the beginning of the week.
Eden is a diversified company with businesses in food and beverage, tourism, energy and manufacturing. It is worth noting that the group's external auditors had issued an unqualified opinion on its financial statements for the financial year ended Dec 31, 2017 (FY2017), indicating the existence of significant material uncertainties that may cast significant doubt on its ability to continue as a going concern.
Property developer Thriven, meanwhile, has a land bank of 162.9 acres, located in the Klang Valley and Kedah, with a total gross development value (GDV) of RM2.05 billion. Its largest development is Lumi Tropicana in Petaling Jaya, which has a GDV of RM947 million. Its second largest development is Taman Desa Aman in Kedah, which has a GDV of RM400 million. For the financial year ended Dec 31, 2017 (FY2017), it returned to the black to post a net profit of RM201,000 on revenue of RM122.87 million, up 83% year on year. The improved revenue was attributed to strong sales in the second half of 2017 in tandem with construction progress.
British American Tobacco (Malaysia) Bhd
BAT Malaysia has seen a change of fortune since GE14, thanks to the new government's pledge in its manifesto to increase enforcement efforts to combat the trade of illicit cigarettes and alcohol.
The counter, which had suffered heavy selling by investors since it was excluded from the FBM KLCI as a component stock last year, saw its share price rebound by as much as 44% after the market reopened on Monday. It closed at RM32.80 on Thursday, giving it a market capitalisation of RM9.37 billion. Still, the share price is far from its 52-week high of RM45.90 recorded on June 8 last year.
With the Pakatan Harapan government zero-rating the Goods and Services Tax and promising to review tolls, many believe that this will also help spur the recovery of the consumer segment, with BAT Malaysia being one of the beneficiaries.
CGM-CIMB Research has upgraded the stock from a "hold" to an "add", with a target price of RM33.85, as it opines that the worst is over for the tobacco player.
"Overall, we view this positively as volumes of tobacco companies such as BAT Malaysia have declined immensely in tandem with higher illicit volumes in Malaysia. We estimate a 5% rise in sales volume may raise FY2018-2020 earnings per share (EPS) by 4.8% to 5.2%," it adds.
Ewein Bhd
Penang-based Ewein Bhd's share price has risen 47% from 39 sen on Monday to close at 57.5 sen on Thursday. At 57.5 sen, the company has a PER of 15 times and price to book ratio of 0.87 times.
The group's largest shareholder is managing director Datuk Ewe Swee Kheng, who holds a 36.11% stake through his private investment vehicle, Hijauwasa Sdn Bhd.
Ewein is in a joint-venture (JV) project with Consortium Zenith Construction Sdn Bhd to develop a luxury sea-front residential project with a GDV of RM800 million.
Ewein recently increased its stake in the JV company, Ewein Zenith Sdn Bhd, to 89% through its wholly-owned unit Ewein Land Sdn Bhd. Meanwhile, Consortium Zenith Construction Sdn Bhd, a private vehicle controlled by Datuk Zarul Ahmad Mohd Zulkifli, is the contractor of the controversial RM6.3 billion Penang undersea tunnel project.
To date, Ewein has denied any involvement in the undersea tunnel project. This came after its boss Ewe was remanded by the Malaysian Anti-Corruption Commission to assist in an investigation regarding the project.
Apart from property development, the group is also involved in the manufacture of precision sheet metal fabricated parts and design and fabrication of moulds, tools and dies and property management.
The property development segment contributed slightly more than half of the group's earnings in FY2017, followed by the property management and manufacturing segments.
For FY2017, its EPS declined to 3.34 sen from 5.2 sen a year earlier.
Save by subscribing to us for your print and/or digital copy.
P/S: The Edge is also available on Apple's AppStore and Androids' Google Play.