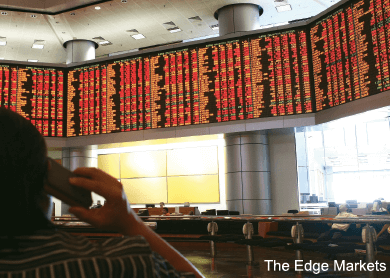 ALTHOUGH exchange-traded funds (ETFs) are widely traded in developed markets, it is not the case here, with only seven such instruments listed on Bursa Malaysia. The local bourse saw just 7.86 million units of ETFs worth RM9.96 million traded in the first quarter of this year.
Last year, only 54.15 million units of ETFs worth RM59.15 million changed hands, according to Bursa. In fact, the FBM KLCI's single-day trading volume of about two billion shares easily surpasses ETFs' total volume traded in a year. Heavyweights such as Malayan Banking Bhd garnered an average daily trading volume of about 10 million shares.
Bursa Malaysia director of securities market Ong Li Lee tells The Edge that awareness of the benefits of ETF investing is still very low in Malaysia.
"Unlike a conventional unit trust, ETFs do not have commissioned sales agents to promote them," she says. The annual fee for managers of ETFs is low at between 0.1% and 0.65%.
A remisier tells The Edge that even if ETFs are performing, the market — being sentiment and momentum driven — would shun away from perceived illiquid counters.
As at end-March, assets under management of ETFs listed on Bursa had increased 83.5% to RM1.04 billion from 10 years ago, when the first ETF was listed on the local bourse. Globally, US$2.7 trillion were allocated to ETFs as at the end of last year, Singapore Exchange said in an update on April 20, 2015.
According to Singapore Exchange, BMO Global Asset Management anticipates that over the next five years, the global ETF industry will double to US$6 trillion.
The seven ETFs listed on Bursa are ABF Malaysia Bond Index Fund, FTSE Bursa Malaysia KLCI (FBM KLCI-EA), MyETF Dow Jones Islamic Market Malaysia (DJIM) Titan 25 (MyETF-DJIM25), CIMB FTSE ASEAN 40 Malaysia, CIMB FTSE China 50, MyETF MSCI Malaysia Islamic Dividend (MyETF-MMID) and MyETF MSCI SEA Islamic Dividend (MyETF-MSEAD).
FBM KLCI-EA, managed by AmInvestment Services Bhd, offers exposure to the 30 biggest listed companies in the Malaysian stock market. It reaped 1.2% annual returns as at end-March this year. In the same period, the FBM KLCI grew 0.33% to 1,830.78 points (see graph).
CIMB FTSE China 50, which tracks the FTSE China 50 Index that gives exposure to the 50 largest and most liquid Chinese stocks listed and traded on Hong Kong's stock exchange, posted a 42.43% annual return as at end-March. Meanwhile, the FTSE China 50 Index soared 25.61% during the same period.
One of the benefits of ETF investing is diversification. "As an ETF is a fund consisting of many stocks, investors will be able to minimise single-stock risks that they are subject to in their portfolio," says Ong.
Even more diversification benefits can be obtained by investing in different asset classes, such as a bond ETF or foreign market ETF, that have low correlation with the Malaysian stock market.
"No sales charges and low annual management fees mean a low breakeven point for investors," she adds.
An ETF is traded like a stock during market hours. For example, if a market rises during the day, an investor who buys the ETF in the morning will be able to benefit from the rising prices.
ETF shareholders are entitled to a share of the profits, such as earned interest or dividends paid. Most ETFs pay dividends to their holders either half-yearly or yearly.
Also, the ETF's underlying constituents are announced daily via Bursa, which allows investors to make more informed investment decisions, she says.
CIMB-Principal Asset Management chief investment officer Arnold Lim says an ETF is liquid and flexible as units can be acquired or disposed of in standard lot sizes as prescribed in the prospectuses.
The objective of an ETF is to track an index as closely as possible. ETFs tend to be fully invested in the underlying securities that are the constituents of the index at all times.
"ETFs are passively-managed funds designed to mirror an index. They have lower expense ratios compared with traditional unit trust funds," Lim says, adding that they provide the diversification advantages of an index unit trust fund.
Meanwhile, i-VCAP Management Sdn Bhd CEO Mahdzir Othman tells The Edge that awareness and interest among the public in ETFs have increased, albeit slowly.
In the secondary market, there has been some improvement in the trading volume of selected ETFs, particularly China-underlying ETFs, given the interest in China's equity market, he notes.
"Investors have yet to fully warm to the idea of investing in ETFs given their low liquidity trading, even though investors are generally aware of the cost-efficiency of an ETF against the high cost or charges of other investment fund products," says Mahdzir.
i-VCAP, a subsidiary of Valuecap Sdn Bhd, is the fund manager of three ETFs, namely MyETF-DJIM25, MyETF-MMID and MyETF-MSEAD. Valuecap is an investment firm jointly owned by Khazanah Nasional Bhd, Kumpulan Wang Persaraan (Diperbadankan) and Permodalan Nasional Bhd.
MyETF-MSEAD, which was listed last week, is an open-ended fund with an approved size of 500 million units and an initial price of RM1 per unit. It closed 1.03% higher at 99 sen last Friday against its closing price on May 7, the day that it got listed.
The fund tracks the MSCI South East Asia IMI Islamic High Dividend Yield 10/40 Index, which comprises up to 30 shariah-compliant yielding stocks including Keppel Corp Ltd, Singapore Telecommunications Ltd, Philippine Long Distance Telephone Company and Ascendas India Trust, which are all listed on the stock exchanges of Southeast Asian countries.
"The distribution channel for ETFs can be further enhanced by engaging more financial intermediaries such as stockbrokers, remisiers and financial planners to further promote ETFs to the investing public," says Mahdzir.
He explains that the unit prices of ETFs on Bursa are made available by the market makers of the ETF. The unit prices quoted are based on the prevailing net asset value per unit of the ETFs.
"Instead of buying all the component stocks that represent an index, investors can replicate and have similar exposure at a very cheap price for as low as 100 units when they buy an ETF," he says.
This article first appeared in Capital, The Edge Malaysia Weekly, on May 18 - 24, 2015.