This article first appeared in Capital, The Edge Malaysia Weekly, on May 14, 2018 - May 20, 2018.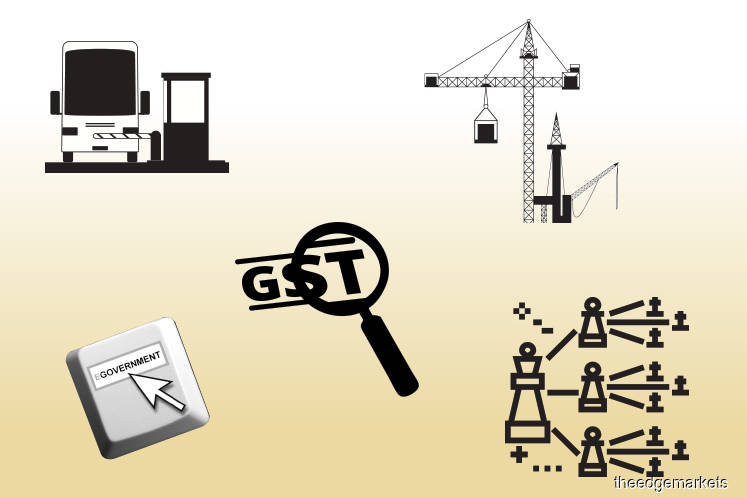 1)     Abolishment of GST could be positive for consumer stocks
ONE of the key policies proposed by Pakatan Harapan (PH) is the removal of the Goods and Services Tax (GST), and targeted fuel subsidies, which could benefit the consumer sector despite pushing up the fiscal deficit.
According to a note by RHB Research Institute head of research Alexander Chia, abolishing GST and reintroducing the Sales and Services Tax (SST) has the potential to boost consumer sentiment and relieve pressure from the higher cost of living.
His note says that despite the change in government, consumer spending is expected to be resilient this year and in 2019.
"This is because PH is expected to honour the promises made in its manifesto. These include the abolishment of GST, which is expected to lower the prices of goods and services and encourage consumers to spend. Similarly, the targeted fuel subsidy is expected to increase the disposable income of the lower-income group, making it a boon to consumer spending," it says.
It is worth noting that the highest SST collection was in 2014, when RM17 billion was collected, while GST collection was more than RM40 billion in 2016 and 2017. While this indicates that there would be about a RM20 billion deficit in revenue collection for the government, the consumer sector will see additional savings of that amount.
Affin Hwang Asset Management director of equities strategy and advisory Gan Eng Peng agrees and says he would go for politically neutral businesses and the consumer sector as they stand out as major beneficiaries of the removal of GST, targeted fuel subsidies and minimum wage realignment that will put more money into the hands of the consumer.
Most of the large-cap consumer plays, such as Nestlé (M) Bhd, Fraser & Neave Holdings Bhd, Dutch Lady Milk Industries Bhd and some others have seen a strong run so far this year. Smaller-cap consumer plays could benefit once consumer sentiment recovers further. It is worth noting that while the Consumer Sentiment Index (CSI) has been on an upward trend, it remains below the 100-point threshold, indicating that sentiment has improved but there is still a lack of confidence. The CSI for the first quarter was 91 points, the highest since the third quarter of 2014.
2)     Toll road operators could be hurt by PH's pledge to remove tolls
PH has pledged to remove tolls in stages based on concession contracts. Toll operators such as Gamuda Bhd, IJM Corp Bhd, Ekovest Bhd, Taliworks Corp Bhd, Ahmad Zaki Resources Bhd, Malaysian Resources Corp Bhd and Lingkaran Trans Kota Holdings Bhd would be affected.
Most analysts have pointed out that the manifesto has indicated that the compensation would be fair, but it will create uncertainty for listed toll concessionaires. They will lose the toll collection income if the concessions are taken over, and the price to be paid by the government remains uncertain.
"This could result in a one-off cash injection following the disposal of toll concession assets, which would come at the expense of earnings from the collection of tolls. The proceeds, which could be used to pare down debt, may just give rise to special dividends to shareholders. This would be largely neutral on the stock — provided fair compensation is given," Chia says in his note.
However, it is worth noting that members of parliament from the former Pakatan Rakyat and PH have previously raised questions about the government payments of compensation to toll operators. They said the agreements do not require the concessionaires to be compensated for loss of future profits. The then Barisan Nasional-led government had pointed to the risk of legal issues if toll concessionaires demand compensation for loss of future earnings in the event of premature termination of a concession contract. With PH now in power and if the script remains, they could be more willing to go to court instead of abiding by the terms deemed unfair to the government.
While the PH-led government will only review these toll concessions, the uncertainties about the payout and a possible legal tussle over the compensation would not augur well for these concessionaires.
3)     Change of fortune for politically-linked counters
With most analysts pricing in a BN win in the general election, PH's unexpected victory could lead to a change of fortune for counters perceived to be politically linked.
The tide has turned and these companies might come under selling pressure amid concern over their prospects, such as their ability to clinch new contracts. On the flip side, companies linked to the new prime minister could see a rise in interest.
Opcom Holdings Bhd, which is controlled by Dr Mahathir's son, Tan Sri Mokhzani Mahathir, saw its share price surging about 50% before polling day. Mokhzani is the chairman and CEO of Opcom, which makes fibre-optic products. It closed last Tuesday at 60.5 sen for a one-year return of about 7%. It is worth noting that before last week's rally, Opcom had fallen close to 50% to a low of 33 sen.
Similarly, two companies linked to former deputy prime minister Tan Sri Muhyiddin Yassin, who is now with PH, saw their share prices surging last Tuesday. Eden Inc Bhd and Thriven Global Bhd are linked to Muhyiddin's son, Datuk Fakhri Yassin Mahiaddin. Thriven is a property developer while Eden's businesses include food and beverage besides tourism operations.
Companies controlled by tycoons perceived to be connected to Dr Mahathir, such as Tan Sri Syed Mokhtar Albukhary, Tan Sri Vincent Tan and Tan Sri Lee Kim Yew, are also likely to draw renewed interest. Syed Mokhtar has many public listed companies under his belt, such as DRB-Hicom Bhd and Pos Malaysia Bhd.
However, it is too early to see how Mahathir's return as premier could benefit these companies as people are expecting a government that practises meritocracy.
On the other hand, there are companies such as Destini Group Bhd, whose single largest shareholder and group managing director is Datuk Rozabil Abdul Rahman, who is reportedly the treasurer of Umno Perlis. There had been expectations of a potential major contract after GE14, and the change of government will not be beneficial for it. Other politically-connected players like George Kent (M) Bhd and Johan Holdings Bhd, both controlled by Tan Sri Tan Kay Hock, could be affected as well.
4)     Review of infrastructure projects could be negative for construction stocks
Dr Mahathir has reiterated that he supports China's Belt and Road Initiative (BRI) but added that Malaysia reserves the right to renegotiate the terms of some agreements with Beijing if necessary.
According to a Nomura report last month, Malaysia is among the largest beneficiaries of Chinese investment commitments in Asia, securing US$34.2 billion worth of BRI-related infrastructure projects. That had prompted accusations that former prime minister Datuk Seri Najib Razak was "selling" Malaysia to the Asian powerhouse.
Aberdeen Standard Investments Malaysia CEO Gerald Ambrose acknowledges that PH's election pledges may have diverging impacts on the share prices of specific sectors, including those in the infrastructure-related sector, over the short term.
"PH's intention to review all infrastructure mega projects may lead to some initial selling in the construction and cement sectors," he says.
This is expected to shine the spotlight on Gamuda Bhd, Sunway Construction Group Bhd, Malaysian Resources Corp Bhd (MRCB) and IJM Corp Bhd.
Other cement and building material stocks that could be affected are Lafarge Malaysia Bhd, Tasek Corp Bhd, Hume Industries Bhd, Chin Hin Group Bhd and Knusford Bhd.
In a May 10 report, CIMB Research noted that the construction sector is likely to see the biggest negative impact in the short term as the PH government plans to initiate a comprehensive review of all mega projects awarded to foreign countries.
"There is potential downside risk to the order book replenishment outlook for contractors across the board. Using the anecdotal example of 2008 (GE12) when selected mega contracts were cancelled, deferred or reviewed three months prior to GE12, the KL Construction Index de-rated 16% and declined a further 13% in the three months post-GE12. In all likelihood, there could be more downside to KLCON Index's 11% decline year to date," it said.
For stocks under CIMB Research's coverage, the top losers could be Gamuda for its extensive tender exposure to mass rapid transit Line 3 (MRT3), Kuala Lumpur-Singapore high-speed rail (HSR) and highway concessions, as well as YTL Corp Bhd for its exposure to HSR and the Gemas-to-Johor Baru double-tracking rail project.
Others that may come under the limelight include MRCB for its exposure to the HSR and Eastern Dispersal Link (EDL), Protasco Bhd for its exposure to government road maintenance and housing projects, and IJM Corp for its exposure to highways and rail contracts.
5)     e-government service providers may see selling pressure
Electronic government services providers MyEG Services Bhd and Datasonic Bhd could be vulnerable to the outcome of GE14, and may see selling pressure.
MyEG is the largest provider of e-government services such as renewal of road tax and foreign workers' insurance and permit renewal, as well as rehiring.
Its single largest shareholder is well-connected billionaire entrepreneur Wong Thean Soon, who was ranked 33rd on Forbes' list of Malaysia's richest 50 in 2017 by net worth.
The executive chairman is Datuk Dr Norraesah Mohamad, a former senator (2005 to 2008) and Umno Supreme Council member (2000 to 2013).
Historically, MyEG may offer investors a chance to ride a post-election rally. After GE13 in 2013, its share price more than tripled between May 2 and Dec 31.
But given PH's victory, MyEG may no longer be a candidate to bag government contracts in the future.
Meanwhile, Datasonic prints electronic chips and data pages for Malaysian passports and chip-based smart cards such as the MyKad and ATM cards. The company recently saw higher orders both for passport data pages and MyKads.
While there could be some selling pressure in the near term, the fundamentals of these stocks should potentially reflect their true values.
Mohd Redza Abdul Rahman, head of research at MIDF Research, says as long as their services are provided at the highest level at competitive cost, the future prospects for the likes of MyEG and Datasonic could remain intact.
"Even if there is a need to change, it isn't that easy to find replacements overnight," he adds.
Save by subscribing to us for your print and/or digital copy.
P/S: The Edge is also available on Apple's AppStore and Androids' Google Play.