This article first appeared in Capital, The Edge Malaysia Weekly, on July 8, 2019 - July 14, 2019.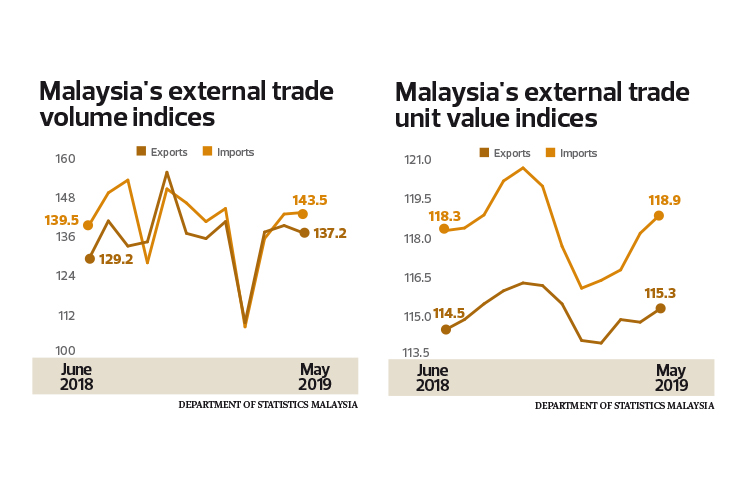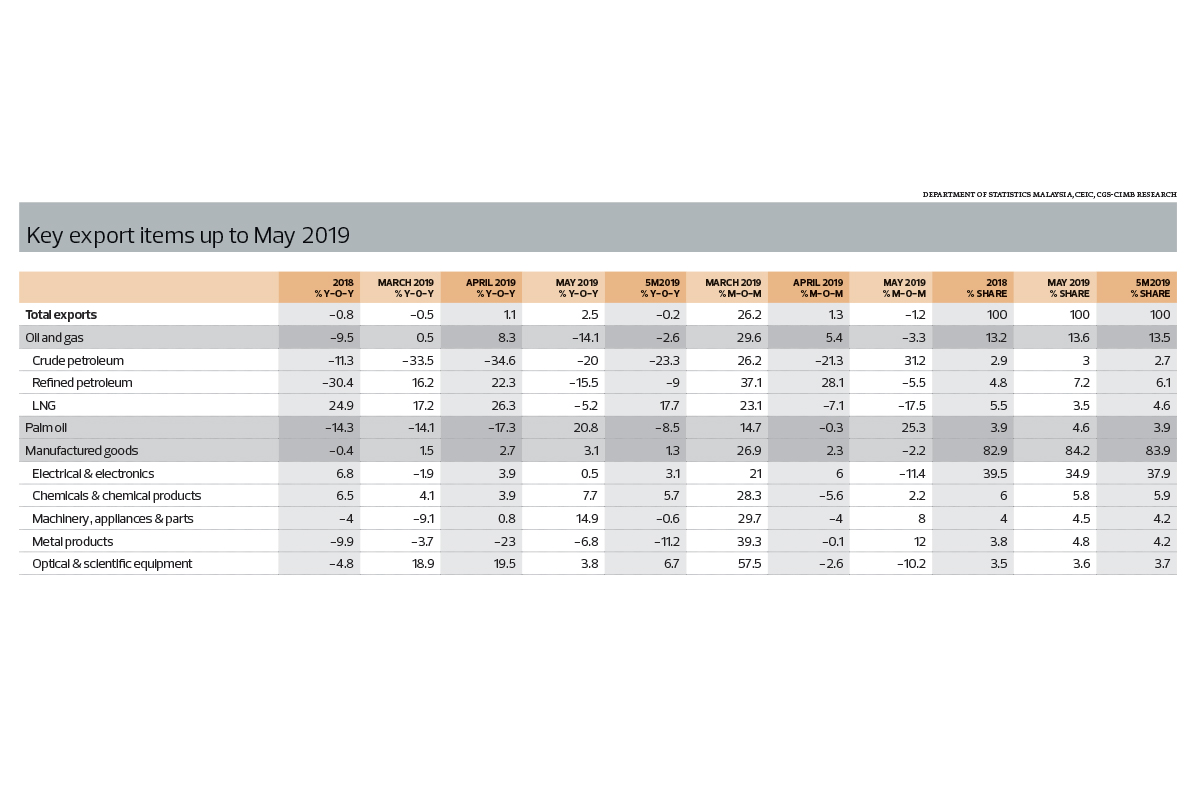 MALAYSIA's economic growth has been impacted by the global slowdown and geopolitical tensions as well as domestic political and economic issues.
Naturally, many are anxious about what is in store in the second half of the year after a humdrum first half.
While the trade truce between the US and China is a positive step towards global trade normalisation, nobody is popping champagne bottles yet as so long as a deal has not been achieved. Uncertainties remain, particularly given the capricious nature of US President Donald Trump.
"The truce is about the US not imposing higher tariffs on its remaining US$300 billion worth of imports from China. As a result, the truce as at end-June between the two countries doesn't mean a lot to us," says Peck Boon Soon, head of Asean economics research at RHB Investment Bank Bhd.
"Indeed, what the US did in May by raising tariffs on the US$200 billion worth of imports from China could disrupt trade flows and hurt business and consumer confidence as well as economic growth further," he adds, in response to questions emailed by The Edge last Wednesday.
On top of the still unresolved trade dispute, US data points to weaker economic growth, so much so that the Federal Reserve is considering easing the Federal Fund Rate (FFR) to boost investment and consumption.
Julia Goh, senior economist at United Overseas Bank (M) Bhd, says the Fed is poised to cut the FFR for two reasons: the US trade policy direction and developments, and the core personal consumption expenditure price index staying below its 2% goal with inflation expectations dwindling to a 40-year low.
"Slower US economic and global growth will affect Malaysia's export performance, especially when manufacturing products form 85% of total exports, with the bulk in the electrical and electronic (E&E) segment," she says in an email response.
"We do not provide official forecasts for individual export subcomponents. However, there is a high likelihood that we may revise downwards our overall export outlook of 4% to 5%, premised on the weaker performance to date."
Indeed, despite having one of the worst-performing currencies in Asia, exports are decreasing on a month-to-month basis. In May, the value of exports declined RM1 billion, or 1.2%, to RM84.1 billion from April.
More worryingly, the export value of E&E products, which form the backbone of Malaysia's export of manufactured goods, suffered a drop of RM3.8 billion, or 11.4%, month on month to RM29.3 billion in May.
The US-China trade war remains a major concern for global trade volumes. Malaysia, a relatively small and open economy with a very strong connection to the global supply chain, cannot remain immune to the antics of the world's two largest economies.
"We continue to stay cautious about the outlook of Malaysia's exports, particularly in the second half, with a lot hinging on the US-China trade deal that is proving elusive so far," says Lee Heng Guie, executive director of Socio-Economic Research Centre.
That said, Lee expects export figures to see better annual growth in the May and June period, partly aided by relatively low exports level a year ago. Nevertheless, the performance of major export products will continue to remain moderate, he says.
"We see downside risk to our current export growth estimate of 3.3% for this year (6.8% in 2018). Year to date (January to April), total gross exports declined marginally by 0.2%," he says via email, ahead of Thursday's external trade data release by the Department of Statistics (DOS).
Global semiconductor sales are expected to contract by 12.1% this year (+13.7% in 2018), dampened by a prolonged slowdown in demand as investors and consumers hold off their investment and purchase plans pending the roll-out of 5G technology.
Meanwhile, crude palm oil prices are expected to improve moderately on continued inventory reduction and slower production, says Lee.
On the brighter side, leading indicators of the economy point to some more positive news.
On June 25, the DOS announced that Malaysia's economic growth is expected to show better performance in the August to October period as stronger leading index — which monitors the economic direction in advance — surged 2.6% in April to 120 points.
The surge was mainly underpinned by an increase in the real import of semiconductors and other basic precious and non-ferrous metals, according to the department.
Risk of global recession abounds
One of the key takeaways from the Fed's hints of a possible easing of its fund rate centres on the risk of slowing US growth, which if left unchecked, is likely to spread across the globe, as evidenced in the 2008 global financial crisis.
After peaking at 4.2% annualised growth in 2Q2018, economic growth in the US started to head south as the Fed stepped up monetary tightening, with three rate hikes in 2017 and another four in 2018.
Following the trade war with China last year that hurt two-way trade, economic indicators suggest that the US economy could stall in the months ahead, prompting the Fed to signal that an easing of rates might be required to support growth.
Amid tepid global growth, central bankers have been more proactive. Bank Negara Malaysia was among the earlier ones, trimming the overnight policy rate by 25 basis points to 3% in May.
Reading between the lines of the Fed's signalling of a more relaxed monetary policy and other signs, some are warning of a global recession akin to the global financial crisis of 2008.
"On an extended global growth cycle, the risk of a global growth turning into a recession is there, but I believe it is manageable as global central banks are sensitive to any signs of a slowdown and they are willing to ease policies to support growth," observes RHB's Peck.
In March 2009 when the financial crisis hit Malaysian shores, the government was quick to unveil a fiscal stimulus to the tune of RM60 billion to shore up domestic investments and economic activities. At the time, the government's debt-to-GDP ratio was below 40%.
Last year, the government's overall debt and liabilities stood at 75.4% of GDP, according to Finance Minister Lim Guan Eng in a statement released on June 2. It is worth noting that direct government debt was 51.2% in 2018.
"Fiscal space is tight for Malaysia, but as we have seen during previous crises, a temporary rise in the fiscal deficit would be expected, given that the government would step in to support the economy as nominal GDP weakens.
"Malaysia's current federal government debt-to-GDP is already high at less than 52%, compared with pre-2008/09 when it was under 40%. Hence, any measure taken by the government should best preserve stability of the country's overall debt position," says Goh.
One measure that the government could take to spur domestic consumption in the event of a prolonged economic slowdown is to cut the contribution rate by employees to the Employees Provident Fund (EPF), says Peck.
"In the event that the global economy turns down and into a recession, it will be quite challenging for the government to increase its spending to cushion the impact. Hence, it may have to rely on other measures to support economic growth such as lowering the EPF contribution temporarily, building affordable housing and liberalising the economy."