This article first appeared in Capital, The Edge Malaysia Weekly, on June 3, 2019 - June 09, 2019.
Whether tensions between the US and China over Huawei escalate or wind down will be closely watched by investors and industry players. Photo by AFP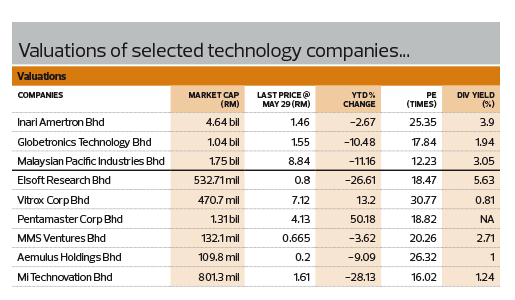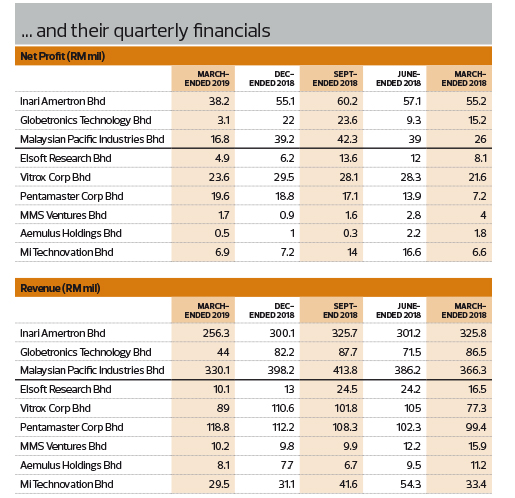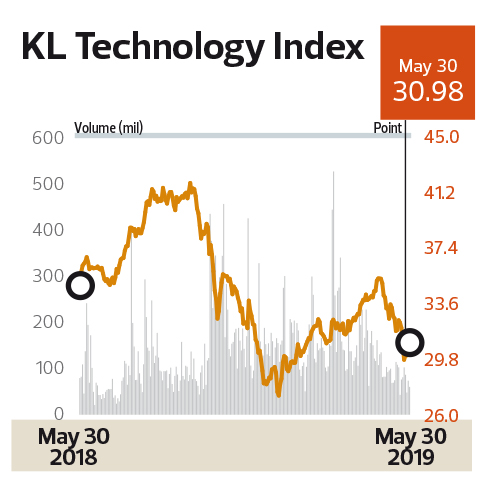 THE technology sector worldwide has seen a few tempestuous weeks. This follows the US decision on May 15 to ban Huawei from buying American technology and components over national security concerns.
The technology sector in Malaysia was no exception to the knee-jerk reaction from investors as the KL Technology Index shed 3.21% to 32.52 points in one day. The slide continued for a week as the index fell 8.27% between May 15 and 23 before rebounding by 2.75% by May 29.
The outsourced semiconductor assembly and test (OSAT) players — Inari Amertron Bhd, Globetronics Technology Bhd and Malaysian Pacific Industries Bhd — seemed to bear the brunt of the selldown by jittery investors. Most automated test equipment (ATE) manufacturers — which include Vitrox Corp Bhd, Elsoft Research Bhd, Aemulus Holdings Bhd, MMS Ventures Bhd, VisDynamics Holdings Bhd, Mi Technovation Bhd and Pentamaster Corp Bhd — suffered less.
Between May 15 and 23, Inari fell 15.92% to RM1.32 per share, Globetronics shed 10.12% to close at RM1.51 and MPI trimmed 9.63% to RM8.73.
Since May 23, most counters have seen some rebound in their share prices. Nevertheless, is this the right time for investors to venture back into the technology sector with new developments happening rapidly?
"It is difficult to answer this question. Investors will have to make a stand for themselves. If there is an all-out trade war, these counters will definitely suffer. On the other hand, if the ban is lifted, you can expect to see these counters rebound," says TA Securities chief investment officer Choo Swee Kee.
While many industry experts believe that much of the selldown is sentiment driven, it should also be noted that the sector has come off of its peak since October last year.
"Malaysian technology companies are not so much in Huawei's ecosystem, but are more in the American phone makers' supply chain," says an analyst will a local research house.
Be that as it may, the analyst says the sentiment of the manufacturers' customers has been affected.
"These companies are saying that their customers are being cautious about the whole situation. Instead of stocking up on inventory as they used to, they are maintaining a controlled inventory level because things could change in a couple of days. Things are really uncertain at this juncture," says the analyst.
Moreover, an industry observer points out that local OSAT players' higher exposure to Apple also presents a risk. Should China decide to boycott Apple products, it would come as a huge negative to Malaysia's OSAT companies.
Apple's China business accounted for more than 17% of its sales, or US$10.22 billion, in the second quarter.
The industry observer adds that perhaps test equipment manufacturers could find themselves in a better situation amid the uncertainties surrounding the technology supply chain.
"Even if they dichotomised the supply chain, both parties would still need test equipment. For that, I believe there is more leeway for the ATE manufacturers to manoeuvre round the situation," he says.
Disappointing quarter
For the quarter ended March, most technology counters reported weaker earnings. Out of the nine companies selected, six showed a weaker net profit compared with a year ago.
Globetronics saw the biggest decline in earnings as net profit fell 80% year on year to RM3.1 million for its first quarter ended March 31, 2019 (1QFY2019). It was affected by the drastic reduction in volume loading due to slower global growth, it says, adding that certain customers also stopped shipments towards the end of March, which also impacted its net profit.
On the other hand, Pentamaster saw net profit more than double during the same period. It gained 172% as net profit increased to RM19.6 million y-o-y on the back of greater operating efficiency that led to higher profit margins and net interest income.
Unsurprisingly, its year-to-date share price has increased by 50% to RM4.13 as at May 29, making it one of two companies among the nine selected counters to have seen share price growth this year.
Better 2H ahead?
Many have been anticipating a recovery for the sector in the second half of 2019 (2H2019). The third quarter of the calendar year is traditionally a strong quarter for the sector. But with the latest global developments, that seems to be hanging in the balance.
"We still expect it to pick up, but not in a big way. Usually three to four months before the iPhone launch in September, orders for the manufacturers ramp up. However, Apple is starting to derive more of its revenue from services but it does not flow down to our local players," notes the analyst with a local research house.
5G, which is supposed to be the next growth catalyst for the technology sector, could be affected by the tension between world's two largest economies. Many believe the 5G rollout in smartphones could see a delay.
"Even if 5G goes on as planned, it would only be for the top-of-the-range smartphones. It would take, maybe, at least two years before it is implemented in all other ranges of smartphones," says an industry observer.
In the immediate term, there seems to be little visibility of what lies ahead for the sector.
"From a fund manager's point of view, I would be cautious of the current situation because I have investors' money to protect. That could mean that I may not buy into this sector at the moment," says a local fund manager.
However, an observer points out that many tech companies are cash rich and should be able to ride out the storm. Furthermore, tech is one of the few sectors with a large export portfolio.
Meanwhile, in the near term, whether tensions between the US and China over Huawei escalate or wind down will be closely watched by investors and industry players.