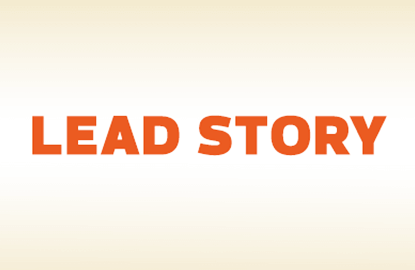 This article first appeared in Capital, The Edge Malaysia Weekly, on February 29 - March 6, 2016.
GLOBAL markets have experienced a rocky start to the year, sparked by a 7% drop in Chinese stocks. While the markets have rebounded somewhat, the see-saw trading is unlikely to end soon amid concerns over plummeting oil prices, slowing economic growth in China, the global economy and the implications of more US interest rate hikes.
Teh Chi-cheun, CEO and chief investment officer at Pacific Mutual Fund Bhd, a member of OCBC Group, believes volatility will continue to reign in the equity markets this year, as the world's central banks put in place different monetary policies to stimulate their economies.
"The divergence in central bank policies will fuel more volatility in financial markets this year. The US Federal Reserve has tightened [its policy], while countries like China, Japan and Europe are looking for more quantitative easing," he tells The Edge in an interview.
"But it gives me great comfort that China's stock bubble has finally burst. This overhang is now removed. Of course, whenever things burst they deflate further, so there is still room for Chinese stocks to overshoot on the downside. However, this correction was a long time coming and it will probably continue for a little while longer," he says.
Malaysia's economy is likely to slow down this year, says Teh. Last month, the government trimmed its gross domestic product growth forecast for 2016 to 4% to 4.5% from 4% to 5%. The Malaysian economy grew 5.7% last year.
"Having said that, bear in mind that the stock market tends to react faster to events," Teh says.
Looking ahead, he sees the stock market hitting bottom in the first half of the year and starting its rise in the second half. "I believe it will be a tale of two halves — the market will be weak in the first half and start recovering in the second half."
Teh notes that one big theme looks set to dominate the local stock market in 2016, and that's liquidity.
"Our stocks are still extremely under-owned [by foreigners] and if they turn their interest to emerging markets again, Malaysia will benefit," he says.
Malaysian stocks were part of a regional sell-off by foreign fund managers last year due to the flow of funds from emerging markets to the US in anticipation of an imminent US interest rate hike. In 2015, the total amount of equities listed on Bursa Malaysia sold by foreigners, net of purchases, stood at RM19.5 billion.
Unfortunately, the impact on Malaysia was greater due to the perceived political risks over the 1Malaysia Development Bhd (1MDB) issues, says Teh.
"And foreign investors will only come back to the markets if they think the political risk is over. Based on how the ringgit and the stock market have been behaving of late, it looks like foreign investors are finding Bursa Malaysia attractive again," he says.
Teh points out that from all perspectives, Malaysia has delivered.
"The prime minister said that all [cash flow] issues faced by 1MDB would be resolved by the end of 2015, [and] he did it.
"He also had a realistic budget for 2016 [announced in October last year]. This was revised after oil prices fell further. So, the government is actually doing the right things. It shows why Malaysia is still among the favoured emerging markets for foreign institutional investors," he says.
The RM20 billion injection by government-owned fund manager Valuecap Sdn Bhd, as announced in Budget 2016, will also provide additional liquidity to the market this year. It was reported that the first tranche of the fund, involving some RM6 billion, has been disbursed.
"If you look at the dynamics, our average daily trading value on Bursa is about RM2 billion. If ValueCAP were to deploy RM20 million of the RM20 billion per day, it can still significantly move the market.
"Having said that, the FBM KLCI is down only 7% over the past year compared with other regional indices, which have declined by double digits. It's because of liquidity here. Local funds such as the Employees Provident Fund and Permodalan Nasional Bhd have put some of their money in local stocks every month. All we need is additional interest from foreign institutional investors," Teh says.
However, he cautions that if the Fed starts raising interest rates again this year, it will drain liquidity from emerging markets as money will flow back to the US.
What do we buy amid the current volatility, which has made stock picking more difficult than usual? Teh is going defensive.
"I see non-energy commodity stocks hitting bottom before the energy sector. But I am aware that some commodity stocks, such as Top Glove Corp Bhd, are driven by the appreciation of the US dollar against the ringgit, which is now reversing. Thus, at this juncture, I am still alright with plantation and utility stocks.
"Stock picking is going to be critical this year. It is a matter of timing, as well as how you structure your portfolio construction," he says, adding that he is looking at an end-2016 target of between 1,750 and 1,800 points for the benchmark FBM KLCI.
On the fixed income market, Teh expects the low interest rate environment in the region to remain in 2016 and bonds will continue to be viewed as a safe-haven investment.
"I don't think Bank Negara Malaysia will do anything to the overnight policy rate (OPR), at least not until the new governor comes in. As such, I expect the OPR to remain unchanged in the first half of 2016. After which, much will depend on the economy and what the other central banks do," he says. Bank Negara Governor Tan Sri Dr Zeti Akhtar Aziz has indicated her intention not to seek another term after hers expires at the end of April.
Meanwhile, Teh believes the worst is over for the ringgit, which was the worst-performing currency in Asia in 2015, falling 22.82% against the greenback. The ringgit last week was hovering around 4.2245 to the US dollar.
"I believe the ringgit will not see the lows of last year of 4.485 (on Sept 29) unless crude oil prices drop to close to US$20 per barrel in a very short period of time.
"We have already seen oil at such low levels and now it has bounced back above US$30 and the ringgit is nowhere near last year's lows. If oil has a gradual downward trend to US$25, then it is alright. But if it suddenly drops as much as US$5 in one week closer to the US$20 level, that's when you might see another shock," he says.
"But I see scenarios where the ringgit can be closer to 4.4 again. It will take something serious for the ringgit to hit new lows, meaning a global downturn," Teh says.