This article first appeared in Capital, The Edge Malaysia Weekly, on April 22, 2019 - April 28, 2019.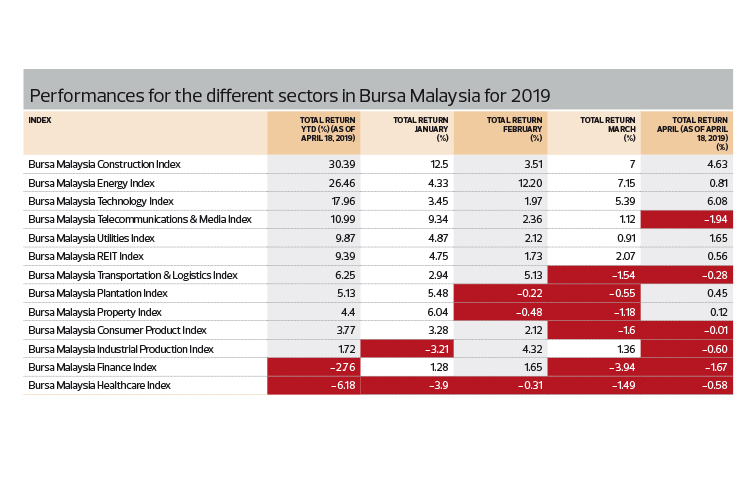 Source: Bloomberg
WITH the FBM KLCI falling to a two-year low of 1,619.73 last Thursday, in sharp contrast to the recovery seen in other equity markets in the region, a trading strategy is the way to go amid uncertainty on the domestic and external fronts.
And if you think putting your money in fixed deposit is a good defensive strategy, the latest news on a potential downgrade of Malaysian bonds by FTSE Russell in its World Government Bond Index (WGBI) has sparked heavy selling in the local bond market, leading to a spike in the benchmark 10-year Malaysian Government Securities (MGS) yield to 3.94% last Thursday from 3.78% on Monday.
The weaker performance of the FBM KLCI came amid a strong recovery in some of the small and mid-cap stocks during the first quarter following a sharp selldown towards the end of last year.
Sectors such as construction and oil and gas (O&G) have rallied strongly despite the FBM KLCI's underperformance. The technology sector is also back on investors' radar screens after a lacklustre performance last year.
But with 2018's beaten down stocks already making a strong recovery in the first three months of the year, as well as the strong rally seen in the O&G and construction sectors, where are the trading opportunities?
"We looked and analysed our coverage universe and see four strategies on the stocks we like, premised on market velocity (market cap churn) and volatility (share price volatility)," says MIDF head of research Mohd Redza Abdul Rahman.
The first strategy targets stocks with velocity above 40%, signalling that these counters are sufficiently liquid, with price volatility above 15%, giving what Redza calls a trading quadrant.
"Some of the stocks we like in this category include MyEG Services Bhd, which is likely to continue its business albeit at a lower margin; Gabungan AQRS Bhd as a potential beneficiary of the East Coast Rail Link works as well as tracks passing through Kota Sultan Ahmad Shah township; Dayang Enterprise Holdings Bhd on its maintenance, construction and modification contracts and potential upside from Perdana Petroleum Bhd; and AirAsia Group Bhd for its strong load factor with higher percentage hedging for its fuel supplies to see more manageable costs," he notes, adding that investors can easily buy and sell these counters given their high liquidity and defensive earnings with upside opportunities.
MIDF Research sees counters with high volatility but lower velocity (below 40%) as an opportunistic play as well.
"These strategies aim at counters that lack liquidity and have large price movements. It could be a good time to buy in when market sentiment turns negative," Redza says, pointing to Cahya Mata Sarawak Bhd, KKB Engineering Bhd (both are Sarawak plays) and MMC Corp Bhd (multi-utilities play).
RHB Research Institute head of Malaysian research Alexander Chia, on the other hand, believes that rotational interest will still depend on developments in the external macro environment.
"The easing of the ringgit and possibility of a US-China trade deal will see interest rotate back into the technology sector. The improvement in China's economy will be positive for technology players, plantation companies, the aviation industry as well as the tourism sector," Chia says.
He believes that despite a strong rally seen in the construction sector as well as the Genting group, there is still upside in these stocks.
"First-quarter results will be an important signpost for Genting as it will provide clarity on the uncertainty of the impact of the gaming tax. I think there will also be continued interest in the small and mid caps given the expensive large cap valuations," Chia says.
For the large caps, Chia believes the main uncertainty remains on whether there is more foreign portfolio selling to be done. "Big caps with high foreign shareholdings are unlikely to perform until the foreign selling abates," he says.
Indeed, a quick check reveals that foreign net selling continued until last Wednesday, although the exact amount was uncertain at the time of writing. Based on MIDF's latest weekly fund flow report dated April 15 for the week ended April 12, Malaysia saw the largest foreign net outflow of the four Asean markets monitored, with a net outflow of RM2.05 billion on a year-to-date basis. In fact, out of the 15 weeks so far this year, international funds have been net sellers on Bursa for nine.
Jeremy Goh, Hong Leong Investment Bank head of research, agrees that external uncertainties will play an important role and that investment angles in the upcoming quarters will be tilted towards an expectation that central banks around the world will continue to signal a dovish tone.
"It is now a forgone conclusion that two of the key external uncertainties will persist into 2Q2019. A soft deadline for the US-China trade talks has been set for early May while Brexit has been extended to Oct 31. With these uncertainties extending into 2Q2019, we reckon that major central banks (US Federal Reserve and European Central Bank) will continue with their dovish tone. For Malaysia, while we do not expect an Overnight Policy Rate cut in the upcoming Monetary Policy Committee meeting (May 6 and 7), we reckon that Bank Negara Malaysia will continue with a dovish tilt, similar to the March MPC tone," Goh says.
With dovish expectations, he points out that high-yielding dividend plays and real estate investment trusts (REITs) could garner interest.
"We like IGB REIT among the large caps and MRCB-Quill REIT for small caps. For those seeking large-cap liquid yielders, we like Malayan Banking Bhd, which offers about a 6.5% yield. Other high dividend yielders that we favour include Bermaz Auto Bhd, Taliworks Corp Bhd and Lii Hen Industries Bhd, but those are within the small to mid-cap space," Goh says.
He adds that with the ringgit expected to end weaker in the second quarter compared with the first quarter, export plays should also be in favour. For export plays, the research house recommends Top Glove Corp Bhd.
The ringgit is the worst-performing currency in Asia so far in April.
Maybank Investment Bank Research head of research Wong Chew Hann agrees that the ringgit and interest rate direction will influence trading themes in the upcoming quarters.
"Trading thematics to look out for in the second and third quarters include the ringgit's direction and volatility, interest rate direction, high-yielding dividend stocks and more active enforcement against illegal 'sin' operators," Wong says.
Suggested trading themes
•    Tech players, plantations, aviation, tourism, Genting group, construction
•    High-yielding counters or REITs
•    Export play on weaker ringgit
•    Tech players on weaker ringgit and US-China trade deal
•    Recovery of China's economy — plantation, aviation, tourism
•    Genting group — better clarity on impact of gaming tax from 1Q results
•    Construction as mega infrastructure projects resume at lower cost
•    Small to mid-cap space
•    Stocks with high liquidity and price volatility — MyEG, Gabungan AQRS, Dayang, AirAsia
•     Stocks with large price movements but lacking in liquidity — Cahya Mata Sarawak, KKB Engineering, MMC Corp