This article first appeared in Capital, The Edge Malaysia Weekly, on January 8, 2018 - January 14, 2018.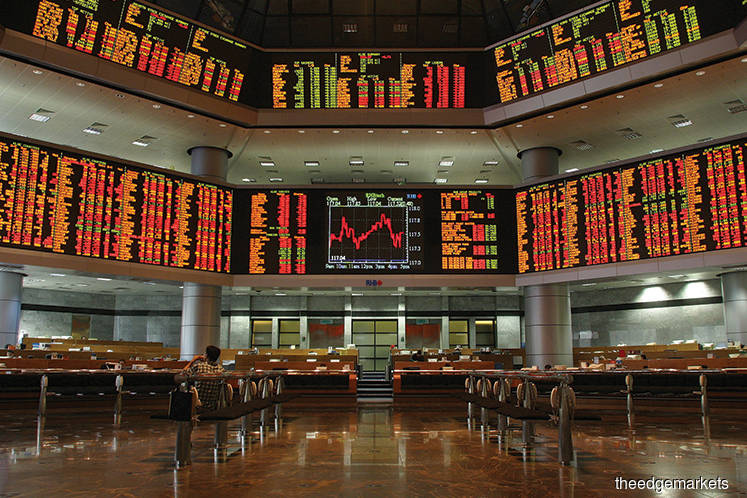 KUB Malaysia Bhd
THE co-owners of this well-diversified group — an Umno politician and a bumiputera corporate figure — are a good indication of why it is possibly a good bet for a pre-election rally.
Started as a cooperative known as Koperasi Usaha Bersatu Malaysia Bhd, KUB was listed on Bursa Malaysia in 1997 after completing a reverse takeover of Permodalan Perak Bhd in 1996.
Today, KUB is involved in the agro, information and communications technology, energy, property and power industries. However, it is best known as the parent company of fast- food restaurant chain A&W (Malaysia) Sdn Bhd, which it acquired in 2001.
Currently, KUB operates about 30 A&W outlets throughout the peninsula and intends to open another 25 in the next three years.
KUB is 52.17%-controlled by Anchorscape Sdn Bhd, an investment holding company linked to Darhim Dali Hashim and Datuk Abdul Rahman Mohd Redza.
Darhim is a director of Prasarana Malaysia Bhd and CEO of Radimax Group Sdn Bhd, a shipyard, engineering and vessel-building company, while Abdul Rahman is a Linggi state assemblyman who represents Umno, the biggest component party of Barisan Nasional.
"KUB has historically been perceived as a GE play but now, it is also backed by fundamentals," says Rakuten Trade Sdn Bhd head of research Kenny Yee. (See our interview with KUB's management in the Jan 8 edition of The Edge Financial Daily.)
Zecon Bhd
The Sarawak-based engineering and construction company is widely seen as politically linked, partly because it won the Pan Borneo Highway project two years ago.
Datuk Zainal Abidin Ahmad is the company's single largest shareholder, with a 43% stake, and its group managing director. Sazali Md Salleh and Datuk Bolhassan Di are its non-executive directors with a 9% and an 8% stake respectively.
Indeed, Zainal Abidin is believed to be Zecon's talisman, driving it with his strong political connections in Sarawak.
Last November, the company disposed of a 49% stake in Zecon Medicare Sdn Bhd to the State Financial Secretary of Sarawak for RM155 million. Zecon Medicare is the concession holder of the proposed development of the Universiti Kebangsaan Malaysia Children's Specialist Hospital in Cheras.
In March 2016, Zecon and its joint-venture partner Kimlun Corp Bhd won the RM1.46 billion contract for Phase 1 of the Pan Borneo Highway.
It is worth noting that Zecon abolished toll collection at the Tun Salahuddin Bridge in Kuching at end-2015. The concession had begun in October 2003.
This move was seen as a favour to the late Tan Sri Adenan Satem, the then Sarawak chief minister who led Barisan Nasional to a sweeping victory in the state election in 2016.
DRB-Hicom Bhd
The local conglomerate is 56%-owned by the low-profile business tycoon Tan Sri Syed Mokhtar Albukhary, one of the richest men in the country.
With more than 80 active companies in its stable that are involved in the automotive, logistics, financial service and property sectors, DRB-Hicom has been long perceived as a politically linked stock.
To recap, Syed Mokhtar was given the opportunity to develop Port of Tanjung Pelepas before he took control of MMC Corp Bhd, which later became one of his flagship companies.
In a rare media interview in 2004, Syed Mokhtar refuted allegations that he was a crony of former prime minister Tun Dr Mahathir Mohamad. The media-shy billionaire, however, acknowledged that he had won many contracts, much to the annoyance of other businessmen.
DRB-Hicom was in the spotlight again in 2012 when it acquired a 43% stake in national carmaker Proton Holdings Bhd — a brainchild of Dr Mahathir — from Khazanah Nasional Bhd for RM1.29 billion.
It is worth noting that DRB-Hicom's automotive plant is in Pekan, Pahang, Prime Minister Datuk Seri Najib Razak's constituency. The company is a large employer in the town.
Things may have taken a dramatic turn, with Dr Mahathir crossing over to the opposition camp, but DRB-Hicom remains a stock that cannot be ignored in the pre-election rally.
The stock is already on the move, gaining more than 35% over the last two weeks to last Friday's close of RM2.30.
Media Prima Bhd
With four free-to-air (FTA) television networks, the second largest radio reach and six print publications, Media Prima — long seen as a politically connected stock — is a counter to watch for a general election boost.
Last July saw a change at the helm of Media Prima as the well-connected Tan Sri Ismee Ismail, former Lembaga Tabung Haji chief, was appointed its chairman.
The stock's last peak of RM2.99 was recorded in May 2013, the month of the country's last general election. The counter had rallied in the months leading up to the polls on expectation of higher adex growth — advertisers tend to favour FTA TV and radio players during elections.
An election-fuelled growth would help Media Prima's current financial position as its loss widened to RM272.46 million for the nine-month period up to Sept 30, 2017, on an 8.3% drop in revenue. The company said lower advertising and a digital media shift contributed to the decline.
The Employees Provident Fund (EPF) is Media Prima's single largest shareholder with 13.3% while Morgan Stanley & Co LLC, which emerged as a shareholder in April last year, holds a 12.41% stake. Amanah Raya Bhd owns 11.09% equity interest. A noteworthy substantial shareholder is politically connected Altima Inc, which has a 7.96% stake in the company.
Destini Group Bhd
Destini is seen as a politically linked counter simply because its single largest shareholder and group managing director is Datuk Rozabil Abdul Rahman with a 25.4% stake. The businessman is reportedly the Umno Perlis treasurer.
Financially, the company has done well in the past few years amid much restructuring, and potential major contracts ahead of the next general election may propel the stock upwards.
Between 2012 and 2016, Destini's revenue grew more than six times to RM354.76 million while net profit more than quadrupled. However, its share price has tumbled since its last peak of 85 sen recorded in October last year.
In January last year, Destini's joint venture with Lembaga Tabung Haji-controlled TH Heavy Engineering Bhd secured a contract worth RM739 million to supply three offshore patrol vessels to the Malaysian Maritime Enforcement Agency.
This came just over a year after it completed the acquisition of a shipbuilding unit in December 2015. Winning the job signalled Destini's rise as a contender for big defence contracts that traditionally go to other politically connected players such as Boustead Heavy Industries Corp Bhd, which is controlled by Lembaga Tabung Angkatan Tentera.
Felda Global Ventures Holdings Bhd
The upcoming polls will be the second to be held after Felda Global Ventures Holdings Bhd (FGV) was listed in June 2012.
But going into GE14, will the ruling government, under which the plantation group was floated on Bursa Malaysia, continue to win over the hearts of FELDA settlers, especially those who got their fingers badly burnt by the stock's depressing performance?
FGV's share price dropped like a stone, from its peak of RM4.66 registered shortly after it was listed to a low of RM1.26 in May 2016. The reasons for this, ranging from poor earnings, pricey asset acquisitions and weak yields to corporate governance issues, were widely reported.
FGV did stage a recovery in July last year when rumours of a snap election grew stronger. The stock soared from a low of RM1.30 to RM2.50 but it stumbled after the start of an investigation into the company's top management, including CEO Datuk Zakaria Arshad.
FELDA settlers are considered a Barisan Nasional support bank in the Malay heartland but a weak FGV share price may not help retain their support.
Nevertheless, the stock has surged of late, bouncing back from last year's low of RM1.70 to RM1.90 last Friday. Analysts believe it will gain momentum, given that the polls are just around the corner.
George Kent Bhd
Rising from a mere water meter manufacturer to an infrastructure building company involved in mega public transport projects and hospital construction, George Kent has been a star performer since GE13.
And it is expected to feature strongly in the pre-election rally this year. It is also noteworthy that the company's controlling shareholder, Tan Sri Tan Kay Hock, who owns a 42.21% stake, is well known in political circles.
George Kent's surging share price — rising from around 30 sen in 2013 to RM3.64 last Friday — and healthy financial performance have put it in an enviable position.
Not only that, its revenue more than doubled to RM598.96 million in its financial year ended Jan 31, 2017 (FY2017) from RM276.8 million in FY2013. Its net profit leapt as well, from RM25.55 million in FY2013 to RM101.27 million in FY2017.
George Kent has also been generous with its dividends. Net dividend per share increased from 4.9 sen in FY2013 to 10 sen in FY2017.
MyEG Services Bhd
A heavyweight contender for government contracts, MyEG will likely attract investor attention as GE14 looms. Among others, it may be a beneficiary of pre-election contract flows.
The company's single largest shareholder is well-connected billionaire entrepreneur Wong Thean Soon, who was ranked 33rd on Forbes' list of Malaysia's richest 50 in 2017 by net worth. His 39.52% stake in MyEG was worth RM3.5 billion as at last Friday's close.
Note that the company is helmed by executive chairman Datuk Dr Norraesah Mohamad, a former senator (2005-2008) and Umno Supreme Council member (2000-2013), who also used to be in public service.
MyEG provides various electronic government services but those that are particularly lucrative are related to foreign workers' insurance and permit renewal as well as rehiring.
Over the five years up to the financial year ended June 31, 2017, the company's compound annual growth rate was 41.9%.
Historically, MyEG may offer investors a chance to ride the post-election high. After GE13, its share price more than tripled in value between May 2 and Dec 31, 2013.
In fact, the stock has been trending upwards since GE13. At its close of RM2.46 last Friday, it had risen more than 1,700% since May 2013 based on adjusted prices compiled by Bloomberg.
Excel Force MSC Bhd
This provider of electronic trading services to local stockbrokers was high on investors' radar screen last year. As at Jan 5, the stock had given investors a one-year return of 159%, probably with some help from the recovering stock market.
Interest in the company was partly fuelled by the emergence of MyEG Services Bhd co-founder and managing director, Wong Thean Soon, as a substantial shareholder in June last year. Wong now holds a 21% stake in the company.
The stock had risen 46.7% since then as at last Friday's market close.
Appearing alongside Wong in Excel Force MSC was MyEG executive chairman Datuk Dr Norraesah Mohamad, a former civil servant who was also an Umno Supreme Council member between 2000 and 2013 and senator between 2005 and 2008.
Excel Force MSC may now be seen as a good proxy for the success story that is MyEG, led by Wong in partnership with Norraesah.
While MyEG started with mainly government contracts, it has built on that foundation to diversify its operations into commercial activities, which now make up 70% of its business.
Time will tell if Excel Force MSC will go the same route but the upcoming general election may turn it into what MyEG is today — a favoured stock near polling season.
Dagang NeXchange Bhd
Formerly known as TIME Engineering Bhd, DNeX is helmed by low-profile executive deputy chairman Datuk Samsul Husin.
However, the former civil servant is said to be politically well connected. He had joined the Accountant General's office in 1987 and spearheaded various projects — from the enforcement of accounting procedures to designing new systems to enhance financial management reporting, according to filings with Bursa Malaysia.
In 2013, Samsul led Censof Holdings Bhd in taking over a 45.03% controlling interest in DNeX (then known as TIME Engineering) from Khazanah Nasional Bhd. The company ventured into the oil and gas sector in 2014, shortly before crude oil prices collapsed.
DNeX holds the concession from the Royal Malaysian Customs Department to operate and maintain the National Single Window (NSW) ecosystem, which is its breadwinner. It is also the service provider for the Home Ministry's eWork Permit System.
DNeX is not as big as MyEG Services Bhd but it should not be ignored as a candidate for the pre-election rally.
Save by subscribing to us for your print and/or digital copy.
P/S: The Edge is also available on Apple's AppStore and Androids' Google Play.