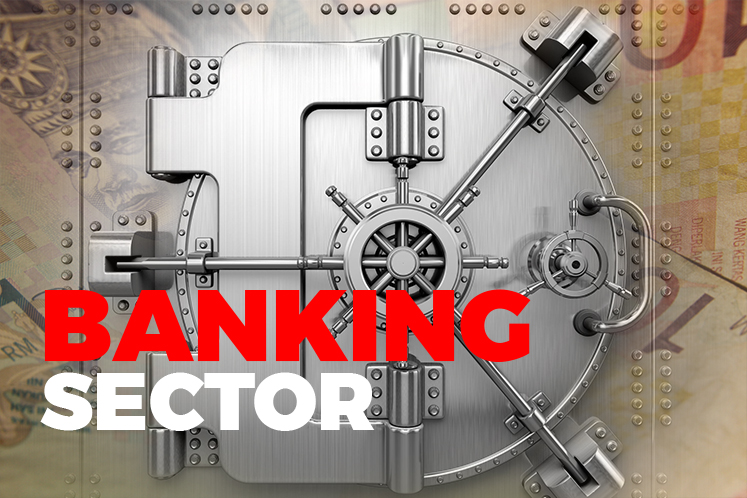 KUALA LUMPUR (July 1): The liquidity coverage ratio (LCR) of Malaysian banks is expected to decline further this year, according to Affin Hwang Capital Research.
In a note on the banking sector, analyst Tan Ei Leen said the banking system continued to operate at a comfortable LCR of 140% and a loan-to-fund ratio of 82.3% in May, versus April this year.
That said, the banking sector's LCR and net stable funding ratio (NSFR) are expected to continue to decline in the next six months in light of liquidity needs of banks during the six-month moratorium period.
"To recap, BNM (Bank Negara Malaysia) has given banking institutions some leeway in LCR (can operate below 100%) and [NSFR] requirements, which was lowered to 80% (and to revert to 100% from Sept 30, 2021)," explained Tan.
In the case of commercial banks, the average lending rate slipped by 25 basis points (bps) to 4.01% in April 2020, while the base rate declined by 50bps to 2.68% subsequent to another 50bps rate cut in May.
For 2020, Tan predicted that the net interest margin (NIM) of the banking sector will decline to 1.95% from 2.1% in 2019. However, it is expected to recover to 2% in 2021.
A 1.3% month-on-month (m-o-m) decline was seen in May for system outstanding impaired loans, following declines in transportation, communication and storage sector impaired loans. However, on a year-to-date (YTD) basis, they were up 3.6%.
The system gross impaired loan (GIL) ratio was at 1.55% in May, from 1.58% in April. Despite the slight dip, the research house observed some stress in lending to certain sectors, such as financing activities (including lines to securities firms, moneylenders and non-bank lenders), as well as manufacturing sectors.
"In the coming months, we expect a rise in impaired loans, in particular sectors such as construction, retail/wholesale/hotels and the household sector. Meanwhile, the working capital, residential property, construction and commercial property segments make up the bulk of impaired loans in the system," she said.
Tan maintained the "underweight" call on the banking sector, noting that banks are expected to see a 28.6% year-on-year (y-o-y) decline in core net profit for 2020, before recovering by 13% y-o-y in 2021.
"In our view, the banks' balance sheet and liquidity will be subject to more stress in 2020 to 2021 due to the moratorium period offered to borrowers, as well as higher risk of defaults as economic circumstances remain uncertain. That said, we still take comfort in the strong capitalisation levels (with the CET1 [common equity tier 1] ratio at 14% as at May 20 and the total capital ratio at 17.7% as at May 20), while the capital buffer (in excess of regulatory requirements) of RM121 billion as at Feb 20 remained fairly robust.
"Based on our assumptions for the banking sector for 2020, we expect: i) system loans to decline 1% y-o-y; ii) an NIM of 1.95% (with four rate cuts in 2020); iii) net credit cost at 56bps; and iv) a CIR (cost-to-income ratio) of 48%," it noted.
The research house named AEON Credit Service (M) Bhd as the top pick among banking stocks, with a "buy" call and a target price of RM12.30.
"We believe that there is a value proposition in AEON Credit as we look to a recovery year in FY22 (financial year 2022), with a receivables growth of 9% y-o-y (versus -4% y-o-y estimated for FY21) and a lower net credit cost of 334bps (versus 353bps estimated for FY21).
"AEON Credit remains a key player in consumer financing through credit cards, personal financing, motorcycle financing and used-car financing. Its 'value chain transformation project' comprises: i) online loan applications/approvals; ii) a B2C2B (business-to-consumer-to-business) digital marketing strategy; iii) the use of AI (artificial intelligence) in its credit assessment model; and iv) process automation to help boost top line growth and enhance operating efficiency.
The lender's high return on equity of 14.4% estimated for FY22 is backed by its use of leverage and ability to generate an effective interest rate of 16% to 17%, higher than the 5% of traditional banking players, said Tan.