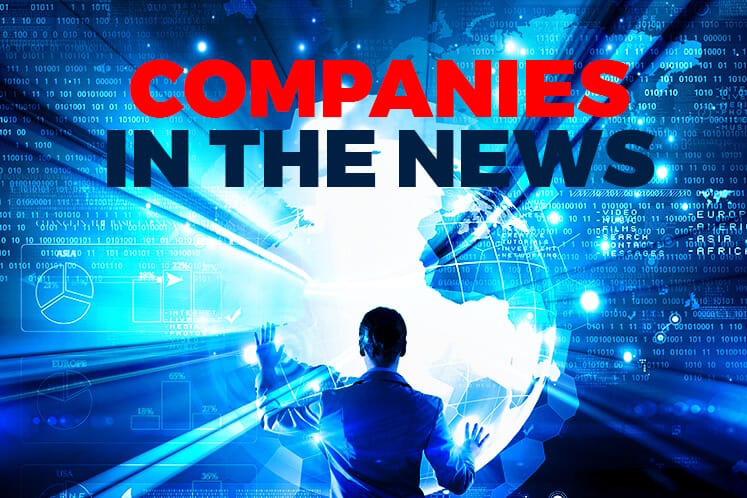 KUALA LUMPUR (July 1): Based on corporate announcements and news flow today, stocks in focus on Thursday (July 2) may include: LBS Bina Group Bhd (LBS), MCT Bhd, My E.G. Services Bhd (MyEG), Solarvest Holdings Bhd, GFM Services Bhd, Bank Islam Malaysia Bhd, Tenaga Nasional Bhd (TNB), Gamuda Bhd, Boustead Heavy Industries Corp Bhd (BHIC), Komarkcorp Bhd, WZ Satu Bhd, Kanger International Bhd, Prestar Resources Bhd and T7 Global Bhd.
LBS Bina Group Bhd (LBS) recorded revenue of RM299 million and profit before tax (PBT) of RM24 million for 1QFY20. The revenue and PBT are attributed to strong take-up of its townships and affordable housing developments, coming from key townships such as LBS Alam Perdana, KITA @ CyberSouth, Bandar Saujana Putra, Cameron Golden Hills and LBS SkyLake Residence. The group has 16 ongoing projects with an estimated gross development value (GDV) of RM4 billion and plans to launch several projects with a combined estimated GDV of RM1 billion in the next few months.
MCT Bhd recorded a net loss of RM21.36 million for 1QFY20 compared to a net profit of RM5.69 million a year ago. This was primarily due to the booking of cash flow hedge resulting in some RM20.73 million of losses. Quarterly revenue also dropped to RM51.81 million from RM102.4 million previously, mainly due to lower sales and slowdown in construction progress due to the festive season, which was further exacerbated by the ensuing movement curbs. On prospects, MCT said the issues that plagued the property market such as market overhang, price unaffordability and lack of financing are expected to persist.
My E.G. Services Bhd (MyEG) has received a three-year extension from the Government to provide the foreign worker temporary employment pass online renewal service worth an estimated RM208 million. The firm said it received a notification letter from the Ministry of Home Affairs today on the extension, which is effective from May 23, 2020. The provision is for renewal of the pass — known as pas lawatan kerja sementara (PLKS) — under the Immigration Department.
A consortium involving Solarvest Holdings Bhd and GFM Services Bhd has secured a RM30 million contract for the engineering, procurement, construction and commissioning of solar photovoltaic (PV) infrastructure in six UiTM campuses in Peninsular Malaysia. The contract, issued by Go Energy Sdn Bhd (previously known as Talent Cloud Sdn Bhd), involves cumulative plant capacity of 11,057 kilowatt peak. Work for each campus is expected to be completed within two months from the date of commencement.
Meanwhile, Bank Islam Malaysia Bhd has partnered with Tenaga Nasional Bhd (TNB) and its subsidiary GSPARX Sdn Bhd to provide financing for PV ownership for homeowners in Malaysia. The collaboration is part of the bank's green financing journey that focuses on encouraging sustainable business and lifestyle practices. The bank is offering up to 100% financing for the purchase of GSPARX's solar PV package or up to RM300,000 with attractive floating rates of as low as 4.67% or a 4.5% fixed rate for three years accordingly.
TNB also confirmed that the Government has approved the adjustment of the Imbalance Cost Pass-Through (ICPT) surcharge from two sen/kWh to zero for domestic and non-domestic electricty users between July 1 and Dec 31. The reduction in the ICPT surcharge is due to a reduction in actual fuel cost for the period of January to June 2020 compared with the previous six-month period of July to December 2019.
Gamuda Bhd announced that the Penang State Government has confirmed the appointment of the construction giant to be the project delivery partner for the Penang Transport Master Plan (PTMP). For that, Gamuda will be paid a fee of 5%-5.75% based on the project cost, which was reportedly estimated at RM46 billion. Under the agreement, SRS will deliver different public transport components, including highways. Additionally, it will provide new reclamation sites comprising Islands A, B and C for the Penang South Reclamation project.
Boustead Heavy Industries Corp Bhd (BHIC) has seen its helicopter maintenance contract with the Ministry of Defence  extended for another year until 2021. BHIC said that its unit BHIC AeroServices Sdn Bhd will provide integrated maintenance and logistic support services for three Dauphin AS365N3 helicopters operated by the Malaysian Maritime Enforcement Agency. The contract will now end on June 30, 2021 with a new total ceiling contract value of RM70.74 million.
Komarkcorp Bhd's executive chairman Koh Hong Muan @ Koh Gak Siong and group chief operating officer Koh Chie Jooi have ceased to be substantial shareholders of the loss-making firm. Hong Muan is the founder of the label printing and packaging solution services provider, while his son Chie Jooi also serves as the firm's executive director. They disposed of their indirect equity interest of 40.88 million shares or 19.88% in Komarkcorp at 40 sen per share yesterday.
A consortium led by WZ Satu Bhd has bagged a contract worth RM120 million for the provision of engineering, procurement, construction, installation and commissioning from Petronas Carigali Sdn Bhd. The contract is for the PM 309 Gas Ledang Redev Segment 2 development project, it said. The duration of the contract is 16 months and that it is targeted to be completed in October 2021.
Kanger International Bhd is collaborating with Stoika Sdn Bhd to distribute long-lasting commercial antimicrobial coating solutions in Malaysia and overseas. The group has signed a sub-distributor appointment agreement with Stoika for distribution in the Malaysian market, and also formed a joint-venture (JV) collaboration with the latter to distribute the solutions abroad. Kanger and Stoika will hold 51% and 49% equity stakes in the JV company, respectively.
Prestar Resources Bhd has bagged contracts worth about RM80 million to supply guardrails and accessories for the development and upgrading of the proposed Pan Borneo Highway in Sarawak. The contracts, which are expected to last until Dec 31, 2021, involve four work packages for the Pan Borneo Highway project, namely the Pantu Junction to Batang Skrang stretch, Sungai Kua Bridge to Sungai Arip Bridge, Semantan to Sungai Moyan Bridge, and Sungai Awik Bridge to Bintagor Junction.
T7 Global Bhd is raising up to RM42 million from a proposed private placement exercise to partially fund three ongoing projects which the group announced this year. The group plans to issue up to 117 million of new stock, or 20% of the total number of issued shares of T7 Global for the exercise. The proceeds will be used to fund an ongoing project from Carigali Hess Operating Company Sdn Bhd for the provision of onshore fabrication, offshore hook-up and commissioning for Infill Flowlines and another contract for provision of supply of systems and equipment.