This article first appeared in The Edge Malaysia Weekly, on August 17, 2020 - August 23, 2020.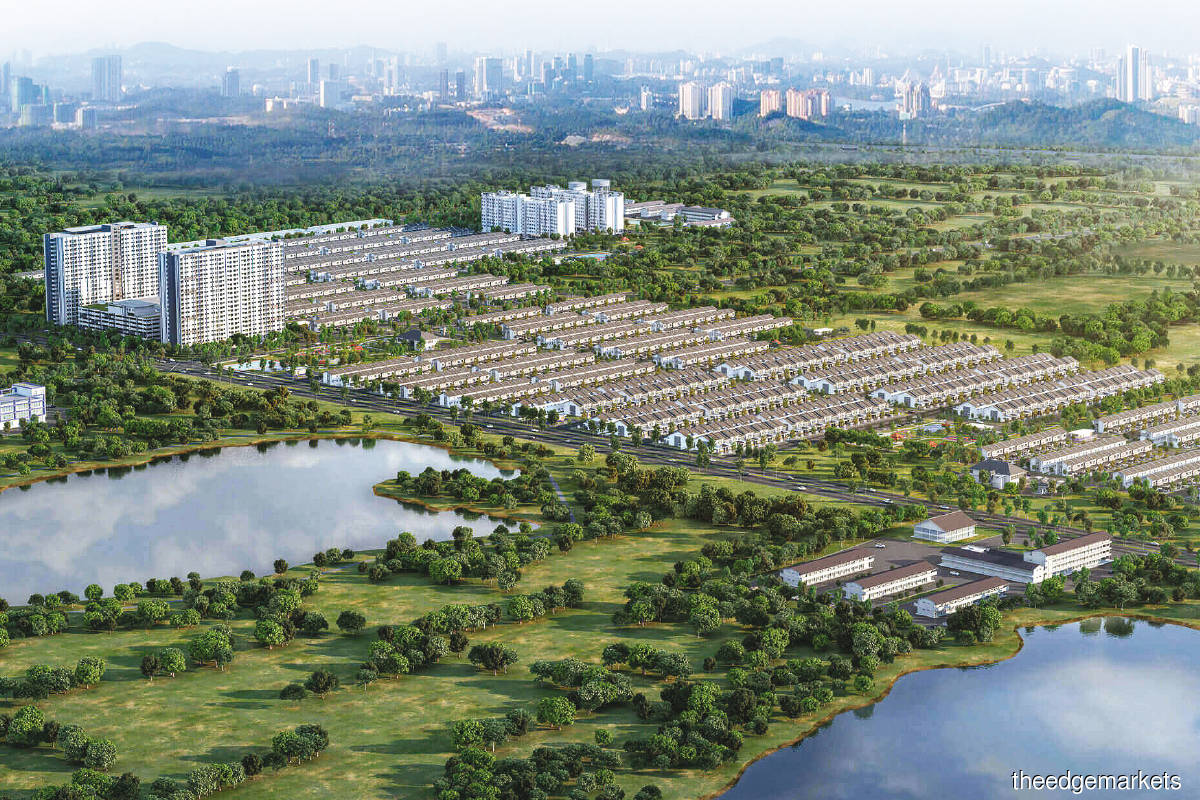 SINCE the Covid-19 outbreak, Malaysians have been prioritising bread-and-butter issues over big-ticket items such as property.
While most developers have slashed their sales target for 2020 — some reportedly by 20% to 40% — amid a slowdown in property transactions, LBS Bina Group Bhd can count its blessings, as its digital investments made before the pandemic are starting to bear fruit.
According to group managing director Tan Sri Lim Hock San, LBS received online bookings for 810 of its property units worth RM337 million during the Movement Control Order (MCO) period, from March 18 to June 9.
"Many people stayed at home. They had more time to study the property market and do more research. As for us, we are fortunate that we had started our digital and technology adoptions even before the coronavirus hit us," he tells The Edge in an interview.
Lim recalls that prior to the MCO, the digital impact was not significant, as most people still preferred to visit LBS' sales gallery.
"We have always known that social media can be very powerful. So, when Covid-19 happened, our digital platforms were ready and our marketing team was able to get in touch with the prospective buyers via these platforms, which include virtual showrooms, website, email, WhatsApp, Facebook, Instagram and SMS," he says.
Although buyers could not come to the showrooms, Lim says his team was still able to share with them all the important information about LBS' projects. For instance, house viewing was made possible via virtual reality.
Meanwhile, the group is also digitalising its sales and purchase (S&P) process, enabling the firm to shorten the processing time and improve its work efficiency.
"Previously, we had to manually send the documents. Today, with robotic processing automation, we are able to extract sales data from a type of system into a data sheet, which simplifies processes for lawyers to prepare the S&P payment schedule page and proceed with stamping," Lim explains.
Ideally, he says, the whole home-buying process can be done online in the future, as LBS is still in the midst of improving its digital and technology adoption.
Revising its sales target
In January, LBS had set a sales target of RM1.6 billion for 2020. Then came the MCO.
This led to the group lowering its target by 37.5% to RM1 billion in April, while assessing the impact of the pandemic.
However, market sentiment has turned out to be not as bad as LBS had expected. As at Aug 10, the group achieved property sales of RM900 million.
Lim says barring any unforeseen circumstances, the group is confident that it will exceed its revised sales target of RM1 billion for the year.
"Obviously, for us to achieve the revised target of RM1 billion is not a problem because we are almost there. With the encouraging momentum of our township projects, we are working very hard and remain hopeful of reaching our earlier sales target of RM1.6 billion. Of course, it depends on the market situation."
Lim points out that out of the few projects that are selling well, Kita @ CyberSouth in Dengkil and LBS Alam Perdana in Bandar Puncak Alam in Selangor are the biggest contributors.
They are followed by Residensi Bintang Bukit Jalil in Kuala Lumpur, as well as its projects in Cameron Highlands, Genting Highlands, Batu Pahat and Ipoh.
"The Cuti-Cuti Malaysia trend in the time of Covid-19 is also a positive factor for our projects in Cameron Highlands and Genting Highlands. Imagine, if you buy a unit of our Cameron Centrum, you could go there for holidays or you could rent it out as an Airbnb unit. We are confident that this project will sell very well," says Lim.
LBS also has a project in Gohtong Jaya dubbed Midhills, which is fully sold. The group now plans to launch Bayu Hills by the fourth quarter of the year and to build 30 two-storey houses there in the future.
As for its Cameron Golden Hills township, LBS had last month launched Vines 3, comprising 41 two-storey terraced houses. The group plans to launch 2-storey terraced houses in Cameron Centrum, as well as a mixed-use development in Brinchang in the first quarter of next year.
"We are hopeful that Cameron Golden Hills, Cameron Centrum and Midhills will contribute positively to our group's financials next year," says Lim.
LBS currently has total undeveloped land bank of 3,587 acres across the Klang Valley, Pahang, Perak, Johor and Sabah, with a future estimated gross development value (GDV) of RM31 billion.
The group has 15 ongoing projects, with a total GDV of RM4.3 billion. As at July 31, its unbilled sales stood at RM2.176 billion, which will be reflected in its financial results over the next two years.
The worst is over
Lim believes the property market has seen its worst, as most negative factors have been priced in.
"Our property sales performance is a good indication [that the worst is over]. Some people are still waiting for property prices to drop, but in reality, property is a necessity," he says.
He notes that in Mainland China, many people own two to three houses, as they consider property a stable asset that has the potential to grow their wealth over the long term.
"Today, many Malaysians are also realising that. They want to own the house, not speculate."
LBS saw its net profit decline 21% to RM67.5 million in the financial year ended Dec 31, 2019, from RM85.6 million the year before.
So far this year, the counter has fallen 17% to close at 40 sen last Thursday, giving the company a market capitalisation of RM606.46 million.
Lim says shares in LBS are still undervalued, at a time when the equity market is gaining investor interest and hitting record trading volumes.
"I believe the global stock market rally is driven and supported by ample liquidity. Excess liquidity may be followed by inflation, and we believe property is a good hedge against inflation.
"If you look at China, which has very much recovered from Covid-19, its property sector is doing relatively well. After so many years of downturn, a lot of value has emerged in our property sector and we believe it will recover, along with the economy."