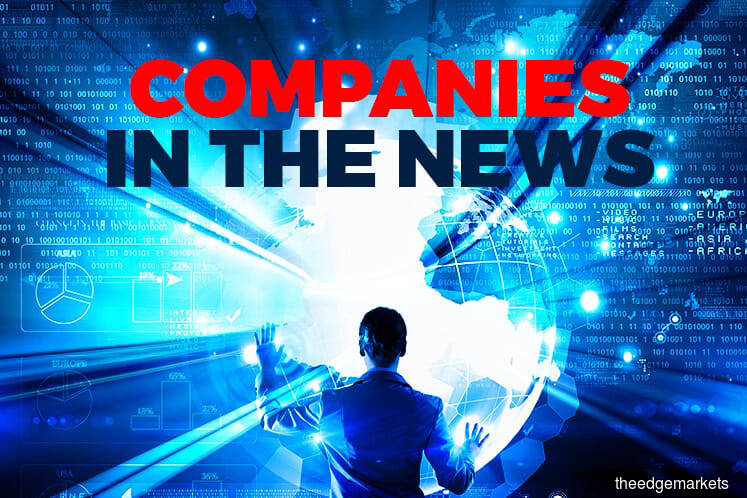 KUALA LUMPUR (Jan 6): Based on corporate announcements and news flow today, stocks in focus for Tuesday (Jan 7) may include the following: LBS Bina Group Bhd, KKB Engineering Bhd, Wang-Zheng Bhd, Sunzen Biotech Bhd, Malaysia Airports Holdings Bhd (MAHB), GHL Systems Bhd, Vortex Consolidated Bhd and MMC Corp Bhd. 
LBS Bina Group Bhd has set its 2020 new property sales target at RM1.6 billion, similar to the sales target of RM1.63 billion it achieved in 2019, as the group is expecting the lower interest rate environment to continue to support its property sales.
Managing director Tan Sri Lim Hock San is confident about the new property sales target in 2020, citing the market is anticipating another rate cut for the overnight policy rate (OPR) this year, which he added bodes well for LBS Bina's housing sales.
According to Lim, the OPR cut by the Bank Negara Malaysia in May 2019 had boosted the group's property sales in 2019. He added that the Home Ownership Campaign also contributed to the increase in property sales last year. 
KKB Engineering Bhd has bagged a job from Petronas Carigali Sdn Bhd to provide engineering, procurement, construction, commissioning and installation of Wellhead Platform for BKD-A and Host Tie-In Modification at BNCPP-B Topsides — Bakau Non-Associated Gas Development Project.
KKB said its subsidiary OceanMight Sdn Bhd had received a letter of award from Petronas Carigali, for the job.
It said the project execution period is for 19 months.
Wang-Zheng Bhd's managing director and chief executive officer Goh Kheng Jiu has ceased to be a substantial shareholder, after disposing of two million shares.
Goh had sold off the shares via off-market transaction. Post transaction, Goh effectively has 2.04 million shares or 1.28% direct stake in the fibre-based manufacturing company. Indirectly, he holds a 3.6% stake.
Bursa Securities has publicly reprimanded Sunzen Biotech Bhd and two of its executive directors for failing to obtain prior shareholders' approval, in respect of its diversification into a new business in the trading of crude palm oil and its derivative products, such as palm kernel and palm kernel shell in February 2017.
Datuk Hong Choon Hau, who is Sunzen's managing director cum chief executive officer, and Lim Eng Chai, its chief operating officer who resigned on Nov 30, 2018, were also fined RM50,000 each.
Sunzen, which is principally engaged in biotechnology research and development and manufacturing and marketing of animal feed supplements and animal health care products, had triggered Rule 10.13(1)(b) of the ACE Market listing requirements, when CPO and derivative products trading had contributed more than 25% of the group's net profit for the financial period ended March 31, 2017, June 30, 2017, Sept 30, 2017 and Dec 31, 2017.
Malaysia Airports Holdings Bhd (MAHB) group chief executive officer (CEO) Raja Azmi Raja Nazuddin has stepped down, handing the reins over to its chief operating officer (COO) Datuk Mohd Shukrie Mohd Salleh.
In a surprise move, MAHB today announced that Raja Azmi, 52, has resigned to pursue other opportunities. While MAHB looks to identify and appoint a suitable successor, the board has appointed Mohd Shukrie as the acting group CEO with immediate effect. 
GHL Systems Bhd, in partnership with Mastercard, has launched a tokenized e-payments solution that offers simpler, more secure and seamless digital payment experiences for consumers.
The Mastercard Digital Enablement Service (MDES) for Merchants (M4M) is offered by GHL's fintech arm, eGHL, for online and in-app transactions.
GHL said eGHL will be the first payment service provider in Southeast Asia to enable MDES For Merchants in Malaysia, starting this month.  
Vortex Consolidated Bhd confirmed today that it is in talks to acquire a stockbroking firm, but said it has yet to enter into any definitive agreement.
The company confirmed this, after it was reported today that Vortex's new major shareholder, Eugene Goh, had not denied speculation that the company was in talks to buy one of the last standalone stockbroking firms.  
"Among the remaining ones are PM Securities Sdn Bhd and SJ Securities Sdn Bhd," the report in The Star newspaper said. The tabloid had also noted Vortex has RM52.83 million in cash.
MMC Corp Bhd seeks to team up with Felda Holdings Bhd to explore the potential equity participation of up to 25% stake in Fauji Akbar Portia Marine Terminals Ltd (FAP), an entity which had been granted a concession by the Port Qasim Authority to operate a dry bulk terminal in Port Qasim, Pakistan.
MMC said its wholly-owned subsidiary Johor Port Bhd had on Jan 3, entered into a memorandum of understanding (MoU) with Felda Holdings' 65%-owned Pakistan-based unit FWQ Enterprises (Pte) Ltd, for the purpose. The balance of 35% equity interest in FWQ are held by Westbury Group, a company based in Pakistan.
The MoU remains valid for two years.