This article first appeared in The Edge Malaysia Weekly, on September 2, 2019 - September 08, 2019.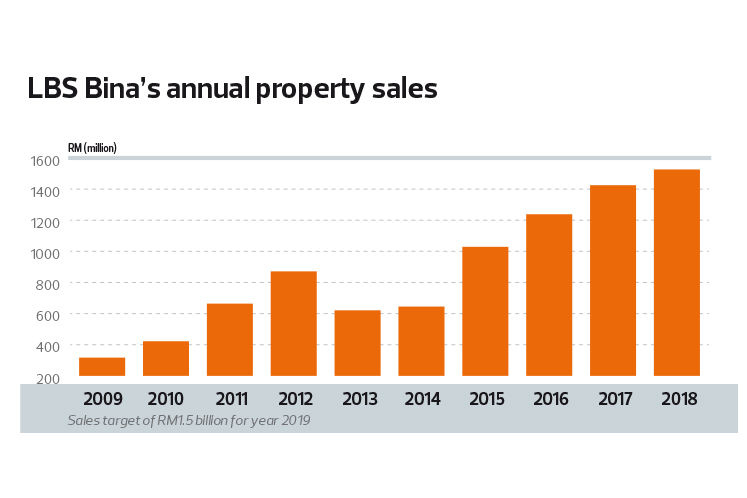 DESPITE the lacklustre property market, which has caused developers to slash their sales targets, LBS Bina Group Bhd has been able to hold its own and maintain its annual sales target at RM1.5 billion.
The developer, which has been focusing on affordable housing, has seen its property sales grow steadily for five consecutive years, from RM621 million in 2013 to a record high of RM1.526 billion last year.
It has now set its sights on launching properties in the higher price range, as group managing director Tan Sri Lim Hock San is confident that there will be demand in this segment.
"Every developer has its own strategy. For us, building affordable houses has been our strength over the last 30 years. In 2013 and 2014, many developers were building high-end developments but we stuck to what we were good at," he tells The Edge in an interview.
Generally, the price of LBS Bina's products ranges from RM250,000 to RM550,000 per unit, says Lim.
"In the next three to five years, affordable housing will remain an important segment. But in the next two to three years, the trend may change [and move] a little towards the slightly more premium segment. We will ride the trend, depending on market sentiments," he remarks.
Lim believes the government will be rolling out more pro-business policies to spur economic growth. "The property market has a cycle that is related to economic growth. If our country's economy is doing well, people will have more money and they will buy houses," he explains.
"In the long term, I anticipate that Malaysians will have better spending power and hopefully, they will be thinking about upgrading their houses. Who knows, foreigners may also come here to buy our properties."
With more tourists from China — currently the biggest spenders in the world — coming to Malaysia, as well as the spillover effect of the planned RM44 billion 640km East Coast Rail Link, Lim expects the country's economy to fare well.
Moreover, he believes that the recent 25 basis points cut in the overnight policy rate by Bank Negara Malaysia will have a positive impact on the property market.
"Looking at the global economic and other external factors, we expect interest rates to go down further. This means lower instalments for homebuyers," Lim says, adding that this is the best time for people to buy a house.
"I hope that within the next three years, the property market will turn the tide. I can't say for sure whether the worst is over but the fact is, until today, we can still sell and people are still buying for their own occupation. How do you interpret this?" asks Lim.
LBS Bina has 18 ongoing projects with a total gross development value (GDV) of RM4.1 billion, of which RM3 billion worth has been sold. The balance are developments that have been launched and are still available for purchase.
"Our products are selling quite well actually. Our take-up rates are not bad, with new sales coming in almost every week," says Lim.
Maintaining the sales target
Following its record sales last year, LBS Bina is maintaining its sales target at RM1.5 billion for this year.
From the start of the year to Aug 19, the property firm achieved sales of RM979 million, which means it still needs to secure sales of about RM550 million in the next 4½ months.
"Most players have lowered their targets but we are maintaining ours at our best level. There are reports of property overhang but we are in a niche and still-expanding market — the affordable segment — where demand is still going strong. Fortunately, we do not have a huge inventory," says Lim.
Kita @ CyberSouth in Dengkil and LBS Alam Perdana in Ijok, two of LBS Bina's key township projects in Selangor with a GDV of RM1.2 billion and RM1.17 billion respectively, account for 75% of the company's total current sales.
LBS Bina's upcoming launches include Melodi Perdana at its LBS Alam Perdana township, which will be unveiled this month or the next. The project, which will comprise 1,520 apartments, has an estimated GDV of RM566 million.
Despite achieving higher revenue of RM326.56 million for the first quarter ended March 31, 2019 (1QFY2019) — a 36% increase from RM240.12 million in the previous corresponding period — the company's net profit declined 23% to RM17.68 million, from RM23.04 million a year ago.
Its net gearing stood at 0.78 times as at March 31.
As at July, LBS Bina's unbilled sales amounted to RM1.922 billion, which will translate into turnover, subject to work progress and other factors.
"We try to grow our property sales target by 10% on an annual basis. That's all we can say. Of course, shareholders would expect us to deliver better earnings performance and higher dividends, but I am sure they also understand the current market trend. Overall, we hope we can do better next year," says Lim.
LBS Bina's share price has declined 15% year to date, closing at 53 sen last Thursday, giving the company a market capitalisation of RM826 million. The stock is close to its five-year low and is currently trading at an undemanding price-earnings ratio of 10 times.
According to Bloomberg, five research houses have "buy" calls on LBS Bina and two have "hold" recommendations, with a consensus target price of 76 sen. In other words, the counter has an upside potential of 40%.
Lim opines that the low interest rate environment is favourable to not only the property market but also the equity market.
"In fact, I have been accumulating shares myself. I don't have enough money, if not I would have bought more," he says half in jest.
Lim, who is the eldest son of LBS Bina founding chairman Datuk Seri Lim Bock Seng, took the helm of the company in December 2001. The family's private vehicle, Gaterich Sdn Bhd, has a 41.06% stake in the property developer.
Lim has a direct stake of 1.85% in LBS Bina. It has not gone unnoticed that he has been mopping up the company's shares on the open market while Gaterich has been raising its stake by converting its redeemable convertible preference shares.