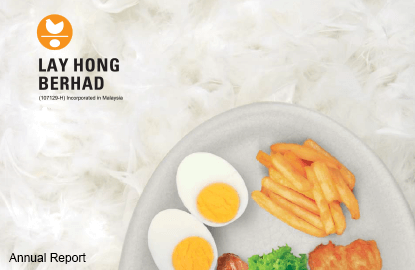 KUALA LUMPUR (Feb 2): Integrated poultry farmer Lay Hong Bhd, whose share price has gained over 50% in the past month, has proposed to undertake a bonus issue of shares, a share split and a free warrants issue.
The exercise will see shareholders holding one share of RM1 in the company ending up with 10 shares of 20 sen each, along with 5 free warrants, following the completion of this exercise.
The exercise will also widen Lay Hong's share base by at least 10 times, allowing it to increase liquidity in its shares and provide an opportunity for increased participation into the company, and to reward existing shareholders.
In a statement today, Lay Hong executive director Yap Chor How said the group will first issue bonus shares on the basis of one bonus share per every one existing share owned by shareholders.
Up to 66.41 million bonus shares are to be offered at an entitlement date to be determined later.
After doubling its existing share base, Lay Hong will then divide its shares to five sub-divided shares from each Lay Hong share, with a par value of RM1. This will result in Lay Hong having up to 664.12 million shares, with a par value of 20 sen apiece.
Lay Hong also proposed to issue up to 332.06 million free warrants, where a shareholder will receive one warrant for every two shares held.
"Under the maximum scenario with the full exercise of share issuance scheme and assuming all the free warrants are converted into mother shares, Lay Hong's enlarged issued share capital will be increased to 996.19 million shares, from 57.75 million shares currently," it added.
The proposals are not expected to have any material effect on the earnings of Lay Hong for the financial year ending March 31, 2016.
Yap also said Lay Hong has the capacity, capability and resources to venture into the Japanese market by capitalising on the competency and experience of Japan's NH Food Ltd, which became a substantial shareholder of Lay Hong on Jan 8, with a 9.09% stake.
NHF has since bought 8 million more of Lay Hong shares to bolster its holding to 22.94%.
"Eventually, the business venture would contribute positively to the company's future earnings and improve the financial position via additional revenue and earnings contribution from this business," he added.
Lay Hong shares closed 84 sen or 10.13% higher at RM9.13 today, bringing it to a market capitalisation of RM527.26 million.