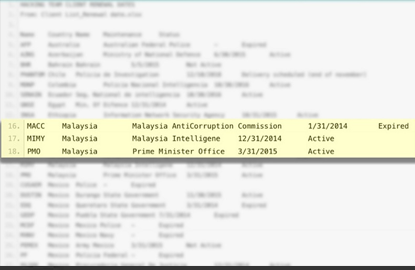 (July 8): Expressing concern over reports that the Prime Minister's Office (PMO) purchased spyware from Italian hacking company Hacking Team, Lawyers for Liberty said there was doubt whether the surveillance services would not be used to spy on the opposition and dissidents for political reasons.
Its director, Eric Paulsen, said the use of spyware was a serious breach of privacy and interfered with freedom of expression as people would be fearful to express themselves, even privately, for fear of being watched.
He urged Putrajaya to detail the spyware purchases and their applications and to also explain the oversight mechanisms that have been put in place to ensure they were not abused or used arbitrarily.
"While the authorities may justify the use of spyware to investigate serious criminal offences including terrorism, there is a severe lack of trust that they will limit the spyware use to specific and genuine criminal cases, but to spy on opposition and dissidents for politically motivated matters.
"How else can one explain the PMO's reported acquisition of spyware?" he said in a statement today.
He also said spying undermined the nature of a democratic society, adding that spyware enabled access to emails, text messages and files from applications such as Facebook or WhatsApp, contacts, and call history.
"Such arbitrary and unwarranted intrusion into the private lives of individuals can also be criminal in nature as confidential data including passwords, banking and credit card details and even intimate pictures can be collected or even filmed remotely," he said.
Paulsen urged the authorities to adopt a clear and non-discriminatory legislative framework to regulate all surveillance conducted by law enforcement or intelligence agencies.
Leaked information online revealed the Malaysian government was among the countries buying services from Hacking Team, who have been selling software to repressive governments to spy on their citizens.
This was revealed after Hacking Team itself became the victim of a major hack over the weekend, where the leaked information, including its client list, was posted on its own Twitter feed.
According to a posting by Twitter user @obeselowlife on blogging platform Medium, Malaysian intelligence and the Prime Minister's Office are clients of the Hacking Team. – The Malaysian Insider