This article first appeared in The Edge Malaysia Weekly, on September 10, 2018 - September 16, 2018.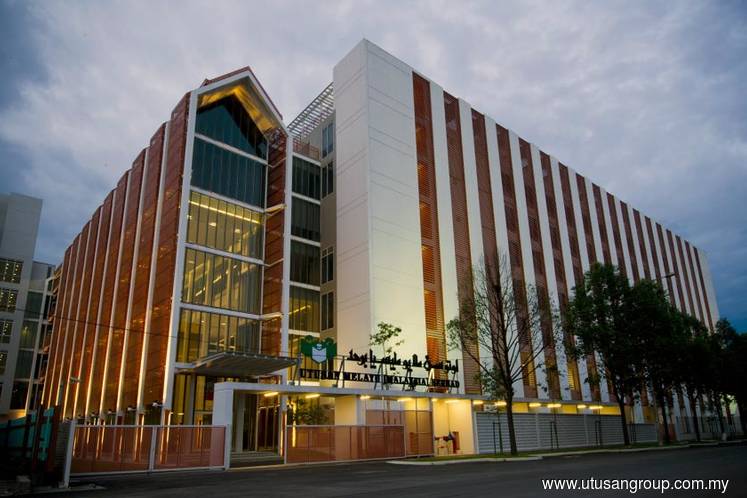 THE legal action by two Ancom Bhd-linked companies against Utusan Melayu (M) Bhd seeking the return of cash advances totalling RM18.5 million is raising eyebrows.
Court documents viewed by The Edge reveal the unusually generous advertising deals made in the first two quarters. Utusan received upfront payments of up to 85% of the contract value before the final agreements were even inked. Typically, the bulk of payments is made after the advertising is carried out.
According to court submissions, Nylex (M) Bhd engaged Utusan for three advertisement packages worth RM17 million in 1QFY2018 and a total of RM10 million cash was paid to the media company as an upfront deposit.
Redberry engaged in a similar deal in 2QFY2018, paying RM8.5 million cash as an upfront deposit for a 48-month campaign worth RM10 million.
All four deals were subject to the execution of final agreements, which were not done, which means that no advertisements were published.
Industrial chemicals player Nylex and media firm Redberry filed the lawsuits at the Kuala Lumpur High Court on Aug 28. Nylex is seeking a refund of the RM10 million advanced to Utusan in January and February while Redberry is seeking the return of the RM8.5 million deposit paid in April. Both companies are seeking interest of 5% per annum on the amount and costs on a full indemnity basis.
Ancom wholly owns Redberry, which houses its media businesses, and has a direct shareholding of 14.57% in Nylex.
Ancom's executive chairman and 20.35% shareholder Datuk Dr Siew Ka Wei is also the single largest shareholder in Nylex with direct and indirect interests totalling 49.87%.
It is worth noting that Datuk Ahmad Johari Abdul Razak, brother of former prime minister Datuk Seri Najib Razak,  is Ancom's executive director. Siew is also said to be close to Najib.
Siew and Ahmad Johari were appointed to their respective roles following a board reshuffle announced on Jan 2. The first of the unusual advertising deals took place in the same month.
Prior to the reshuffle, Siew was managing director while Ahmad Johari was non-executive chairman.
Note that Umno is Utusan's largest shareholder with a 49.77% stake as at March 30, 2018.Najib was president of Umno until May 12.
Nylex first appointed Utusan as its advertising, branding and communications agent on Jan 29.  The RM5 million deal was subject to a final agreement that was to be executed by March 31, 2018.
Nylex made a deposit payment of RM3 million or 60% of the contract value, which was refundable if a final agreement was not executed by the deadline. However, on Feb 9, Nylex requested that the deposit quantum be lowered and received RM1 million back from Utusan.
On Feb 27, Nylex delivered two more appointment letters to Utusan for a corporate branding campaign, "Negaraku", and a corporate social responsibility media campaign worth RM12 million in total. It paid an RM8 million cash deposit.
The 12-month deals were subject to final agreements that were to be executed by April 30, 2018, or the deposit would be refunded.
On May 2, Nylex agreed on a good faith basis to give Utusan's request for more time to execute the final agreements and a new deadline of Sept 15, 2018, was set.
Redberry went through a similar sequence of events. It appointed Utusan on April 30 in a 48-month deal worth RM10 million and paid RM8.5 million cash as an upfront deposit.
The execution deadline  for the final agreement was June 30. On June 25, Redberry agreed to a new deadline of Sept 15.
However, on Aug 28, 2½ weeks before the deadline, the companies filed their suits. On Sept 5, Utusan said it was seeking legal advice and taking action to respond to the claims.
The generous cash advances came as Utusan was grappling with long-running losses. It had been posting operating losses for at least six financial quarters up to June 30.
Over the same period, it had only seen one profitable quarter —the third quarter ended Sept 30, 2017 (3QFY2017). However, that was mainly thanks to a RM31.5 million land disposal.
Interestingly , on Aug 20 Utusan fell into PN17 status as it defaulted on RM1.18 million in payments due to Maybank Islamic Bhd and Bank Muamalat Bhd.
However, it received a lifeline when the Corporate Debt Restructuring Committee (CDRC) under the purview of Bank Negara Malaysia approved its application for assistance on Aug 30.
CDRC will mediate between the group and its financiers as it restructures the debt.
CDRC's approval was conditional on a proposed debt restructuring scheme (PDRS)  being submitted within 60 days of the approval; that Utusan's admission to CDRC is limited to 12 months or upon the signing of a debt restructuring scheme; and that the PDRS must comply with the CDRC's restructuring principles that Utusan continue to remain under the "Standstill with the Lenders" classification.
Save by subscribing to us for your print and/or digital copy.
P/S: The Edge is also available on Apple's AppStore and Androids' Google Play.