This article first appeared in The Edge Financial Daily, on September 10, 2019.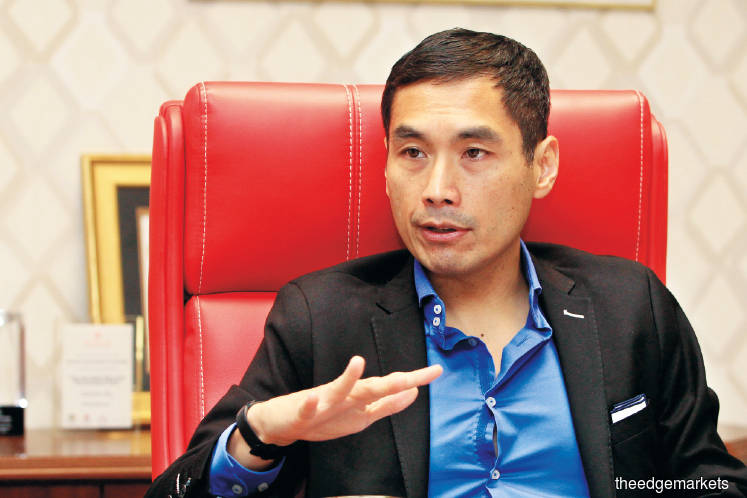 Khoo says Laura Ashley will be launching a new flagship store opening in November at the Westfield Shopping Centre in London. Photo by Shahrin Yahya
Malayan United Industries Bhd (MUI) still views its 35.17% equity investment in Laura Ashley Holdings plc as a viable one, even though the British retailer has been in the red for its past two financial years.
In the financial year ended June 30, 2019 (FY19), MUI recognised an impairment charge of RM59.7 million at its group level, which was due to the losses incurred by its associate Laura Ashley. Laura Ashley reported a much wider loss of £14 million (RM72.1 million) in FY19 versus £1.4 million in FY18.
Impairment on its investment in Laura Ashley was one of the main reasons that led the MUI Group to report a bigger net loss of RM104.83 million for FY19, from RM53.19 million a year ago.
Nevertheless, MUI chairman and chief executive officer Andrew Khoo Boo Yeow views the impairment as a "one-off accounting adjustment", that can be reversed once the financial condition of Laura Ashley improves.
"Because of the accounting treatment, and based on audit advice, we had to take the impairment [at MUI Group level], the fact of the matter is it is a non-cash item.
"If and when Laura Ashley turns around, the impairment can be reversed. My view is the impairment is a one-off, as we are in a turnaround mindset," he tells The Edge Financial Daily in a recent interview.
On what brought about the losses at Laura Ashley, a UK-based retailer of furniture, home accessories and fashion, Khoo, who is also the chairman of Laura Ashley, cites four main reasons.
"Firstly, it is the macroeconomic conditions in the UK, with Brexit and the slowing consumer confidence and spending.
"Secondly, we saw a retreat in big-ticket items such as furniture, though our fashion segment did well. Thirdly, we had issues with [online sales] following the re-platforming of our website.
"Lastly, we have not been aggressive enough in terms of staying forward with our designs and our trends. For the last few years we were not visionary enough with our product range, we played it too safe and rested on our laurels.
"However, we are rectifying all these issues right now with new teams being brought in, and we are looking into bringing in new lines and product ranges that are more attractive, with better prices and margins," says Khoo.
Khoo adds that Laura Ashley will be launching a new flagship store opening in November at the Westfield Shopping Centre in London.
As at June 30, there were 155 Laura Ashley stores in the UK, and the group is expected to close up to seven stores this year to optimise its store portfolio.
Khoo reiterates that the Laura Ashley brand is still operationally strong.
"The business itself and the brand are fundamentally strong, but we definitely need to have certain changes in the business. Just like MUI is undergoing a transformation strategy, it will be similar for Laura Ashley," he says.
The weaker results impacted the share price of Laura Ashley, which is listed on the London Stock Exchange. Its shares slumped to a record low of £0.015 last Thursday.
Khoo and his family are the majority shareholders of Laura Ashley, via their stakes in MUI, as well as Bonham Industries Ltd.
Corus Hotel Hyde Park
disposal still underway
Even with the looming Oct 31 Brexit deadline, Khoo said the disposal of the prized jewel of the MUI Group, the Corus Hotel in Hyde Park, London, is still underway. In April, the group appointed international investment bank NM Rothschild & Sons Ltd as the financial adviser for the sale.
"We are in the middle of the process with Rothschild, and Brexit probably has created more uncertainties and slowed down the process a bit, and very possibly is the reason that the number of interested buyers has reduced.
"However, it is not the number of buyers that interests us, but the quality of the buyers, their credit standing, ability to close the transactions, proof of funds. On the other hand, the situation in Hong Kong and a weaker British pound have brought about more interest from investors there," says Khoo.
The reported price tag for the property, which is a stone's throw away from London's iconic Hyde Park, was at slightly more than £200 million.
"That was the reported asking price, but we will assess what makes sense, because we know the inherent value of the property," he says.
Nevertheless, Khoo qualifies that the group is not cash-strapped and in an urgent need to dispose of the asset.
"The disposal of this asset will help us expedite the transformation plans for MUI Group. But even without the disposal, we already have our plans in place," he says.
As of June 30, 2019, MUI had a reported cash balance of RM166 million, and short-term borrowings of RM115 million.
Since news of the Corus Hotel disposal broke, it has had a positive impact on MUI's share price, which appreciated as much as 32%, from 19 sen on April 30 to 25 sen on July 11. Its shares closed at 19.5 sen last Friday, valuing the company at RM572 million.
MUI is currently at the halfway mark of its three-year transformation plan that started last year when Khoo took over the helm of MUI from his father, Tan Sri Khoo Kay Peng. The plan includes a corporate and capital restructuring, asset rationalisation and business transformation exercise.
Aside from its businesses in the UK, MUI's businesses in Malaysia are diversified into retail, hotels, property development and food. It is widely recognised here as the operator of the Metrojaya department stores.
This year, the group has closed its Metrojaya department store at City One Megamall in Kuching, Sarawak. The group currently has four department stores, with its flagship at Mid Valley Megamall, a store at The Curve, Mutiara Damansara in Petaling Jaya, Plaza Pelangi in Johor and the Suria Sabah Shopping Mall.
On whether the group could look at shutting down its The Curve store, Khoo says that it is something the group would assess once its lease is up for renewal.
"We have to continuously reassess our Metrojaya portfolio, whether it makes sense for us to carry on or not. But the future for Metrojaya is focusing on smaller department stores and our specialty brands, be it Benjamin Barker, Somerset Bay or Living Quarters," he says.
MUI has allocated RM10 million for investment in Benjamin Barker, an Australian-founded menswear label that was launched in Malaysia last week, which will be used to grow the number of Benjamin Barker stores in Malaysia, as well as an undisclosed stake in the fashion label's holding company.