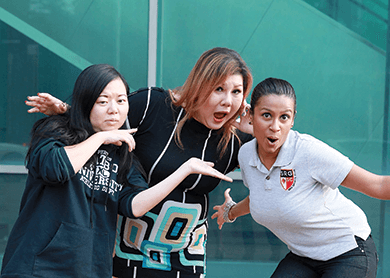 They're not the typical super heroines that one might expect to see, but after two sold-out seasons, the comedic femme fatales of Super Kam have certainly proven their prowess in bringing the laughs with their unabashedly bawdy, risqué routines. 
In fact, the comedians stake their confidence in the title of the comedy extravaganza itself, as Super Kam 3: It Gets Better promises completely all-new jokes this time, well almost. "If there are any old jokes, it'll be from too long ago for anyone to remember it," quipped Joanne Kam Poh Poh, the show's well-known creator and anchor. 
Often acknowledged as the queen of Malaysian comedy, albeit with an infamous reputation, Kam has spent the last few years actively gathering and creating platforms for female comedians in what, she has time and again highlighted, is a male-dominated industry. 
At Super Kam 2 last year, mixed crowds of men and women both in Kuala Lumpur and Penang laughed out loud at stand-up comedy sets by Kam, a very talented Shamaine Othman, Singapore's Sharul Channa and veteran Bibi K Poh, who replaced Daphne Iking from the first season. 
The same line-up remains this year. "When you find girls you want to work with, can jive with and have chemistry, you don't want to mess that up," says Kam adding, "Because [it] just worked so well the last time, whatever is not broken let's not try to fix it." 
Opening with a five-minute part two Super Kam movie directed by Gavin Yap that is described as "a la 50 Shades of Grey", the heroines will come out with their opening dance number alongside the only male in the show, Papi Zak, who hosts. 
"Then the stand-up comedy starts," says Kam, who points out that it is still essentially a stand-up show, though a lot more dressy and creatively unconstrained in terms of ways to entertain. 
She hints at new things but maintains that the show will retain its characteristic raunchy humour from the female point of view. "We are trying a lot of new stuff. I'm trying a lot of new stuff. People expect me to do the sexual jokes, because it's me," Kam adds with a smile, "I will give them what they want, but maybe I will give them a little more." 
And while the experienced comedian — who began her career in Singapore as an entertainer alongside the likes of drag comedian Kumar and Gurmit Singh — is candid that testing out the all-new material for Super Kam 3 is scary, but the team effort does make it better. 
Praising her one time protégé and current rising star, Shamaine, who is a proving a talented comedy writer, Kam continues frankly, "I think I've always felt like the 'big mak ayam' (mother hen). I'm not afraid, because everyone's humour is different," she says, "When I met Sharul, she's really, really good, but her humour is different from mine. There is a platform for everybody to have their moment." 
That platform has gone beyond just Kuala Lumpur: Super Kam 3: It Gets Better has been picked to open the Singapore Comedy Fringe Festival on June 9. Along with shows in Johor Baru, Penang, as well as Kota Kinabalu and Kuching later in the year, Kam's investment into a fresh new breed of comedy styles and faces is clearly paying off. 
Last month the comedian also organised a search for Malaysia's next female stand-up comic to a packed out crowd at Crackhouse Comedy Club, where 14 female contestants took part. 
"We didn't know it was going to be that successful," says Kam of her initial doubts that female wannabe comedians will come forward. "We had to turn people away. People were waiting at the staircase to come up. I think it goes to prove that the time is now for women to take the stage," she emphasises. 
Winner Pauline Nisha Sundrum, who has no prior experience in comedy except for being the "funny girl" in her office at Capital FM, along with first runner-up, Kimberley S'ng, a beatboxer and financial analyst, will be doing the pre-show on Super Kam 3.
"They are all set," says Kam, who conducted a workshop with both and a few other contestants to improve their presentation and delivery. "Besides being naturally funny, Nisha is confident the moment she came up. Her punchlines were also delivered well and clearly." 
She says that the audience will also be in for a treat with S'ng's set, which will incorporate beatboxing and be based on the contradictions in her life. 
Now that a brand has been built, Kam says it has to be kept going, along with more open mic events for female comedians. 
However, along with an upcoming business enterprise she's working on, Kam has her hands full. For a moment, she says she might slow down next year, but then reverses her statement, " But then you don't know. See today, I've got people inviting me down to Singapore, Bali for shows… So you can't say. I won't stop, I think I will still be doing Super Kam and all that, but maybe smaller showcases, where I won't be the highlight." 
For now at least, it would seem the work goes on. "We need to encourage females to come on stage. And if I am the catalyst to do it, then we have to work to get it up. There's so few of us anyway, we could support and feed off each other." 
---
Presented by ToniQ Creative, Super Kam 3: It Gets Better will be playing at the PJ Live Arts Theatre, Jaya One from May 27-31. Tickets are priced at RM38 (students only), RM58 and RM68. To purchase, call (03) 7960 0439 or visitwww.tix.com.my.
This article first appeared in The Edge Financial Daily, on May 25, 2015.