This article first appeared in The Edge Malaysia Weekly, on June 17, 2019 - June 23, 2019.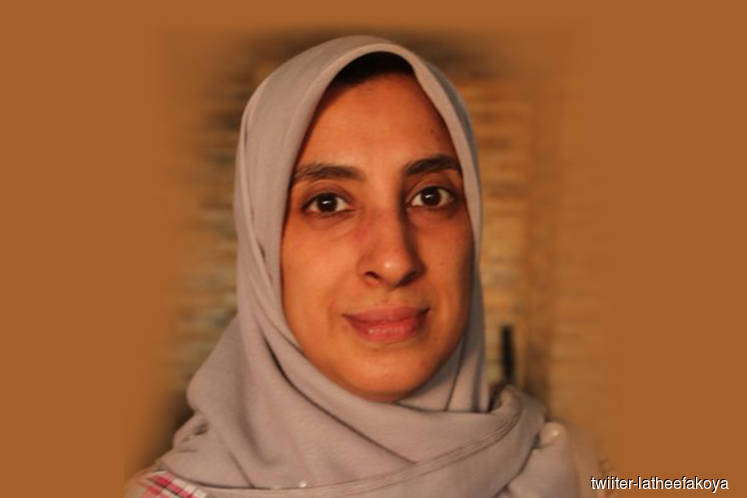 ASK Malaysians whether Latheefa Koya is the right choice for chief commissioner of the Malaysian Anti-Corruption Commission (MACC) and I think the majority would say yes. The main criticism we are hearing is the way Tun Dr Mahathir Mohamad went about appointing the lawyer to the post, using his prerogative as prime minister without consulting Pakatan Harapan's (PH) coalition partners or the Cabinet.
But an equally big number of people are defending the move, saying the prime minister is empowered by law to make that decision.
Then there are those who agree with DAP leader Lim Kit Sang, who said the appointment is legally right but politically wrong. Lim termed Mahathir's move as "completely constitutional" but "those who protested that Latheefa's appointment violated the spirit of the pledge in the PH election manifesto are not wrong" too.
And then there is another group of commentators who see in the controversy a game of politics. Many Malaysians seem to think so too. Perhaps many of us are fascinated by stories of political intrigue and cloak-and-dagger scenarios, so much so that on the very day Latheefa's appointment was announced, political conspiracy theories began making the rounds.
The word was that it was aimed at preventing Datuk Seri Anwar Ibrahim from becoming prime minister, and the talk has not died down. It is part of the ongoing fight between Anwar and deputy PKR president Datuk Seri Azmin Ali. Adding more spice to the mix is talk that a Mahathir–Anwar war is going on and is about to worsen.
The fact that Latheefa is often strongly critical of Anwar, his wife Datuk Seri Wan Azizah Ismail and his daughter Nurul Izzah somehow fits the narrative. Furthermore, when she was in PKR, Latheefa was with Team Azmin. The fact that she used to work with the legal firm of Mahathir's most trusted aide, Tun Daim Zainuddin, does not help matters. Whether Daim was still running the firm at that point does not change much.
The Anwar–Azmin tiff is no big secret, lending credence to political talk that Azmin is the "preferred choice" of Mahathir when he leaves office.
The opposition is naturally relishing every minute of it but just where all of this originated from is anybody's guess.
Comments by politicians, particularly from PKR, are open to all sorts of interpretations by the public, feeding the political theory narrative.
When Wangsa Maju MP Datin Paduka Dr Tan Yee Kew of PKR openly declared that she had signed the petition calling for Latheefa's resignation as MACC chief, it further fuelled speculation. After all, she is with Team Anwar, as is Setiawangsa MP Nik Nazmi Nik Ahmad, who followed her in signing the petition.
I asked Nik Nazmi for his comments that heavy politics is at play and that there is a movement to prevent Anwar from succeeding Mahathir as prime minister.
"I stick to the things I have said so far," was his response. For the record, he had said that concerns over Latheefa's impartiality as MACC head cannot be dismissed considering her active involvement in PKR politics prior to the appointment, and that the manner of the appointment, which was decided single-handedly by the PM, went against promises made by PH in its election manifesto.
There are also views that Latheefa, in her criticisms of many matters, had set a high standard in doing things right — be it on governance, transparency, corruption or politics. Yet, with regard to her appointment, she has, disappointingly, imposed a lower standard on herself with regard to issues of governance, transparency and upholding the promises made by PH, which she has been a part of for many years.
Amid all this, PKR vice-president Tian Chua, in a letter to the media, expressed support for Latheefa and defended her appointment. Needless to say, Tian Chua is with Team Azmin.
When I asked him for his take on the political theory that is being floated, he replied: "Nothing to do with that. People deliberately created this to confuse the public and made a simple appointment an unnecessary controversy".
My queries to members of Azmin's so-called inner circle went unanswered at the time of writing. But at least one PKR insider (albeit an Anwar supporter) claims that many PH MPs have protested privately and there have been robust debates among Amanah and DAP MPs as well.
According to him, "people see the way the appointment was made as a betrayal of the manifesto and, unlike economic reforms, which take a longer time to implement, there is little excuse for this. We made Ronald Kiandee the chairman of the Public Accounts Committee (PAC) when he was still with BN without amending the standing orders".
He was referring to Sabah politician Datuk Seri Dr Ronald Kiandee, who was appointed PAC chairman when he was in the opposition. But when he crossed over from Umno to PH, joining Parti Pribumi Bersatu Malaysia, he was heavily criticised for retaining the chairmanship as PH has maintained that the PAC chair should be held by an opposition MP. Mahathir stood his ground, saying retaining him did not contravene the PH manifesto. But the PM later gave way to mounting criticism and Umno's Datuk Noraini Ahmad was made PAC chairman.
As for Latheefa's appointment, Mahathir has no intention of backing down and has said his decision is final. That naturally attracted more brickbats. Even Zunar, who rose to fame during the Reformasi era of 1998 with many of his cartoons depicting the corruption under the BN government led by Datuk Seri Najib Razak, weighed in with a drawing of the PM on a steamroller, driving over the words "reform", the "Cabinet" and "parliamentary select committee".
He was quoted by Malaysiakini as saying that "the main problem in Malaysia is corruption — not only corruption in the past but corruption in the present, and if the MACC is to fight corruption, then the commission must be free of politics".
The Parliamentary Select Committee on Major Appointments is keen to meet Latheefa to clarify, among other things, her impartiality as a former politician.
The statements by the committee and Zunar point to whether the newly minted MACC chief  will investigate politicians who used to be her allies, including Azmin.
Such questions are still being posed although Latheefa has already said that the MACC will investigate without fear or favour a report accusing Azmin of graft and that she will not be involved in the probe.
All that is tied to the conspiracy theory but the allegation that there is an impending move against Anwar following Latheefa's appointment has been brushed aside by Mahathir.
And what does Anwar have to say? He had earlier said Mahathir needed to clarify the appointment but later agreed that PH must accept the decision and Latheefa must be allowed to do her job. He also said that continuous polemics would have a negative impact on the government.
To PKR communications director and Lembah Pantai MP Fahmi Fadzil, the appointment of Latheefa is as much about process and institutional reforms as it is about politics. "I don't believe Latheefa's appointment jeopardises Anwar's chances of taking over from Mahathir," he says. On the contrary, he believes it "makes it even clearer that Mahathir is preparing the ground for Anwar to take over by strengthening the economy, eradicating corruption and continuing with key institutional reforms".
"The final component requires not only the passing of certain legislation but also the amendment of the federal constitution, which requires a two-thirds majority — something we tested when we tried to restore the status of Sabah and Sarawak as equal partners of Persekutuan Tanah Melayu but failed." That move did not get the support of two-thirds of the MPs.
Still, to Fahmi, the decision to appoint Latheefa is "constitutionally and legally correct" but politically questionable because of what PH had promised in its election manifesto.
"Regardless, Latheefa has two years to not only bring the corrupt to court but more importantly, to change the moral fibre of society so that Malaysians wholeheartedly reject corrupt practices".
But out came the sex videos implicating Azmin, who has strongly denounced them.
Mahathir is standing by Azmin and has dismissed the videos as "likely fake, motivated by a political agenda carried out by certain parties".
Otai Reformis chairperson Dr Idris Ahmad, an Anwar ally, told a press conference that Mahathir's reaction to Azmin's situation was very different from his treatment of Anwar when his then deputy was accused of sodomy in 1998.
He called on Azmin to go on leave pending police and MACC investigations on the sex video and corruption allegations.
Whether the political conspiracy theory is to be believed of not, one thing is for sure — things are reaching boiling point.
---
Mohsin Abdullah is contributing editor at The Edge. He has covered politics for over four decades.