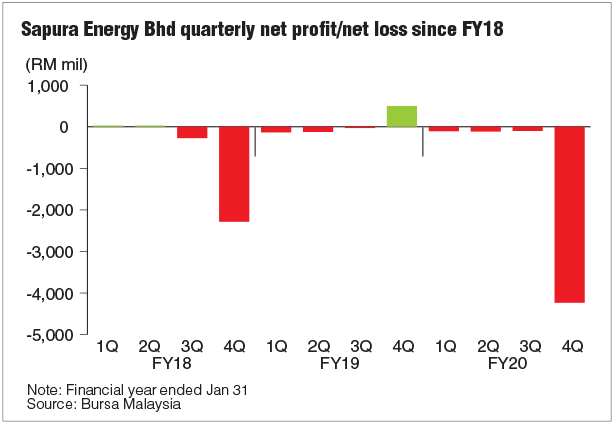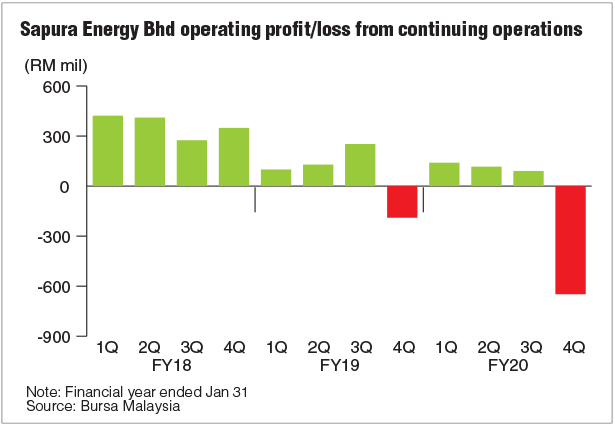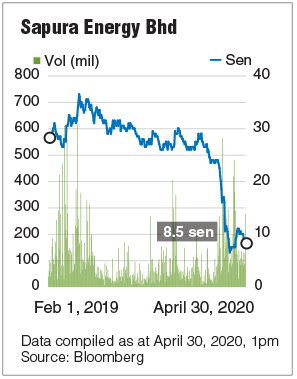 KUALA LUMPUR (April 30): Sapura Energy Bhd, which booked a massive RM4.23 billion net loss for the latest quarter ended Jan 31, 2020 (4QFY20), expects another two challenging years as this year's unprecedented oil market downturn delays its recovery path.
Project postponements have become "inevitable", said its chief executive officer Tan Sri Shahril Shamsuddin, as the oil price crashed to below US$20 (RM86.26)/bbl due to oversupply and as global Covid-19 lockdowns escalated.
However, Sapura Energy is on a better footing than during the 2014 downturn, Shahril told reporters at a virtual press briefing today.
"[The latest downturn] is worse, industry-wise, but it is better for us. If we did not pare down our debts and rationalise our operations [in the last few years], we will not be here today," Sharil said.
The oil and gas services group now expects the oil market's supply-demand dynamics to stabilise within 18 to 20 months from now, after which oil major capital expenditure will return.
"Our assets are well suited for the areas of growth once these challenging times have been rectified," said Shahril, referring to its exposure to the subsea services segment, and the engineering and construction (E&C) segment.
"[In that sense,] we are in a very nice spot. Our challenge right now is to weather the next two years," he said.
Cost cutting, impairment, but no major fundraising
Sapura Energy's massive 4QFY20 loss in a way addressed this concern. It included a massive one-off impairment of RM3.3 billion, which took into account possible delays in key projects.
Shahril said the kitchen-sinking done last quarter was sufficient to reflect the current business environment.
As cash flow squeeze again emerges, the group is also aggressively cutting down on operating expenditure (opex), beginning with the company-wide pay cut announced recently.
"We need to also optimise our purchasing ability," said Shahril. "Around 40% of our costs involve purchasing of materials and equipments."
In total, it expects to cut opex by some RM500 million over the next 12 months.
Concurrently, Shahril pointed out that Sapura Energy's refinancing plan is intact, and he expects the company to formalise a deal with 14 partnering financial institutions by end-2020.
"[Based on our prior schedule,] 2020 is the year of refinancing. We are actually ahead — we have US$2.5 billion left to refinance out of the [internal target] of US$3.5 billion," he said.
This refers to Sapura Energy's short-term debt of RM3.15 billion and long-term debt of RM7.11 billion as at end-January.
However, as the loans are rolled over, analysts pointed out the risk of higher finance costs, for which it paid RM564 million through FY20. Comparatively, the group had cash of RM772.37 million as at end-January.
Shahril did not discount monetising non-core assets, although the issue of fetching the right selling price during a downturn remains.
When asked if additional financing is necessary as profitability remains far off the horizon, Shahril said it will be required for working capital purposes — it booked working capital of RM476.4 million in FY20 — as many jobs are paid for when progress reaches the tail end.
Sapura Energy's oil price assumption for its planning basis is US$40-45 per barrel by late 2021.
Project postponements, not cancellation — yet
Currently, Sapura Energy's order book is at slightly above RM13 billion.
One project in Qatar had been cancelled, but Shahril assured that cancellation is not in the minds of most of its clients.
"The letters that come in say "let's postpone". At the ground level, the discussions revolve around 'how do we start again'. This means the projects are pushed [to later dates]," he said.
In the meantime, Sapura Energy continues its intensive digitalisation programme to increase efficiency, and the upskilling of its workforce to capitalise on the digital push.
Shahril, when asked, appeared optimistic about Sapura Energy's expanded footprint to the global front presently.
The investing fraternity is, however, turning more cautious about the company's prospects. 
Sapura Energy's share price has fallen by nearly 70% since the start of the year, compared with a 43% decline in the Bursa Malaysia Energy Index in the same period.
For 4QFY20, Sapura Energy made a net loss of RM4.23 billion on a revenue of RM1.11 billion due to impairment and as core losses for all three segments widened, namely drilling, engineering and construction (E&P), and exploration and production (E&P).
Analysts expect Sapura Energy to remain in the red in the next two years at the least. The latest quarterly results did little damage to its already-battered share price — which has been around 10 sen apiece since March.
At the noon market break today, the group's share price stood at 8.5 sen, valuing the group at RM1.36 billion.
Read also: Sapura Energy share price holds its ground despite wider quarterly losses