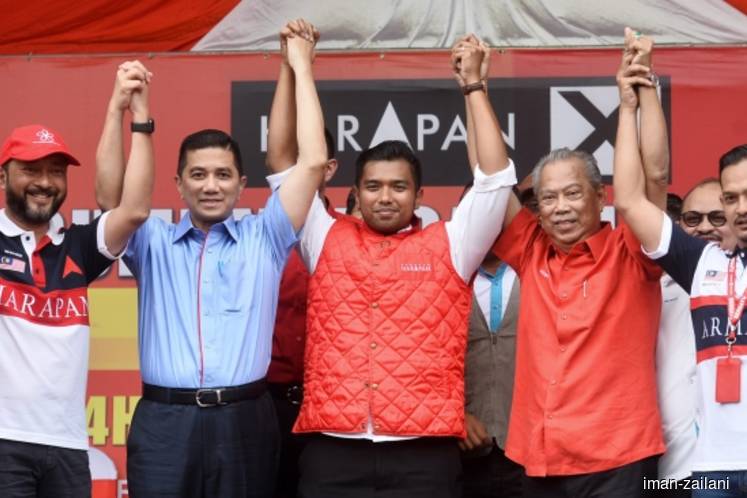 SEMENYIH (Feb 14): Pakatan Harapan (PH) today announced Muhammad Aiman Zainali, 30, as its candidate for the Semenyih State by-election on March 2.
Muhammad Aiman is the treasurer of the Hulu Langat division of Parti Pribumi Bersatu Malaysia (Bersatu). He is an engineer currently pursuing a doctorate in electrical engineering at Universiti Teknologi Mara (UiTM), Shah Alam.
PH deputy president and Bersatu president Tan Sri Muhyiddin Yassin made the announcement here.
The by-election is being held following the death of the Assemblyman, Bakhtiar Mohd Nor of Bersatu, of a heart attack on Jan 11.
It will be the sixth by-election to be held after the 14th general election in May last year. The previous by-elections were for the Sungai Kandis State seat (on Aug 4), Balakong and Seri Setia state seats (Sept 8), Port Dickson Parliamentary seat (Oct 13) and Cameron Highlands Parliamentary seat (Jan 26).
Also present at the announcement of the PH candidate were PKR deputy president Datuk Seri Mohamed Azmin Ali, Selangor PH chairman Amirudin Shari and Bersatu deputy president Datuk Seri Mukhriz Mahathir.
In his speech, Muhammad Aiman, who is also Bakhtiar's son-in-law, said he is ready to go all out to win the by-election and serve and help solve the problems faced by the constituents.
He said his status as Bakhtiar's son-in-law is not an advantage for him to be named as PH candidate, as he had gone through all the proper channels in the selection process before being shortlisted among other potential candidates.
"I have to work hard in my own capacity," he said.
He said if elected, he would focus on education and basic infrastructure such as roads, for the people.
At the 14th General Election last May, Bakhtiar garnered 23,428 votes to defeat three other candidates — Datuk Johan Abd Aziz (Barisan Nasional), Mad Shahmidur Mat Kosim (PAS) and S. Arutchelvan (PSM), with an 8,964-vote majority.