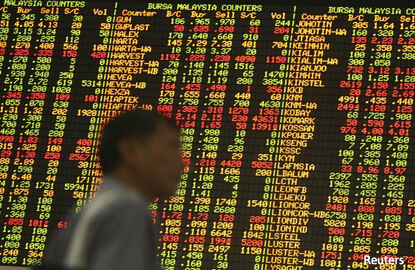 (Feb 10): Most Southeast Asian stock markets ended higher on Friday, tracking gains on Wall Street after U.S. President Donald Trump said he would make a major tax
announcement in a few weeks to lower the burden on businesses.
The three main U.S. stock indexes surged to record highs, while Asian shares rallied to an 18-month peak on upbeat Chinese trade data and strong gains on Wall Street.
"The U.S. (market) was very strong last night, so that momentum has come through, and this is presumably in anticipation of Trump's reflationary promises," said Nicholas Teo, a trading strategist at KGI Securities (Singapore) Pte Ltd.
Singapore shares rose 0.7% to its highest close since August 2015, helped by financials and industrials. 
DBS Group Holdings Ltd rose 0.8%, United Overseas Bank Ltd climbed 0.6%, and Keppel Corp Ltd jumped 1.6%.
Malaysian shares hit their highest in over nine months, with financials leading the gains. 
Malayan Banking Bhd added 1.2%, while CIMB Group Holdings rose 1.6%.
Malaysia's industrial production in December rose 4.7% from a year ago, led by growth in the mining, manufacturing and electricity sectors, government data showed.
Thai shares posted marginal gains, while Vietnam rose 0.5% to its highest close in one week. 
Indonesian shares pared early gains to end flat, but posted their third consecutive weekly rise.
Philippine shares came of early lows to close marginally down with industrials and financials leading the losses.
"The current crackdown on the mining industry is affecting the stock market right now," said Rachel Cruz, a research analyst with AP Securities.
The country's exports in December climbed 4.5% from a year earlier, while imports increased by 19.1%.
"The growth in exports was actually expected, because of the weaker peso. We see this as a positive catalyst for the export market," added Cruz. 
SOUTHEAST ASIAN STOCK MARKETS:
Change on day
| | | | |
| --- | --- | --- | --- |
| Market | Current | Previous Close | Pct Move |
| Singapore | 3100.39 | 3079.96 | 0.66 |
| Bangkok | 1585.24 | 1583.25 | 0.13 |
| Manila | 7235.21 | 7252.66 | -0.24 |
| Jakarta | 5371.669 | 5372.077 | -0.01 |
| Kuala Lumpur | 1698.94 | 1688.5 | 0.62 |
| Ho Chi Minh | 703.78 | 700.65 | 0.45 |
Change this year
| | | | |
| --- | --- | --- | --- |
| Market | Current | End 2016 | Pct Move |
| Singapore | 3100.39 | 2880.76 | 7.62 |
| Bangkok | 1585.24 | 1542.94 | 2.74 |
| Manila | 7235.21 | 6840.64 | 5.77 |
| Jakarta | 5371.669 | 5296.711 | 1.42 |
| Kuala Lumpur | 1698.94 | 1641.73 | 3.48 |
| Ho Chi Minh | 703.78 | 664.87 | 5.85 |