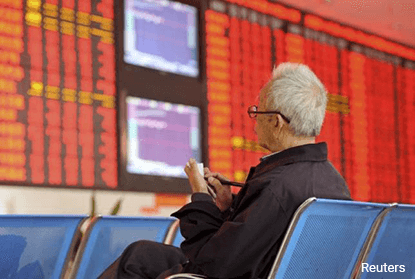 (March 1): Most Southeast Asian stock markets were subdued on Wednesday, on disappointment U.S. President Donald Trump offered few details on his plans for infrastructure spending and tax reforms, and as Fed policymakers fanned expectations of a rate hike this month.
New York Fed President William Dudley said the case for tightening monetary policy "has become a lot more compelling", while San Francisco Fed President John Williams said a rate increase was very much on the table for serious consideration at the March meeting given full employment and accelerating inflation.
"It seems that the possibility of a rate hike is going to affect emerging economies," said Lexter Azurin, head of research at Unicapital Securities Inc in Manila.
Meanwhile, Trump in his address to a joint session of Congress offered little detail about planned tax cuts or new infrastructure spending beyond the broad strokes he offered during the election campaign.    
Philippine shares extended falls into a fourth session, hitting a six-week low, dragged down by industrials and telecoms. 
JG Summit Holdings Inc declined 2.8% and telecoms services provider PLDT Inc fell 3.3%, making them the biggest losers on the index. 
Indonesian shares slipped 0.3% with losses being broad-based, as data showed annual inflation rate increased in February, mainly due to higher prices for processed
and raw foods as well as healthcare.
With the possibility of a March Fed rate hike, "markets are a little bit concerned that a higher interest rate environment would put pressure on the local economy, given the fact that inflation has started to pick up here," said Taye Shim, head of research at Jakarta-based Mirae Asset Sekuritas.
Singapore rose 0.7%, heading for its first gain in four sessions, boosted by industrials and financials. 
Keppel Corp climbed 2.6%, while Oversea-Chinese Banking Corp and DBS Group gained 0.5% each.
Thai shares rose 0.3% with telecoms, materials and financials leading the gains.
Thailand's annual headline consumer prices and core inflation rate, which excludes raw food and energy prices, rose less than expected in February.
Bangkok Bank PCL gained 1.4%, while True Corporation PCL rose 2.4%.     
SOUTHEAST ASIAN STOCK MARKETS:
Change at 0439 GMT
| | | | |
| --- | --- | --- | --- |
| Market | Current | Previous Close | Pct Move |
| Singapore | 3119.35 | 3096.61 | 0.73 |
| Bangkok | 1564.12 | 1559.56 | 0.29 |
| Manila | 7176.52 | 7212.09 | -0.49 |
| Jakarta | 5370.684 | 5386.692 | -0.30 |
| Kuala Lumpur | 1697.37 | 1693.77 | 0.21 |
| Ho Chi Minh | 710.55 | 710.79 | -0.03 |
Change on year
| | | | |
| --- | --- | --- | --- |
| Market | Current | End 2016 | Pct Move |
| Singapore | 3119.35 | 2880.76 | 8.28 |
| Bangkok | 1564.12 | 1542.94 | 1.37 |
| Manila | 7176.52 | 6840.64 | 4.91 |
| Jakarta | 5370.684 | 5296.711 | 1.40 |
| Kuala Lumpur | 1697.37 | 1641.73 | 3.39 |
| Ho Chi Minh | 710.55 | 664.87 | 6.87 |