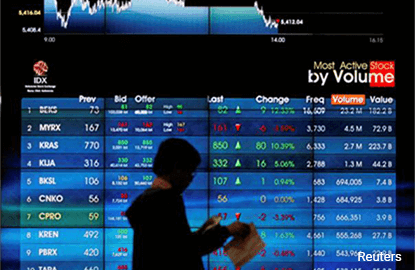 BENGALURU (March 13): Most Southeast Asian stock markets gained on Monday with the Philippines clocking its biggest intraday percentage gain in nearly a month, as bargain hunters stepped in following Friday's last-minute selloff.
The Philippine index rose as much as 1.1% with conglomerate SM Investments gaining 8.3%, its biggest intraday gain since December 2011. The stock had shed 9.2% on Friday.
"There was a big last-minute selloff in SM Investments on Friday," said Mikey Macanaig, an analyst at Sunsecurities, Inc. "The stock is recovering today and pushing the market up."
Other Southeast Asian markets saw tepid trading, as investors braced themselves after Friday's strong U.S. jobs data sealed the chance of a rate increase by the Federal Reserve on Wednesday. 
Fed Chair Janet Yellen signalled last week that the U.S. central bank would likely hike rates at its March 14-15 policy meeting.
"Markets are getting ready for the rate hike which is going to be announced this week ... Jobs data from the U.S. market last week was better than expected. So, the rate hike seems all the more imminent now," added Macanaig.
MSCI's broadest index of Asia-Pacific shares outside Japan rose 0.75% at 0402 GMT.
The Singapore index rose about 0.4%, helped by gains in financials and telecommunication stocks.
Oversea-Chinese Banking touched a near three-week high, while Singapore Telecommunications saw its biggest intraday percentage gain in a month.
Vietnam fell as much as 0.6%, bogged down by weak consumer staples and financials. Saigon Beer Alcohol Beverage fell to a two-month low.
Vietnam's coffee export volume this year is expected to fall 20%-30% from a year earlier, due to drought and reduced inventory, an industry official said on Sunday.
The Jakarta SE Composite Index was flat with the index of the 45 most liquid stocks trading rangebound.
SOUTHEAST ASIAN STOCK MARKETS
Change at 0432 GMT
| | | | |
| --- | --- | --- | --- |
| Market | Current | Previous Close | Pct Move |
| Singapore | 3145.81 | 3133.35 | 0.40 |
| Bangkok | 1536.87 | 1539.91 | -0.19 |
| Manila | 7215.36 | 7146.27 | 0.97 |
| Jakarta | 5396.606 | 5390.677 | 0.11 |
| Kuala Lumpur | 1720.21 | 1717.58 | 0.15 |
| Ho Chi Minh | 710.84 | 712.21 | -0.19 |
Change so far this year
| | | | |
| --- | --- | --- | --- |
| Market | Current | End 2016 | Pct Move |
| Singapore | 3145.81 | 2880.76 | 9.20 |
| Bangkok | 1536.87 | 1542.94 | -0.39 |
| Manila | 7215.36 | 6840.64 | 5.48 |
| Jakarta | 5396.606 | 5296.711 | 1.89 |
| Kuala Lumpur | 1720.21 | 1641.73 | 4.78 |
| Ho Chi Minh | 710.84 | 664.87 | 6.91 |