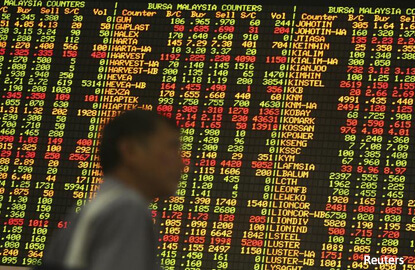 BENGALURU (March 15): Most Southeast Asian stocks fell on Wednesday with markets pricing in an immediate rate hike, even as traders awaited the U.S. Federal Reserve's view on the pace of interest rate increases after its policy meet ends later in the day.
The Fed will announce its decision at 1800 GMT in Washington, followed by Chair Janet Yellen's news conference half an hour later.
Investors are waiting for the final outcome of the Fed meeting, said Joseph Roxas, president of Manila-based Eagle Equities Inc. 
Indonesian shares ended flat with Bank Rakyat Indonesia gaining 0.8%, while Bank Negara Indonesia rose 0.4%, offsetting losses in utilities.
Indonesia's central bank is expected to keep its benchmark rate unchanged in its meeting tomorrow, even if the Fed raises rates, a Reuters poll shows.
"Bank Indonesia now seems to be more focused on trying to protect the currency in the event of market volatility. In fact, Indonesia is expected to witness further capital outflows post the Fed rate hike," said Kunal Kumar Kundu, economist at Societe Generale.  
The index of the country's 45 most liquid stocks was down 0.2%.
Singapore stocks were down 0.2% as Jardine Matheson lost 1.1% and DBS Group shed 0.3%.    
Vietnam lost 0.2% with the industrial sector leading the decline as Vietjet Aviation JSC lost 6.2%, while Malaysia shed 0.3%, snapping a three-day gaining streak.
MSCI's broadest index of Asia-Pacific shares outside Japan was up 0.2%.
SOUTHEAST ASIAN STOCK MARKETS:
Change on day
| | | | |
| --- | --- | --- | --- |
| Market | Current | Previous Close | Pct Move |
| Singapore | 3137.43 | 3143.4 | -0.19 |
| Bangkok | 1540.8 | 1543.15 | -0.15 |
| Manila | 7253.79 | 7261.75 | -0.11 |
| Jakarta | 5432.381 | 5431.585 | 0.01 |
| Kuala Lumpur | 1717.36 | 1722.47 | -0.30 |
| Ho Chi Minh | 713.14 | 714.71 | -0.22 |
Change on year
| | | | |
| --- | --- | --- | --- |
| Market | Current | End 2016 | Pct Move |
| Singapore | 3137.43 | 2880.76 | 8.91 |
| Bangkok | 1540.8 | 1542.94 | -0.14 |
| Manila | 7253.79 | 6840.64 | 6.00 |
| Jakarta | 5432.381 | 5296.711 | 2.56 |
| Kuala Lumpur | 1717.36 | 1641.73 | 4.61 |
| Ho Chi Minh | 713.14 | 664.87 | 7.3 |