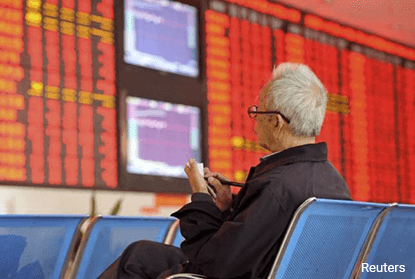 (March 22): Most Southeast Asian stock markets fell on Wednesday, taking cues from a selloff on Wall Street as investors are increasingly worried that U.S. President Donald Trump will struggle to deliver promised pro-growth policies, including financial deregulation.
Investors see the Trump administration's struggles to push through the healthcare overhaul, as a sign that he may also face setbacks delivering promised corporate tax cuts.
"Everything is down with the surprise 200 point drop in America," said Joseph Roxas, president of Manila-based Eagle Equities Inc, adding that the U.S. market was "really overbought" and due for a "big correction". 
"Everything will be down for today, probably not to the same degree as the United States. We will probably recover faster. My feeling is that emerging-market stocks will gather more interest in the meantime or going forward."
MSCI's broadest index of Asia-Pacific shares outside Japan  fell as much as 1.5%, in its biggest intraday percentage fall since Dec 15, 2016.
In the United States, the Dow Jones Industrial Average ended 1.1% lower, while the S&P 500 lost 1.2%.
Singapore shares fell as much as 1.3% and wereheaded for a third straight session of declines, with losses being broad-based.
Yangzijiang Shipbuilding declined by 3.5%, making it the biggest loser on the index, while Sembcorp Industries Ltd dropped 2.2%.
Philippine shares fell up to 1.2%, dragged down by financial and consumer stocks with property developer Ayala Land Inc shedding 2.5% and SM Investments Corp declining 1.4%.
Thailand shares recovered from early falls to trade 0.3% lower. 
The country's customs-cleared exports data contracted, but the drop was smaller than expected and the government was still optimistic about the trade outlook.
Bucking the trend, Vietnam gained as much as 0.6% to its highest in over nine years.
Gains were led by financials and consumer staples, with Joint Stock Commercial Bank for Foreign Trade of Viet Nam gaining 0.5%.
SOUTHEAST ASIAN STOCK MARKETS
Change at 0412 GMT
| | | | |
| --- | --- | --- | --- |
| Market | Current | Previous Close | Pct Move |
| Singapore | 3121.65 | 3158.57 | -1.17 |
| Bangkok | 1564.85 | 1568.78 | -0.25 |
| Manila | 7237.79 | 7323.31 | -1.17 |
| Jakarta | 5507.595 | 5543.093 | -0.64 |
| Kuala Lumpur | 1739.38 | 1754.67 | -0.87 |
| Ho Chi Minh | 719.84 | 716.18 | 0.51 |
Change on year
| | | | |
| --- | --- | --- | --- |
| Market | Current | End 2016 | Pct Move |
| Singapore | 3121.65 | 2880.76 | 8.36 |
| Bangkok | 1564.85 | 1542.94 | 1.42 |
| Manila | 7237.79 | 6840.64 | 5.8 |
| Jakarta | 5507.595 | 5296.711 | 3.98 |
| Kuala Lumpur | 1739.38 | 1641.73 | 5.95 |
| Ho Chi Minh | 719.84 | 664.87 | 8.3 |