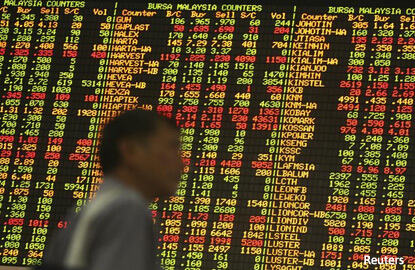 BENGALURU (Feb 28): Southeast Asian stock markets ended soft on Tuesday, in line with Asian peers, as investors were guarded ahead of U.S. President Donald Trump's policy speech and due to some month-end book-squaring.
Markets have been awaiting more details on Trump's proposed stimulus plans to judge, if they would boost inflation and economic growth, and add to the case for higher U.S. interest rates.
MSCI's broadest index of Asia-Pacific shares outside Japan erased earlier modest gains and edged down slightly.
"His speeches are always fire and brimstone so it's going to be like that again and there's going to be a lot of superlatives... that's what people are anticipating," said Joseph Roxas, president of Manila-based Eagle Equities Inc.
"There should really be not much impact for Southeast Asia.
Investors are just making sure, taking some money off the table.
It's also just book squaring at the end of the month."
Philippines stocks ended 0.3% lower, posting a monthly fall of 0.2%, as industrial and financial stocks pulled down the index.
DMCI Holdings lost more than 3%, while BDO Unibank lost 2%. 
Singapore shares lost 0.4% as oil and gas firms Keppel Corp and Sembcorp Industries shed 1.7% and 1.2% respectively. On the month, the index gained 1.6%.
Singapore's inflation forecast for 2017 has been revised up to 1.2%, from 0.9%, DBS Group Research said in a note. This is to take into account the upside risk to inflation in the coming months, the note said.
Thai shares closed flat after January manufacturing and February trade data missed expectations.
The index ended the month with a 1.1% gain.
Investors will be looking out for February headline consumer price index in the next session, which is seen rising 1.6% for an 11th straight month compared to last year, a Reuters poll showed.
Vietnam shares fell 0.9% on the day, but posted a monthly gain of 1.9%.
SOUTHEAST ASIAN STOCK MARKETS:
Change on day
| | | | |
| --- | --- | --- | --- |
| Market | Current | Previous Close | Pct Move |
| Singapore | 3096.61 | 3108.62 | -0.39 |
| Bangkok | 1559.56 | 1558.03 | 0.10 |
| Manila | 7212.09 | 7232.47 | -0.28 |
| Jakarta | 5386.692 | 5382.874 | 0.07 |
| Kuala Lumpur | 1693.77 | 1693.84 | 0.00 |
| Ho Chi Minh | 710.79 | 717.44 | -0.93 |
Change on year
| | | | |
| --- | --- | --- | --- |
| Market | Current | End 2016 | Pct Move |
| Singapore | 3096.61 | 2880.76 | 7.49 |
| Bangkok | 1559.56 | 1542.94 | 1.08 |
| Manila | 7212.09 | 6840.64 | 5.4 |
| Jakarta | 5386.692 | 5296.711 | 1.70 |
| Kuala Lumpur | 1693.77 | 1641.73 | 3.17 |
| Ho Chi Minh | 710.79 | 664.87 | 6.9 |