This article first appeared in The Edge Financial Daily, on July 6, 2018.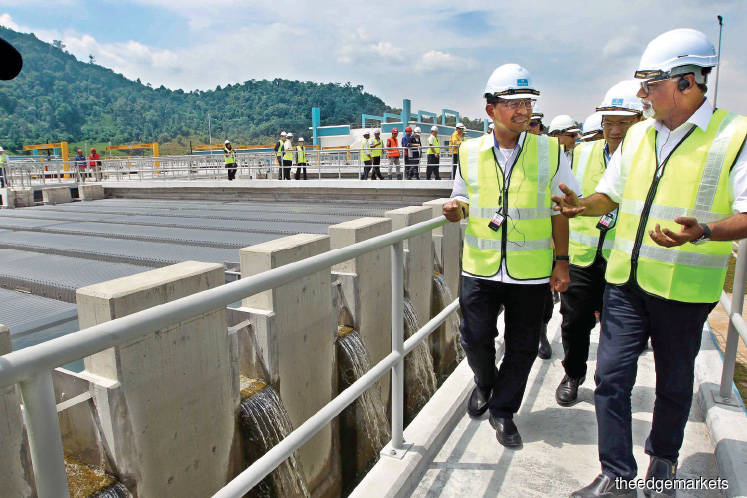 HULU LANGAT: Already 72% built, the Langat 2 water treatment plant is expected to be completed in 2022, three years behind schedule.
By November, the first stream of Phase 1 will be able to supply 325 million litres per day (MLD) of water to Pengurusan Air Selangor Sdn Bhd (Air Selangor), according to newly appointed Water, Land and Natural Resources Minister Dr A Xavier Jayakumar.
"We have a water reserve margin of about 3% currently, so with this 325 MLD coming in, of course, the water reserve margin will rise to 7% by November to benefit about one million households. Our main interest is to raise the current water reserve margin we have in Kuala Lumpur and Selangor," he said.
According to Langat 2's website, the plant is being built over two phases, each capable of treating and distributing 1,130 MLD of water to targeted demand centres.
Besides land, planning, and approval issues, water restructuring problems between state-owned Air Selangor and Gamuda Bhd's 40%-owned Syarikat Pengeluar Air Sungai Selangor Sdn Bhd (SPLASH) held up Langat 2's progress, but Xavier is confident of resolving the long-standing impasse between the two companies following a one-month extension of the deadline by cabinet on Wednesday.
"I think this issue can be settled. We are going to push everyone to make sure that this objective is reached. I'm not going back to the cabinet to ask for another extension so I'm very confident we will handle it within this one month," he told reporters before his site visit to Langat 2 yesterday, adding his ministry would like the SPLASH acquisition resolved on a "willing buyer-willing seller" basis to enable the sector to be fully restructured.
Controlled by Pengurusan Aset Air Bhd, a wholly-owned company under the Minister of Finance Inc, Langat 2 will cost an estimated RM8 billion to build, including a water treatment plant, water tunnel and the Kelau dam in Pahang.Upon full completion, Langat 2, which is part of the Pahang-Selangor Raw Water Transfer project, will be able to address the state's impending water crisis.
The project comprises 19 packages involving Hulu Langat, Cheras, Sungai Besi, Bukit Jalil, Petaling, Bandar Kinrara, Bukit Dengkil, Ampang, as well as Keramat AU3 in Selangor. The Langat 2 plant is needed based on 2014 statistics which found Selangor's population required 4,907 MLD of water, while daily water production was at 4,431 MLD.
The restructuring of the Selangor water industry has dragged on because the state government, the previous Barisan Nasional-led federal government, and SPLASH, could not agree on how much the water concessionaire is worth and what is deemed a fair purchase price. Hence, the state government only acquired three other water concessionaires, Syarikat Bekalan Air Selangor Sdn Bhd, Puncak Niaga (M) Sdn Bhd and Konsortium ABASS Sdn Bhd.