This article first appeared in The Edge Malaysia Weekly, on February 18, 2019 - February 24, 2019.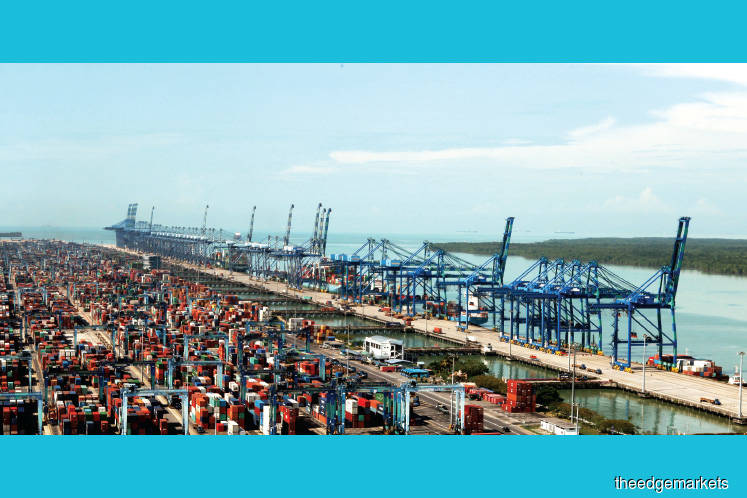 DESPITE their strategic locations along the Straits of Malacca — one of the most important waterways in the world — Malaysian ports continue to play second fiddle to Singapore's terminals as the race for transhipment volumes intensifies.
The lack of a national strategy to coordinate the ports is one of the major reasons why Port of Tanjung Pelepas (PTP) and Port Klang continue to play bridesmaids to Singapore when it comes to transhipment containers, according to industry observers. Transhipment refers to the shipment of goods to an intermediate destination before reaching their final destinations.
"Neither PTP nor Port Klang can match the scale and capacity Singapore currently has. At various points in the last few years, there were congestion problems at PTP and Port Klang that resulted in cargo loss to Singapore," says Tan Hua Joo, executive consultant at Alphaliner, a shipping and port industry consultancy.
"A coordinated policy would address key challenges for Malaysian ports, including reducing excessive competition between them, coordinating growth and development across primary and secondary ports, and allowing access to international players, especially shipping lines that control over 80% of the total transhipment volumes."
Notwithstanding the lack of a national strategic policy on ports, PTP was built in the late 1990s in answer to Singapore's dominance in the cargo transhipment market. Its location on the east-west sea trade lane means that it could compete more effectively against Singapore than Port Klang.
Over the first decade of its existence, PTP managed to cause panic in Singapore as its container volume increased tremendously. The brainchild of Prime Minister Tun Dr Mahathir Mohamad, PTP was planned to be the "next Singapore", one that would not compete against Malaysia's national interests.
The terminal was a joint venture (JV) between APM Terminals, the port operating arm of AP Moeller-Maersk, and MMC Corp Bhd. Maersk, the world's largest container shipping group, operates a dedicated berth at PTP.
The arrangement with Maersk can be said to be one of the reasons PTP enjoyed strong growth over the first decade of its operations. Between 2001 and 2010, PTP's container handling grew more than 218% to 6.54 million 20-foot equivalent units (TEUs), or an annual average growth of 21.9%.
During the same time, Singapore's container throughput grew 82.6% to 28.4 million TEUs.
However, between 2010 and 2017, PTP's container throughput grew only 28.2%, or an annual average of just 2.8%, to 8.38 million TEUs. During the same period, Singapore's container handling grew 18.4% to 33.66 million TEUs.
While the slower growth rate in the years between 2010 and 2017 compared with the preceding decade could be attributed to the high base effect, PTP's container throughput has not breached the 9.12 million TEUs it handled in 2015. The 2017 volume was also lower than in 2014.
Last year, Alphaliner estimated that Port Klang recorded 12 million TEUs while PTP handled 8.9 million TEUs. Combined, the two Malaysian mega ports still trail behind Port of Singapore's 36.6 million TEUs last year.
Based on Alphaliner's preliminary analysis, Singapore's container volume grew 8.7% last year while PTP's growth trailed behind, at 6%. Port Klang's volume grew only 0.4%, after dropping 9% in 2017.
If the preliminary analysis by Alphaliner is correct, what could be the reason for the slower growth at Malaysian ports over the last three years? Between 2016 and 2018, Singapore recorded container throughput growth of 18.4% while Port Klang registered a drop of 8.88%.
Meanwhile, PTP's container throughput grew only 7.5% over the last three years.
Why our ports are lagging
According to analysts and observers, there are two explanations for the lagging performance of Malaysian ports during that period. First, changes in the global shipping alliances had affected container throughput at Malaysian ports, especially Port Klang.
Second, the slow progress of capacity expansion at Malaysian ports means that top container shipping liners could not use them for more services, compared with Singapore. This led to many of them choosing Singapore as a hub through JVs with the city-state's port operator PSA Singapore.
"Singapore has always been proactive when it comes to its national development. The current plan is to shut down its city terminals in Tanjung Pagar, Keppel and Brani, and move all port operations to Pasir Panjang," says an observer who has worked in the port industry in Asia and the Middle East for almost 20 years.
"The Pasir Panjang terminal is where the JVs with CMA CGM, COSCO and PIL (Pacific International Lines) are. Singapore is also building the Tuas mega terminal, where in the future, the Port of Singapore will be."
Looking back at the changes in global shipping alliances, in 2016, Westports Holdings Bhd, operator of the larger of Port Klang's two terminals, lost its position as Ocean Alliance's premier hub in Southeast Asia to Singapore.
The acquisition of NOL and the establishment of the CMA CGM-PSA Lion Terminal in Singapore was a shake-up for CMA CGM's services in Asia. According to Westports, a handful of services that was originally extended by the terminal were transferred to Singapore.
Meanwhile, the merger between China Shipping Container Lines (CSCL) and China Ocean Shipping Co (COSCO) to create COSCO Shipping Group caused many of CSCL's services to move to Singapore, where COSCO has its primary transhipment hub.
With the exception of the 2M alliance, which uses PTP as its premier transhipment hub, Singapore has managed to secure Ocean Alliance and THE Alliance to use its terminals as their primary transhipment hub in Southeast Asia, despite the city-state's lack of space and high operating cost.
Last month, the newly formed Ocean Network Express (ONE) confirmed that it will continue to use Singapore's terminals as its primary hub in Southeast Asia. ONE consists of Mitsui OSK Lines, Nippon Yusen Kabushiki Kaisha and Kawasaki Kisen Kaisha.
AP Moeller-Maersk and Mediterranean Shipping Co (MSC) are the constituents of 2M alliance, with Hyundai Merchant Marine and ZIM Integrated Shipping Services as partners, while Ocean Alliance consists of CMA CGM, COSCO, Orient Overseas Container Line and Evergreen Marine Corp.
German liner Hapag-Lloyd and Taiwanese carrier Yang Ming Marine Transport Corp make up THE Alliance.
The three alliances control almost 80% of the global container capacity, with 2M leading the pack with 32.2% market share by TEUs.
So, what do container liners see in Singapore when they choose the island as their primary hub in Southeast Asia?
"Malaysian ports have the edge over Singapore in terms of stevedoring costs. But Singapore offers superior network connectivity and lower bunker fuel costs, which allow its users to offset the higher stevedoring costs," says Alphaliner's Tan.
One of the reasons for Singapore's superior network connectivity is its joint-venture arrangements with top global liners to operate terminals in the city-state. MSC, COSCO, CMA CGM, ONE and PIL have JVs with PSA Singapore to operate terminals there.
These arrangements will largely determine the carriers' choice of transhipment hubs, which adds more service networks to the port. For example, in December 2017, CMA CGM announced its revamped network, with Singapore featured on 20 services, compared with Port Klang's 11 services and PTP's three.
Malaysian ports' lack of JV arrangements to operate berths with global shipping companies is seen as one of the reasons why they keep playing second fiddle to Singapore in Southeast Asia. PTP is the only Malaysian ports with a JV arrangement, with Maersk.
But why has other top container shipping companies not formed JVs with Malaysian ports? Westports, the largest port operator in the country, does not have any JVs with top container shipping lines at its terminal in Port Klang.
An industry official says the structure of port concessions in the country could be the reason, with the exception of Maersk's berth at PTP.
"It could be due to the structure of port concessions in this country. Westports was given the concession for the entire terminal and it cannot appoint another operator to operate it," says the official.
"As for PTP, the JV with Maersk was made possible due to APM Terminals holding a 30% stake in the concession holder. PTP itself is a JV between APM Terminals and MMC."
However, Westports' expansion plan, which includes another 10 berths over the next 20 years, could allow it to enter into a JV with top liners, says the official.
PTP is investing RM8.6 billion over the next 5 to 15 years, which will see its container handling capacity increase to 22.2 million TEUs by 2030, while Westports is finalising the plan for Westports2, which would see the terminal handling 30 million TEUs by 2040.
Meanwhile, across the Johor Strait, land reclamation for the Tuas mega terminal is going on, which could see Singapore's container handling capacity grow to 65 million TEUs by 2040.
Save by subscribing to us for your print and/or digital copy.
P/S: The Edge is also available on Apple's AppStore and Androids' Google Play.