This article first appeared in The Edge Malaysia Weekly, on November 22, 2021 - November 28, 2021.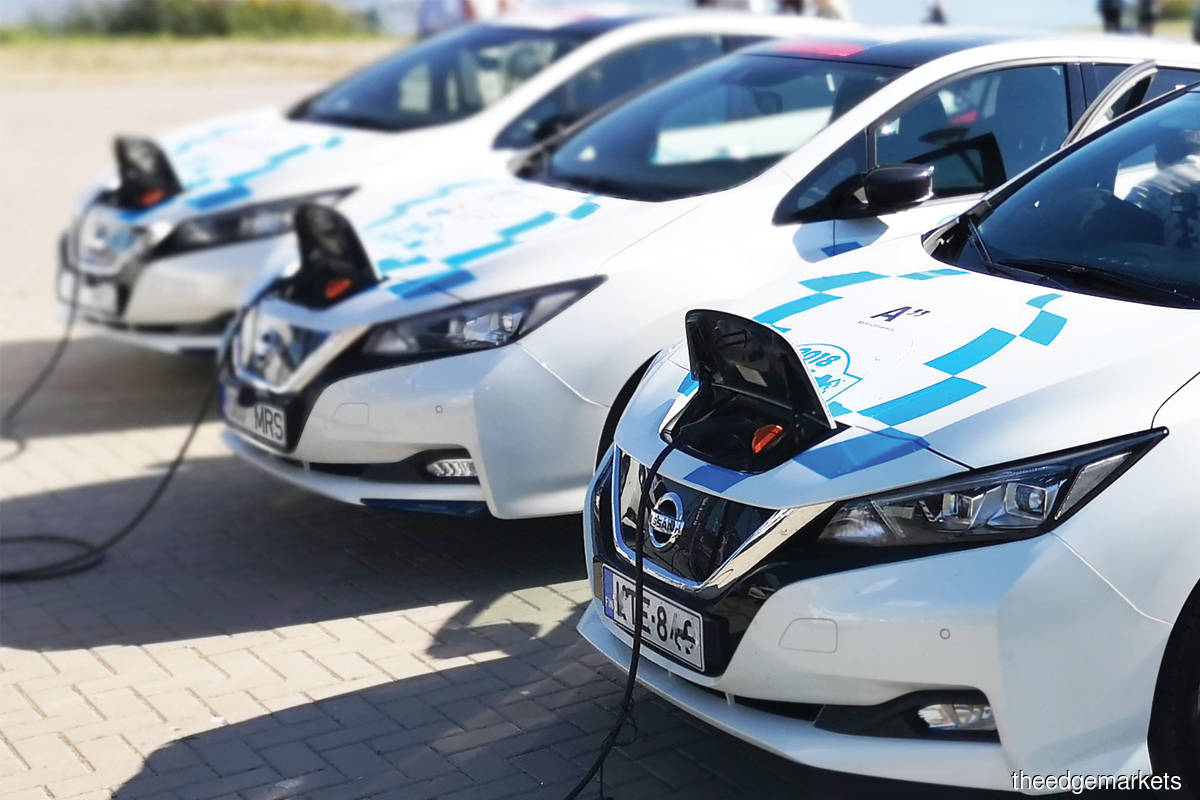 UNDER Budget 2022, the government has proposed to exempt all forms of taxes and duties on electric vehicles (EV), whether imported or locally assembled, to encourage the adoption of EVs in the country.
While many automotive players rejoiced at the announcement, the budget is not an industrial policy. As such, there is still a need for a policy to develop the industry, which encompasses manufacturing and assembly of EVs, charging infrastructure and supporting services.
In Budget 2022, the government proposed to exempt EVs from import and excise duties, as well as full exemption on road tax. These measures will reduce the on-the-road (OTR) prices of EVs and make some of the models more affordable to the masses.
Some industry observers believe, however, that without a comprehensive industrial policy, the adoption of EVs could still be slow, as there are other factors that could discourage people from using them.
At the same time, automotive groups require clear EV policies for them to decide whether to invest in assembly plants or manufacture components and technologies, including batteries, as well as the supporting infrastructure and services.
Malaysian Electric Vehicle Owners Club president Datuk Shahrol Halmi says the incentives to exempt EVs from taxes and duties are great, as they will boost demand and make the investment case for fast-charging infrastructure much easier.
"But the two-year limit will deter folks like Tesla from coming in, which is a pity, since they are excellent at building charging infrastructure," Shahrol tells The Edge.
During its third quarter 2021 earnings call in October, Tesla Inc announced plans to triple the size of the Supercharger network within the next two years. The availability of charging stations is important to alleviate the range anxiety of EV owners.
Tesla had 29,281 Superchargers — its brand of fast-charging stations — at 3,254 locations worldwide as at the end of the third quarter. Congestion at Superchargers is a problem in some regions during high traffic periods.
For Malaysia to be successful in developing an EV ecosystem, charging infrastructure is crucial, and there has to be a clear policy when it comes to this. Will investors get any kind of incentives for installing fast-charging stations?
Under Budget 2022, the government has provided for income tax relief of up to RM2,500 to individuals for the purchase, installation and rental of charging stations as well as monthly charging facility subscription fees. While this will encourage individuals to use EVs and install their own chargers on their premises, will it also encourage investors to set up large fast-charging stations for public use?
This concern is also raised by Malaysian Automotive Association (MAA) president Datuk Aishah Ahmad, who tells The Edge that MAA is grateful for the government's EV incentives because they are long overdue. When sales of EV increase as OTR prices become more competitive, it will encourage the production of EVs in Malaysia. "However, infrastructure development and availability of electric charging stations must also be developed and made available throughout Malaysia," she points out.
Meanwhile, electric mobility producer Eclimo Sdn Bhd says for the country to develop an EV industry and ecosystem, a workforce that can handle highly automated systems is needed, and a dedicated EV policy could help shape the workforce and industry.
Eclimo executive director Datuk Dennis Chuah says the sector employs transformative new technology and can create a potent economic opportunity while reshaping a variety of industries.
"EVs are not like combustion engine vehicles. The bulk of the vehicle comprises electrical and technological components. To support this, Malaysia needs more people in research, engineering, innovative technology expertise and development of vehicle design and battery technology.
"Education plays a crucial role. We must focus on training and upskilling people in the auto sector to be ready to work with the next generation of technology," says Chuah, commenting on the lack of an EV policy in Malaysia.
He adds that it is also important for the government to consider policy grants as well as research and development grants to spur entrepreneurs and manufacturers to participate in e-mobility development.
Eclimo is a local EV company that manufactures electric motorcycles and Lithium-ion battery packs and modules. It has developed an electric motorbike with a system that can monitor battery health.
Having an EV policy is also crucial in providing a guide for consumers and industries on how the government plans to shift out of internal combustion engine (ICE) vehicles. Europe, North America and Singapore plan to phase out ICE by a certain time.
Norway has set a goal that only battery and fuel-cell EVs (BEVs and FCEVs) will be registered from 2025, while Iceland, Sweden, Ireland and the Netherlands plan to do so by 2030, and the UK, by 2035.
In the US, California has set a target for only BEVs and FCEVs to be registered by 2035, while Canada's Quebec province has expanded it to include plug-in hybrid EVs (PHEVs) as well. Singapore and Costa Rica plan to ban ICE by 2030 and 2050 respectively.
The impact from these policies is apparent in Norway. In 2020, EVs comprised 54.3% of all new cars sold in the Nordic country, which is ironic since it is one of the largest oil producers in Europe. The number has continued to rise, with EVs making up almost 80% of all new cars sold in Norway.
Asked whether Malaysia should take a similar approach by announcing a policy to phase out ICE, Shahrol generally agrees, adding that the government should also start engaging the public on the costs of petrol and diesel subsidy.
He says the government should work out a plan to gradually remove fuel subsidies to make it cheaper for most people to operate EVs as well as reduce the cost gap with ICE.
"They can start with a congestion charge for ICE for the KL city centre, and have a timeline to enforce a carbon tax, maybe to begin in 2025, with a token sum," says Shahrol.
Nevertheless, Aishah believes banning ICE vehicles would not be a good idea and may cause the government to lose in elections, as people with lower incomes would still need to buy the more affordable, legacy technology vehicles.
Despite the lack of an EV policy, some local automotive groups are gearing up for the future of mobility.
Last Tuesday, Sime Darby Bhd said it would launch future-focused plans for its motor division, with the establishment of a mobility special task force to explore new trends and opportunities for growth in the automotive sector, particularly in shared mobility and electrification. As part of this mobility strategy, the group has invested a total of RM42 million in mobility players such as car-sharing company Socar and online used car platform Carro.
"We have developed a mobility strategy as part of our efforts to revolutionise and transform our motors division to be ready for the future of automotive," Sime Darby CEO Datuk Jeffri Salim Davidson said in a statement.
The group says that with EVs transforming the automotive landscape, it aims to capitalise on its many strengths along the value chain to become the leading EV specialist in the region through the assembly, distribution and retail of EVs, as well as by playing an active role in the charging infrastructure value chain.
Meanwhile, Proton Holdings Bhd has a plan to produce hybrids and EVs. The tax and duty exemptions for EVs are expected to accelerate this plan, Proton Edar Sdn Bhd CEO Roslan Abdullah said recently in an interview with a local English daily.
It is expected that Proton will be leveraging its technological partner and major shareholder Geely to produce hybrids and EVs for the local market. Proton has so far been leveraging the technology and modular powertrains from Geely in its recent models.
The largest car producer in Malaysia, Perusahaan Otomobil Kedua Sdn Bhd (Perodua), will not be introducing EVs anytime soon, though. This is because its target market — low- and middle-class Malaysians — are still not ready for EVs, owing to the cost and infrastructure issue.
Perodua will instead be focusing on hybrid technology, and the first model to be introduced with a hybrid powertrain will be the Ativa. The Ativa Hybrid has been spotted being test-driven on Malaysian roads and is expected to be introduced soon.