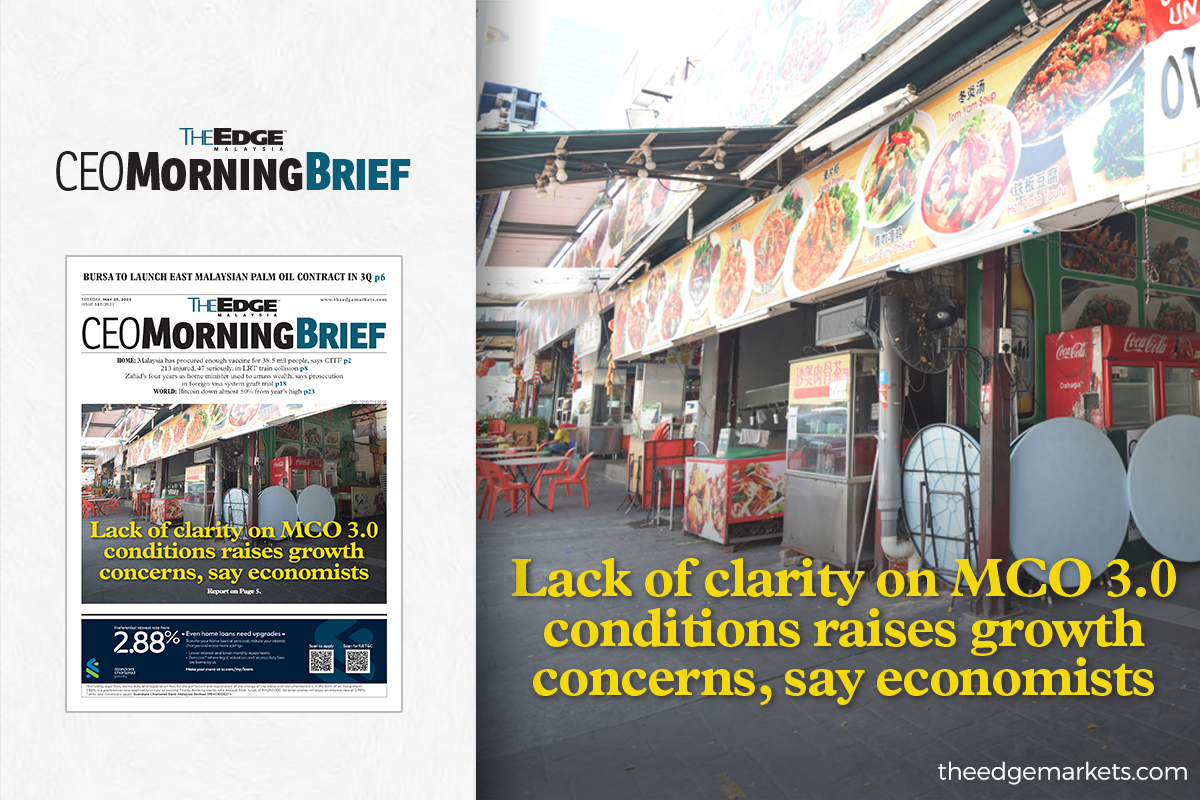 KUALA LUMPUR (May 25): While Malaysia avoided a full lockdown with the government mandating a tighter Movement Control Order (MCO 3.0) beginning today (May 25), economists have raised concerns over the potential impact on economic growth given uncertainties over the order's duration, as well as the justifications of the new standard operating procedures in curbing the outbreak.
"Whether MCO 3.0 is the right move or otherwise depends on, among others, the government's rationale in employing it, and how well the government executes its plan. Public debate must follow along with these two premises," said MARC chief economist Firdaos Rosli when contacted by The Edge.
"From a policy standpoint, there is an unclear transmission from scientific to social reasoning in combating Covid-19," he said, pointing to the new rules such as 60% manpower capacity and the 8am-8pm operating hours for most businesses.
"The official narrative appears to be arbitrary, incomplete, and therefore not compelling. Simply put, what are the floor and ceiling levels for MCOs in general? What determines these thresholds in the first place?
"The thresholds will indicate the precise perimeters or magnitude of the problem at hand while signalling the government's immediate-term policy direction. Second-guessing the government's intentions or moves affects policy predictability. In turn, the impact of the change in behaviours of economic actors is also unclear," Firdaos added.
Effective today, new MCO 3.0 guidelines in place include for most businesses to now only operate from 8am to 8pm; workplace presence limit to be reduced to 60% capacity for the private sector; and for the public transport capacity to be reduced to 50%.
The MCO is currently scheduled to end on June 7. However, daily new Covid-19 cases have hovered above the 6,000-mark for the last six consecutive days, with 60,018 active cases as of Monday.
Firdaos pointed to how the government in the past appeared to be initially comfortable with daily numbers of positive cases of about 900 — a point when the economy was gradually reopened.
"In a joint press conference recently, Health director-general Tan Sri Dr Noor Hisham Abdullah admitted that it was too soon to reopen all sectors, suggesting that the 900 daily positive cases level was 'high'.
"The government must clarify this notion/assumption to improve the predictability of doing business at present," said Firdaos.
MARC has lowered its 2021 gross domestic product (GDP) growth forecast to 5.1%, from 5.6%, with the forecast largely influenced by the breadth and depth of MCOs and the improvement in external demand.
On external demand, MARC's Firdaos suggested inflation concerns are dominating the outlook right now. "We are closely monitoring the inflation narrative of advanced economies as it may impact Malaysia's growth in the coming months," he said.
External demand a buffer, also a dilemma
Meanwhile, MIER head of research Dr Shankaran Nambiar said "it would not be out of place" to expect 2021 GDP growth at 4.5% to 5% with the MCO 3.0 in place.
"One is not sure how long the MCO will be in effect or when the high Covid-19 numbers will take a downward turn," Dr Shankaran said. "It is hard to expect the economy to return to normal unless the rate of infection flattens.
"The government, for its side, is in a dilemma. The electrical and electronics industry, for instance, is experiencing high demand. If production is stalled, the supply chain will be disrupted and production may be relocated. Once production is relocated, there is no guarantee that it will return to Malaysia.
"The awful thing is, much of manufacturing depends on foreign labour and we have no idea what their living conditions are like. It is certainly not possible at this point to effectively monitor it. we have not made it a practice to do so," he added.
On the other hand, MIDF Research head of research Imran Yassin Md Yusof maintains its 2021 GDP forecast at 6.2% for now.
"Shutting down economic activities may delay the economic recovery process seen so far — especially in the labour market, as weaker economic activities will potentially result in another round of rationalisation particularly among SMEs (small and medium enterprises) which struggle financially to maintain their business operations," Imran said.
"We believe that external trade performance will be a key factor in cushioning the adverse impact of domestic demand to the overall economy," he added.
Indeed, export performance in the first quarter of 2021 was better than expected, supported by the diverse products and destinations as well as recovery in key markets such as China. The latest external trade statistics will be published on Friday.
Aside from continuation of economic activities, MIDF's Imran said: "Other potential initiatives to limit the impact [of MCO 3.0] are faster roll-out of government projects which could potentially support the construction sector given its high multiplier effect, and of course increasing the pace of the vaccination programme.
Previously criticised for slower-than-expected pace of vaccination, Malaysia has seen vaccination numbers pick up pace with over 17% of total vaccination counts or nearly 407,000 happening in the past eight days. As of Monday, 2.34 million doses had been administered.
Another solution, MIER's Dr Shankaran said, is to ensure that there is a more stringent lockdown than we have right now, but he pointed to the lack of fiscal space to do so.
In a separate report, TA Research said the 1.5% of GDP gap between 58.5% and the 60% statutory debt ceiling works out to be roughly RM22.8 billion in fiscal space for the federal government. This, it said, was based on a simple back-of-an-envelope calculation by using Bank Negara Malaysia's nominal GDP forecast of RM1.39 trillion for 2020 and RM1.53 trillion for 2021.
MARC's Firdaos concurred. "I think the government has little ammunition to address the immediate-term negative impacts of MCO 3.0 on the economy and markets.
"The right thing to do is set the stage for medium-term growth while allowing a greater flow of economic activities to act as automatic stabilisers," Firdaos said.
To receive CEO Morning Brief please click here.